Best Super Automatic Espresso Machine Under $1000 In 2023; Reviews
Disclosure: This post contains affiliate links and I may earn a small commission (at no extra cost to you) if you click through and make a purchase. Thanks in advance – I really appreciate it!
Here in this article "Best Super Automatic Espresso Machine Under $1000″ we've rounded up 10 top espresso makers of various types, and specifications, all under $1000 . Below, you'll find in-depth reviews of each, as well as an elaborate buying guide to pick out your favorite.
When you realize that you are spending more time than you can afford each morning when making coffee, maybe it's about time to get a super-automatic. Convenience and ease-of-use are what these machines are known for, and they make excellent brews.
With a typical espresso machine, you must grind your own beans or buy them ground, measure and pack a shot's worth of grounds into a portafilter, and lock the portafilter in. Some machines ask you to meticulously heat your water to the perfect temperature too. It's not a laborious process, but it can take a while to make more than one cup of espresso. You have to literally rinse and repeat; your portafilter requires cleaning after every shot.
A super automatic espresso machine is designed to do most of the work for you. You pour coffee beans into a hopper and refill the tank with water every few days. The machine will  grind the beans, compress them into a hockey puck of fine grounds, heat the water precisely, and force that hot water through the compressed grounds.
In less than a minute, a fresh shot of espresso shoots out the nozzles to your specifications. Single, double, Americano, one cup, two cups … it's all possible at the press of a button.
Product prices and availability are accurate as of the date/time indicated and are subject to change. Any price and availability information displayed on [relevant Amazon Site(s), as applicable] at the time of purchase will apply to the purchase of this product.
Prices pulled from the Amazon Product Advertising API on:
What are Super Automatic Coffee Machines?
Super-automatic espresso machines are fully automatic coffee and espresso makers with built-in coffee grinders that make coffee drinks with the push of a button. Coffee is ground fresh, tamped perfectly, brewed, and dispensed in seconds. 
With many super-automatic espresso machines, you can set your preferred coffee strength, drink volume, temperature, and more. 
The milk frother on these espresso machines are automatic as well, letting you easily make cappuccinos, lattes, and macchiatos whenever you like.
There is no question that a super-automatic espresso maker's features will add value and enjoyment to the home of any espresso connoisseur. Whether you are purchasing an espresso machine for the first time, or you have been drinking home brewed espresso for over 20 years, our guide will help you find the best super automatic espresso machine under $1000  that fits your needs.
Super Automatic Espresso Machine Buying Guide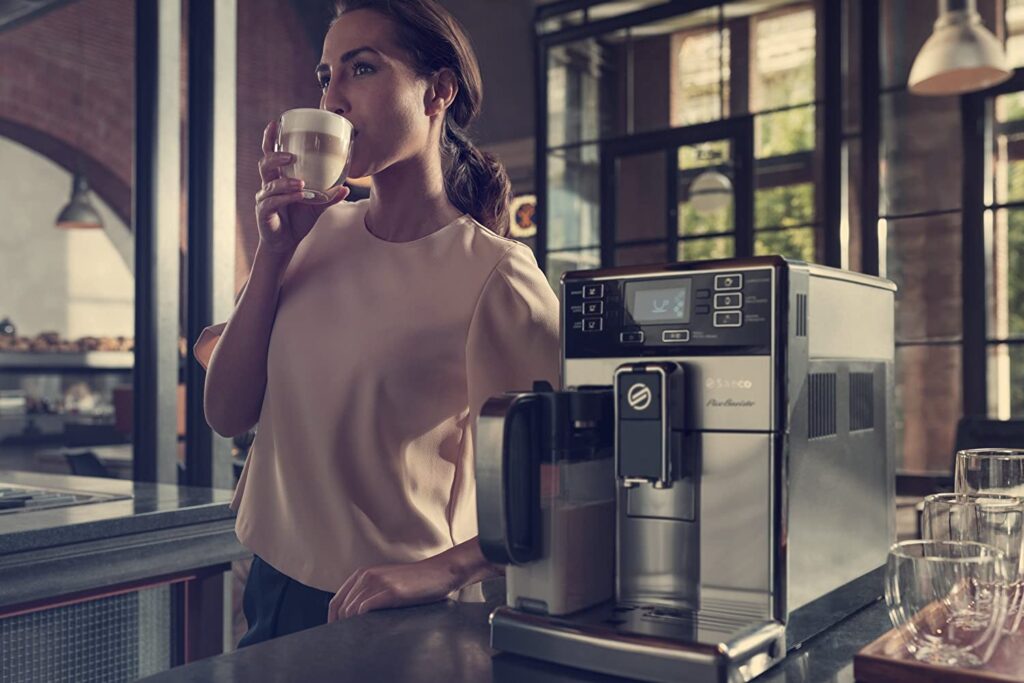 For some, buying an espresso maker is about performing the art and the ritual of making excellent espresso in the comfort and convenience of one's own home. For others, owning an espresso maker is all about usability.
Things To Look For In A Super Automatic Espresso Machine
When purchasing a new super automatic espresso machine under $1000, just keep in mind the 10 things on what to look for in an espresso machine to get the most from your money and get all the features you really need.
Grinder
All super-automatic espresso makers are equipped with a top-quality conical burr grinder. These grinders have extremely long life spans and excellent reliability. With cutting surfaces made of tempered steel, they deliver the perfect grind for brewing truly memorable espresso. Furthermore, you may adjust the grind level to anything from fine for espresso or coarse for café crème. All these conveniences are activated at the touch of the brew button.
Grinder Settings
One of the super-automatic's most important features, adjusting the grind setting puts the brew type and taste of your espresso in your hands. If your espresso or café crème is too weak for your liking, too strong, or too bitter, this adjustment is key. 
Generally, finer ground coffee lends itself to flavorful espresso however if you grind it too fine, you may find your brew a bit on the bitter side. 
Grind your espresso too coarse, and your brew will be too weak, lacking that full bodied and rich espresso flavor for which to strive. 
Luckily, super-automatic espresso makers give you the ability to play with the grind settings and find the one that is right for you.
Bypass Doser
A bypass doser is a handy extra addition featured on certain super-automatic espresso makers. Basically, a bypass doser is a small chute found at the top of the super-automatic that accepts only pre-ground coffee. 
The advantage of a bypass doser is that it allows you the opportunity to brew coffee other than the type which is stored in the espresso maker's bean hopper. 
This feature comes in very handy if you want to brew a decaf variety of espresso or if you simply want to sample a different pre-ground espresso.
Dual Heating Systems
Super-automatic espresso makers equipped with the added feature of dual heating systems eliminate the wait time experienced in single heating systems when brewing and frothing. 
With the dual system, making cappuccinos, lattes, americano's how fast instead of how long. 
This feature comes in especially handy if you are making multiple drinks in a row. In addition, unlike with the single heating element, dual heating elements eliminate the need to cool the espresso maker's boiler after steaming.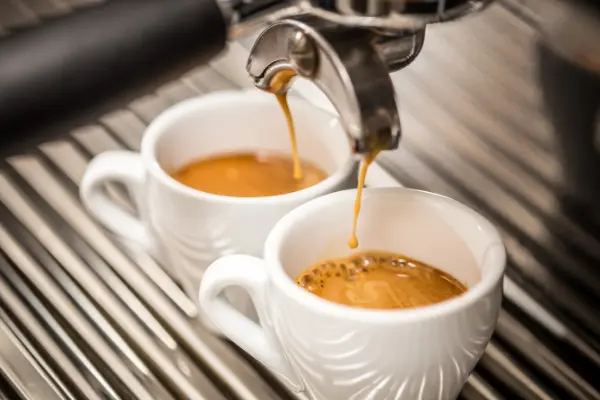 Removable Brew Group
With a removable brew group, you stand a better chance of getting a long life out of your appliance because you're more likely to keep it cleaner. 
Once you've figured out how to take out and replace the brew unit, giving it a daily rinse under running water takes mere seconds.
Digital Display vs. Indicator Lights
More and more, super automatic espresso machines are beginning to feature LED and full color digital displays in lieu to the traditional indicator lights. 
Digital displays have helped a great deal in simplifying the process of brewing with and maintaining your espresso machine as it can display its status to you in plain English as opposed to a blinking light.
Pre-grinding
This feature helps to speed things up a bit when you're making multiple drinks. While you're brewing, it will grind the next shot and keep it waiting in the brew group. 
The next time you hit the brew button, the brewing process will begin automatically, rather than needing to wait for the beans to be ground first.
Pre-brewing
When you use the pre-brewing option, ground coffee is moistened with water and steeps for a second before the brewing process begins. This helps to more fully extract flavor from the coffee grounds, but is not necessary for brewing. 
In addition, pre moistening the coffee helps to avoid channeling, which is when the water finds only one or two paths through the coffee rather than evenly saturating it. 
Water Filtration Systems
Using filtered water to make your espresso not only improves the flavor of the product, but also helps to lengthen the life of the machine. 
Internal water filtration systems accomplish both of these ends, and reduce the amount of decalcification that needs to be performed to clean the machine. The filters usually need to be changed every 3 to 4 months.
Automatic Milk Frothing
A number of machines sold these days feature automatic milk frothing functions to simplify the process of making frothed milk for drinks like cappuccinos. Some machines use attachable carafes that connect to a preexisting frothing system, whereas others utilize special peripheral attachments that connect to the machine's steam arm.
Super Automatic Espresso Machine reviews
Best Overall
De'Longhi ESAM3300 
De'Longhi ESAM3300 Super Automatic Espresso Machine
Patented Cappuccino System frother

Easy-to-use rotary and push button control panel with programmable menu settings and beans container capacity is 8.8 ounces.

Grinds beans instantly with the patented, compact and easy-to-clean Direct-to-Brew system. Use your favorite coffee beans to create your perfect espresso.
Prices pulled from the Amazon Product Advertising API on:
Product prices and availability are accurate as of the date/time indicated and are subject to change. Any price and availability information displayed on [relevant Amazon Site(s), as applicable] at the time of purchase will apply to the purchase of this product.
Possibly the most reliable super-automatic espresso machine on the market, the DeLonghi Magnifica ESAM3300 is among one of the best super automatic espresso machines available under 1000 dollars as several users report low rates of failure and high rates of satisfaction.
The ESAM3300 pulls a great shot and gives you the ability to enjoy it with 8 different dose strengths from 1.5-8.0 oz.
It's silver-colored, all-plastic exterior is well built but doesn't have the elegant appeal of a stainless steel body.
In terms of features, however, the Magnifica excels. This Italian machine comes with a fantastic cup warmer on top, and an auto-shutoff feature that's adjustable from 15 min to 3 hours. This DeLonghi machine comes with a standard 2-year warranty too.
Considering its price, it is a solidly-built and compact machine. Cleaning is simple, and it is easy to remove the brewing unit. 
The professionally designed low pitch conical burr grinder is equipped with 13 adjustable settings. This makes it easier to grind fresh beans every time so that the maximum freshness of the coffee is retained. If you are short on time, the pre-ground option comes in handy.
The pre-ground in the second chamber lets you choose between decaf, specialty or the regular. Moreover grinding levels can be adjusted to make customized espresso.
The espresso machine's cappuccino system allows any size of the milk container to adjust due to its flexible 180 degrees rotating system. 
The spigot height can be adjusted as well so it's easier to chanel coffee in any mug size from the standard coffee cup to a travel mug. The maximum cup height it adjusts is 4.25 inches.
One major advantage of the DeLonghi Magnifica is its 60-oz water tank capacity . This is particularly important if you are using your machine to make Americanos or other beverages that are hot-water reliant. 
The front-access water tank is great for putting your coffee maker in tight spaces, and indicator lights will let you know when it's time to refill. Unfortunately, though, the water tank isn't designed to accommodate a filter, so you'll have to use your own filtration or bottled water.
The DeLonghi has dual stainless steel thermoblock boilers, with the brew side and the steam side each having their own.
The machine also features a three-hour automatic shutoff system which is essential for safety purposes, firstly the appliance won't burn out and secondly, it saves energy.
Pros:
You can operate everything from the front.

It is very inexpensive.

It has infinitely variable coffee and water levels.

The grinder has 14 settings.

It is easy to use.

The machine is compact.
Cons:
Not compatible with water filters

Can't brew and steam at the same time
Most Versatile
Saeco PicoBaristo
Saeco PicoBaristo Super Automatic Espresso Machine
Easily select one of 15 delicious drinks, or customize it to your taste with coffee equalizer and save it to one of 6 user profile

Our Patented AquaClean water filter eliminates the need to descale for up to 5,000 cups

Get superior taste for 20,000 cups with our durable ceramic grinders

The hygiesteam function cleans the whole Milk circuit with steam, from the spout to the milk tubes

Advanced touch screen display
Prices pulled from the Amazon Product Advertising API on:
Product prices and availability are accurate as of the date/time indicated and are subject to change. Any price and availability information displayed on [relevant Amazon Site(s), as applicable] at the time of purchase will apply to the purchase of this product.
The sleek and stylish Saeco Picobaristo is a small super-automatic espresso machine under $1000 that leaves nothing to chance. With a built-in ceramic burr grinder and milk frother, you can enjoy your favorite espresso beverage at just the touch of a button. 
It is no doubt one of the best bean to cup compact espresso machine with grinder on our list.
The compact Saeco PicoBaristo does everything that a mid-range automatic espresso machine can and should be able to do. The PicoBaristo is very intuitive and simple to use, with its touch buttons on the right and left sides of the display. 
The machine has an automatic milk frothing system, which includes a milk container that latches onto the machine's front. You can also plug in a small, black hot water spout into the same location if you want to use hot water instead of milk.
What sets the Picobaristo apart from the competition is its patented Aquaclean filtration system. This innovation keeps mineral build-up inside the machine to a minimum, meaning less tiresome descaling and purer water for great tasting espresso. 
If you're looking for a superautomatic espresso machine without the usual maintenance hassles, the compact Picobaristo delivers.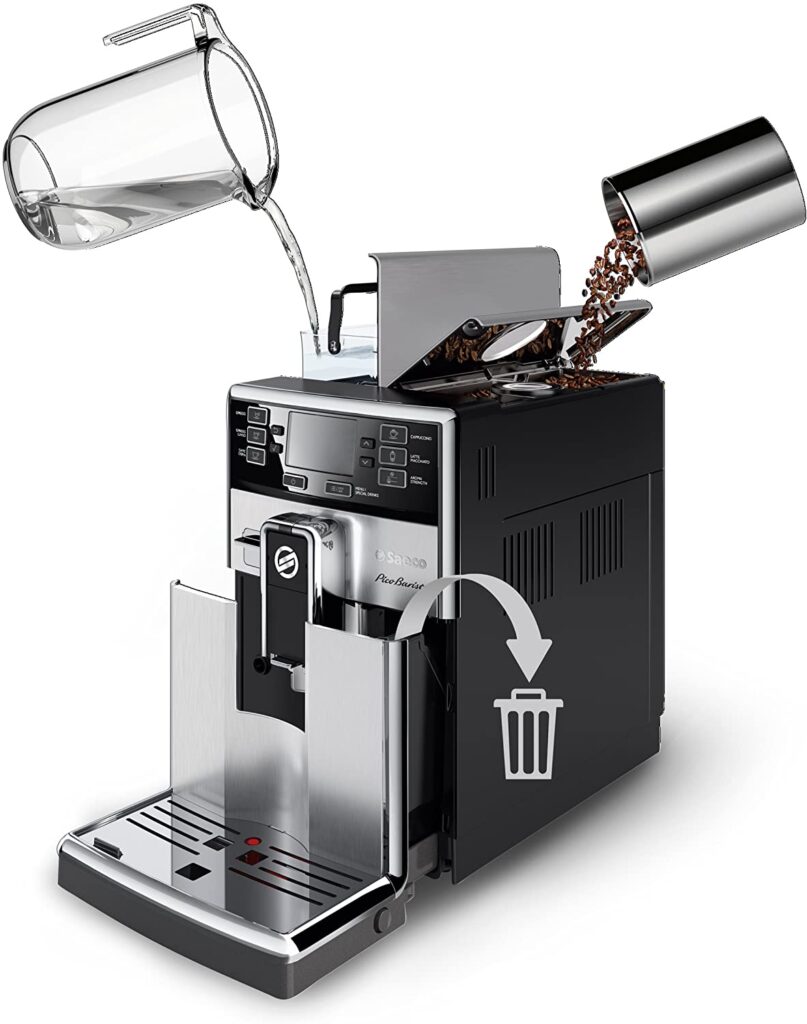 It can make eight different types of espresso drink, as well as a simple glass of warm milk or hot water, and each one is completely customizable.
Whether your drink is a cortado or a latte, you can choose between five brew strengths and three temperatures as well as adjust the drink size.
This espresso maker, which is also one of the best home cappuccino machines, is equipped with a built-in ceramic burr grinder, which every coffee enthusiast knows is the best way to grind your beans for optimum flavor. The grinder has ten different grind size options, which is more than many higher-priced models and provides yet another way to customize your brew.
You can set and save your most important beverage adjustments, such as how much espresso and how strong you want it.
Its large-capacity water tank and bean hopper mean less time wasted refilling, and its equally large-capacity ground coffee bin means fewer trips to the trash. 
And when things are getting too empty or too full, this coffee machine's easy-read LCD screen warns you. Never again will the water tank run dry, causing potential damage. The water reservoir can be removed, for easy filling at the kitchen sink.
The Picobaristo is also fast. Thanks to quick heat boiler technology, there's no extra waiting for that precious first cup or the ones that come after. It only takes about two and a half minutes from turning it on to savoring that first shot.
There is also a bypass doser which allows you to introduce grounds without using the bean hopper. This will be a great convenience if someone in your household prefers pre-ground beans or drinks decaf, for example. Like its espresso maker, the Picobaristo's milk frother is fully automatic as well, so it's easy to use. It's also very useful in creating latte art.
Pros:
Well made, space saving design
Nice-looking, compact body
Classy design
Available in plastic or stainless steel
Not too loud
Automatic milk foam
Simple to use
Removable brewing unit
10 coarseness settings on the grinder
Cons:
No separate user profiles
Some water in the milk frothing system
Best Super Automatic For Home
Gaggia Anima Prestige
Gaggia Anima Prestige Super Automatic Espresso Machine
ONE TOUCH BREWING AND FROTHING: Bean-to-cup feature with automatic milk frothing for cappuccinos, macchiatos and lattes.

PROGRAMMABLE

TEMPERATURE CONTROL: 3 different temperature settings.

EASY ACCESS TO WATER RESERVOIR AND BEAN HOPPER: Features a removable 60 oz water reservoir and an 8.8 ounce capacity bean hopper
Prices pulled from the Amazon Product Advertising API on:
Product prices and availability are accurate as of the date/time indicated and are subject to change. Any price and availability information displayed on [relevant Amazon Site(s), as applicable] at the time of purchase will apply to the purchase of this product.
The Gaggia Anima is a super-automatic espresso machine that automatically brews espressos and longos at the press of a button, and makes frothing milk for cappuccinos and lattes easily with the manual pannarello wand. It's a sleek machine that's easy to use and maintain.
The combination of black and silver looks fantastic and it also isn't particularly wide or deep compared to other fully automatic coffee machines, so the Anima should fit neatly on any kitchen counter.
The Gaggia Anima is one of the best super automatic espresso machines under $1000 and it features a large removable 60 oz. water tank which can be accessed at the top left of the machine and it also has an 8.8 oz. bean hopper.
The machine features a Panarello steam wand which is very simple to use. All you have to do is fill your cup with milk and hit the steam button which is located on the front of the machine.
The wand automatically injects air into the milk, and once it has been frothed, you can press the Espresso machine, also located on the front and once your coffee is brewed your drink is ready for you.
With the integrated frother, integrated grinder, adjustable grind size, 3 temperature settings, 5 dose size settings and easily programmable brew sizes, you can pull almost any kind of shot you want and make any kind of specialty beverage you desire.
The Anima Prestige has a nice, large display, which makes it simple to use.
You can use the display to easily set the amount of coffee you want to use and make, and it will even let you know if the brewing unit or the drip trays aren't correctly installed.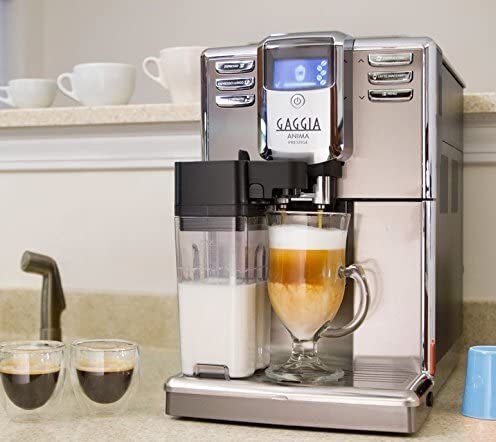 This amazing super-automatic espresso machine under $1000 uses a milk carafe that saves space by attaching directly to the machine's front.
When you are done making your coffee, you can easily take off the milk carafe to store it in the refrigerator.
Both the bean hopper and water reservoir are conveniently placed which makes this machine easy to fill and clean.
You can lift lids on the top of the machine to access either one. The water reservoir is on the left, and the bean hopper is on the right.
In addition to the pressure used by the steam wand, the Anima Deluxe features a 15-bar pump that uses pressure as well.
This pump increases the pressure used when brewing to get more flavor from the beans and to increase the aroma you smell and taste you get.
Cleaning is relatively simple, too. The Anima goes through a self-cleaning process when you power it on and off to keep the coffee dispenser clean, and you can just whip off the steam head to clean it manually after you've used it.
Pros:
Espresso lungo mode makes good coffee
Easy-to-use
Compact footprint
Sturdy and robust stainless-steel exterior
intuitive display
Simple custom shot size selector
Cons:
No steam tap
No cup warmer
Bean hopper lid isn't airtight
Best For Beginners
De'Longhi Magnifica 
Prices pulled from the Amazon Product Advertising API on:
Product prices and availability are accurate as of the date/time indicated and are subject to change. Any price and availability information displayed on [relevant Amazon Site(s), as applicable] at the time of purchase will apply to the purchase of this product.
The DeLonghi ESAM04110S has a typical modern styling. Steel finish with a subtle touch of dark grey color, the DeLonghi ESAM04110S carries a very professional look and excellent build quality that will definitely add style points to your kitchen countertop. 
A total of ten buttons are displayed on the front, which is right below the accompanying monochrome LCD display.
This one of the best super automatic espresso machine under 1000 dollars features an integrated stainless steel burr grinder with 13 adjustable settings and tubeless technology, which grinds fresh beans every time to ensure maximum freshness in every cup. With various Coffee strength settings, everyone gets their ideal flavor. 
With its additional manual milk frother, the De'Longhi ESAM04110S gives you foam your way. 
Add some texture and a rich and creamy froth to your speciality drinks to give them the edge and customize them to your own taste preferences.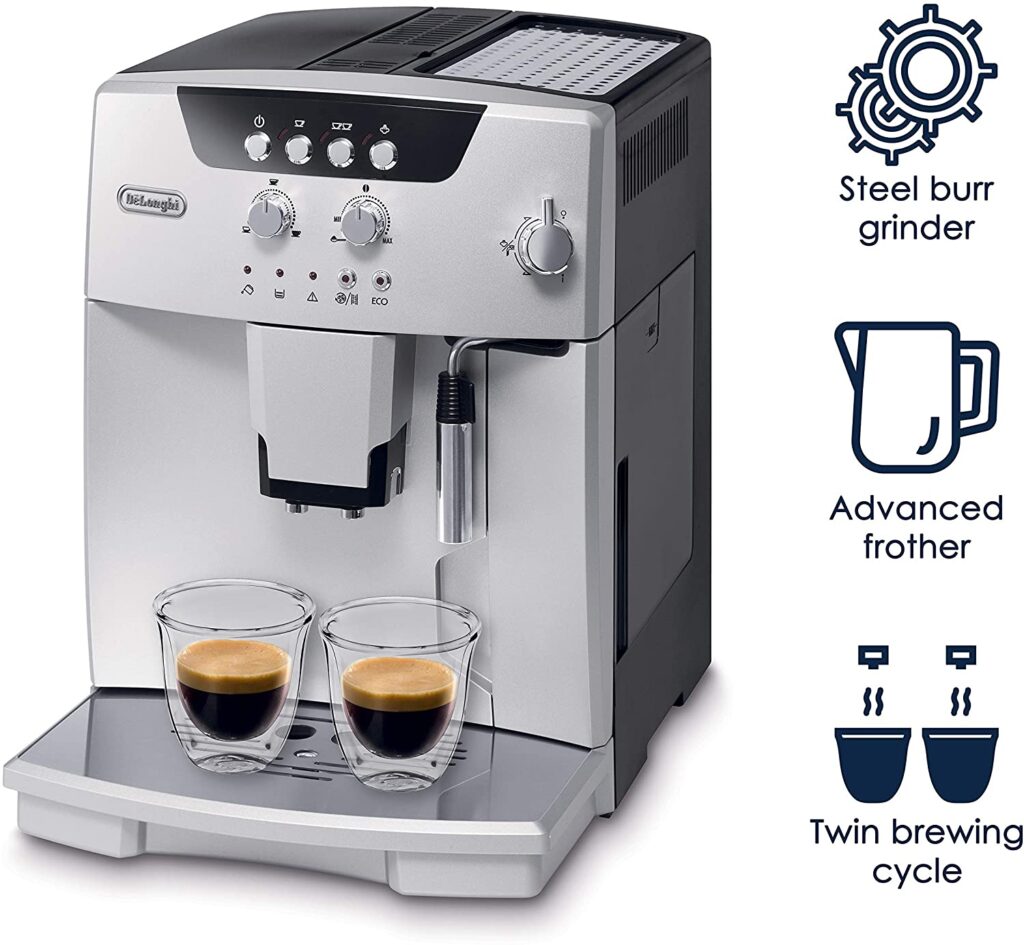 A speedy thermoblock boiler provides even heat distribution, which, in combination with its 15 bar pump, produces a perfect shot of espresso. 
Plus, DeLonghi's instant reheat function allows for immediate brewing directly afterward for multi-user homes.
DeLonghi's automated decalcification process keeps the machine in tip top shape, and its removable brew group makes cleaning in between decalcifying a breeze. 
You can simply slide out the brew group along with the internal drip tray and dredge drawer, clean each in the sink, and slide them back into place. 
Also, the 57 oz. water reservoir is front-loading, so refilling is a snap letting you enjoy your drink with minimal interruption.
The machine also features an easy to clean and handle: the compact, extractable brew unit is not only easy to clean, but It also self-adjusts for one or two shots of espresso.
It also has a rapid cappuccino system that maintains the optimal temperature so you can brew cup after cup instantly.
DeLonghi Magnifica also has a removable automatic latte and cappuccino system that includes a 25-ounce milk reservoir and two detachable lids (one for foam and the other for steam). 
With this, you can easily store leftover milk in the fridge and have it ready to use the next day without the hassle of transferring the milk or cleaning the container. 
Pros:
One-Touch operation and plenty of programming options

Removable milk container

Integrated conical burr Grinder

Five coffee-strength options; 

3 buttons for choosing cup size; height-adjustable coffee spouts

Instant reheat function
Cons:
Steam knob is a bit tight
Best Entry Level Super Automatic Machine
Gaggia Brera
Gaggia Brera Super Automatic Espresso Machine
FROTHING FOR MILK BEVERAGES: Pannarello wand frothing for cappuccinos & lattes.

EASY ACCESS: The dregs drawer, drip tray, and water tank are all within reach and accessible

USER-FRIENDLY DISPLAY

RAPID STEAM TECHNOLOGY. Coffee bean capacity : 250 gr

1 YEAR WARRANTY
Prices pulled from the Amazon Product Advertising API on:
Product prices and availability are accurate as of the date/time indicated and are subject to change. Any price and availability information displayed on [relevant Amazon Site(s), as applicable] at the time of purchase will apply to the purchase of this product.
The Gaggia Brera is a compact super-automatic with automated brewing capabilities and easy frothing with its integrated pannarello wand, which is specially designed to aerate milk independently of the user. 
Despite being a small, compact machine designed for home use, the Brera delivers cafe-quality espressos and lets you customize it as per your preference.
The Gaggia Brera is a sturdy, robust machine that is built to last. While its top and sides are made of plastic (you can choose silver or black), the stainless steel front panel, drip tray, and smooth corners give it an elegant retro feel, perfect to fit traditional kitchens as well as more modern countertops.
The Gaggia Brera is ultimately a great superautomatic espresso machine for beginners under $1000, with a perfectly user-friendly design that will help you learn more about the basics of brewing before moving on to a more advanced machine. 
Some of the components that make this espresso machine stand out from the rest are the programmable settings, rapid steam and bean-to-cup tech, LED screen, and compatibility with water filters.
Some of the key functions that make this machine great include the programmable clock and timer, automatic shut-off, low water warning, and the handy "Decalcification Needed" indicator.
Another element of the Gaggia Brera's design that makes it unique is its bean-to-cup grinding feature. 
This machine features a flat ceramic burr grinder along with an 8-ounce bean hopper that's airtight. The grinder features five settings to allow for some experimentation to get that ideal brew.
The "smart system" is another great feature you're likely to find useful, as it adjusts the grind time and speed to meet your specific roast preferences. 
For those times when you need an extra caffeine boost, the Brera has an option for double shots.
Another brewing related feature is the pre-infusion technology. Basically, this function soaks your grounds in the internal portafilter post-tamping, pre-shot pulling. 
By pre-wetting the grounds, the machine helps to ensure full, even saturation and extraction.  
This step is especially important because you cannot pre-infuse the ground yourself. 
Also, because espresso machines require a fine grind, complete saturation without pre-infusion can be difficult. 
Pros:
Compact, sleeker and functional design

Built-in ceramic burr grinder, perfect for those with minimal kit

Removable parts make for easy cleaning

Respectable programmability range for a super-auto

Competitively priced
Cons:
Small water tank

Loud grinder
Best Compact Super Automatic 
Philips 3200 
Philips 3200 Series Fully Automatic Espresso Machine
Enjoy 5 coffees

Intuitive touch display

12-step grinder adjustment

20,000 cups of finest coffee with durable ceramic grinders

Keep your beans fresh for longer thanks to the aroma seal

Up to 5,000 cups without descaling thanks to AquaClean

Makes Espresso, hot water, cappuccino, coffee, latte macchiato and americano
Prices pulled from the Amazon Product Advertising API on:
Product prices and availability are accurate as of the date/time indicated and are subject to change. Any price and availability information displayed on [relevant Amazon Site(s), as applicable] at the time of purchase will apply to the purchase of this product.
The Philips 3200 with LatteGo is one of the best super automatic espresso machine under 1000 dollars. This means it's a machine that combines an espresso brew unit, a milk steaming system, and a grinder in one machine. What's more, it means that the machine uses extensive automation to make drink prep extremely simple. With just a few button presses you can get a shot of espresso or a latte.
Coffee lovers have their favourites and the Philips 3200 LatteGo is designed to make the core beverages at the touch of a button. 
The machine makes Black Coffee, Espresso, Americano, Cappuccino and Latte macchiato. It will also dispense hot water.
To make a drink, choose your beverage from the control panel and press start. The machine will grind the beans, and make your espresso shot on the spot. To brew one shot of espresso from start to finish it takes about a minute.
If you want a double, just tap the double shot option and it will make two individual shots, unlike some machines which just use the same amount of beans but with twice the water.
The touch interface also has buttons to adjust the dose (or amount of coffee used per drink) and drink volume, as well as milk foam amount. 
The biggest thing that sets this machine apart from others in the Philips line is the LatteGo steaming system.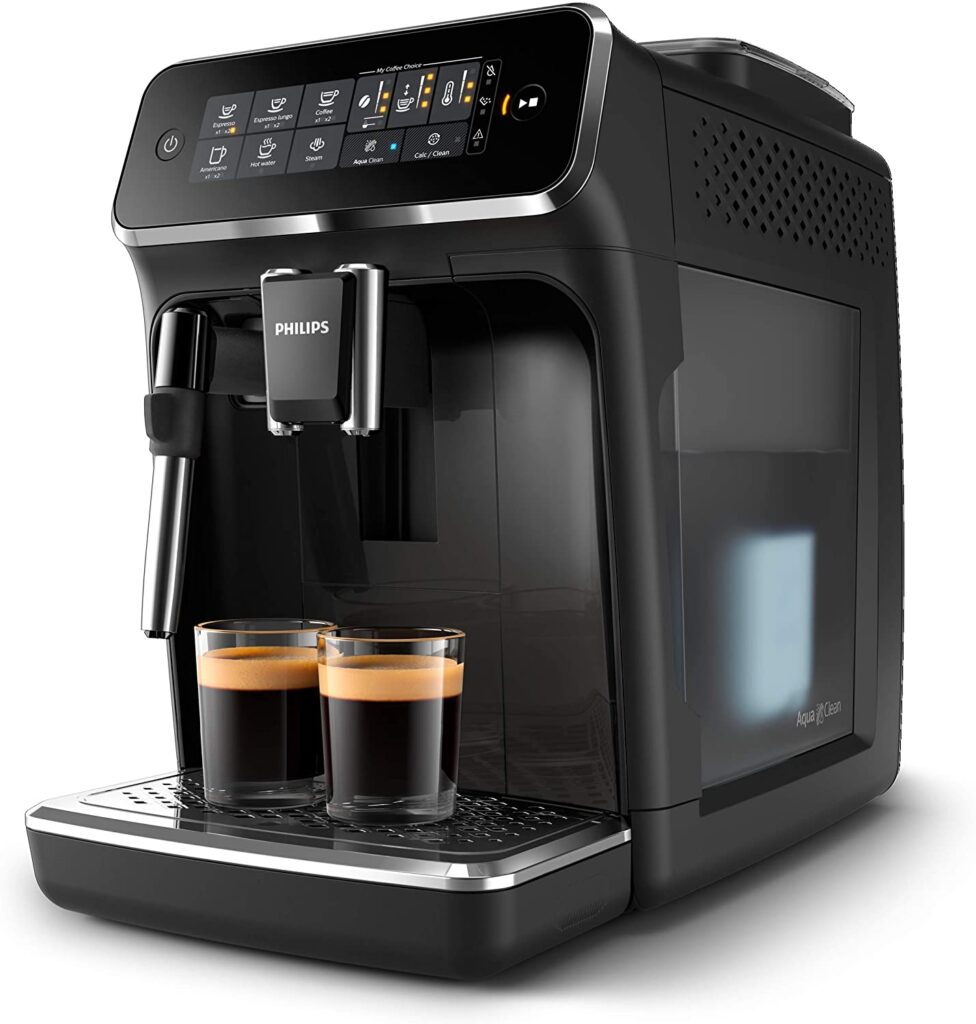 With LatteGo, milk is siphoned through the carafe, but upon heating it is poured through a spout that is part of the carafe itself. 
The difference here is a very simple system that looks like a standard carafe on its surface, but one where the milk doesn't have to move through tubing inside of the machine to get to a spout at the brew unit. The result is a much easier to clean system that actually produces hot, well textured milk.
To make your cleaning process easier Philips 3200 espresso machine is made with stainless steel. Its large water tank assists you in easy cleaning. 
When you go to clean you should remove the water tank then it automatically cleans the machine or you can wipe it.
Another impressive feature is the large water tank which holds 1.8L or water. A filter can also be inserted into the machine to cut down on the need for descaling or if you have crappy tasting water. The drink spout on this machine is also adjustable to accommodate many sizes of cups.
Pros:
4 different preprogrammed coffee recipes

AquaClean filter to remove any impurities

3 different temperature settings

Classic frother 

3 different aroma settings

Intuitive touch screen
Cons:
Generally noisy operation
Best For Coffee & Espresso
Jura A1
Jura A1 Super Automatic Coffee Machine
ONE TOUCH: Prepare 3 barista quality specialties including ristretto, espresso and coffee at the touch of a button - coffee only

CONICAL BURR GRINDER: Fast and precise AromaG3 grinder grinds whole beans to the optimum fineness

CAPACITY: 37 ounce water tank, 4. 4 ounce bean container
Prices pulled from the Amazon Product Advertising API on:
Product prices and availability are accurate as of the date/time indicated and are subject to change. Any price and availability information displayed on [relevant Amazon Site(s), as applicable] at the time of purchase will apply to the purchase of this product.
JURA's A1 Super-Automatic Espresso Machine is the slimmest machine in their catalog to feature their revolutionary Pulse Extraction Process. 
By pulsing water through the grounds, the A1 achieves greater clarity of flavor and a more defined crema. The machine is also equipped with JURA's Aroma G3 grinder for faster and quieter grinding.
Considering that it contains a bean hopper, a grinder, a water tank, and a full brewing system, less than 13 inches in width is truly impressive. Bear in mind that, despite its small size, it's pretty heavy: weighing almost 20 pounds, it's definitely not something that you'll want to move around often.
The front panel is uncluttered, featuring only the wide drip tray and the height-adjustable coffee spout, perfect for fitting taller glasses. 
The Jura A1, despite its more affordable price, comes equipped with the PEP system to guarantee the highest level of flavor extraction. This, in turn, works with the machine's intelligent water system that automatically detects the presence of a filter for maximum safety. Its water reservoir can hold as much as 1.1 liters of water, giving you enough to brew 4 to 5 cups on a single full tank.
The bean hopper holds 4.4oz of whole bean coffee and the water reservoir capacity is 37oz. The A1's dregs container holds about 9 servings before you need to empty it. There is also a bypass doser that allows you to brew using pre-ground coffee.
The bean hopper features an aroma preservation cover keeps the coffee fresh, while the Aroma G3 grinder makes short, quiet work of them. 
The Intelligent Pre-Brew Aroma System and the patented Pulse Extraction Process that are unique to Jura mimic manual extraction methods and were specifically designed with short specialty coffees in mind. 
By preinfusingthe grounds with hot water at short intervals, you can extract in less time, giving you a better-preserved and more nuanced coffee aroma.
A thermoblock boiler and the high-performance 15 bar pump gives you rapid delivery of pressurized brewing water at the right temperature.
The A1 will not let you have a hard time once you need to empty its drip tray, refill the water reservoir, or add beans to the bean hopper. 
Every single one of these components is very accessible on this coffee machine, and it's also very simple to get the parts back in place.
The machine also makes it easier for you to brew whole bean coffee or ground coffee. It is nice to have this choice between the two things when you want to make decaffeinated coffee or when you don't have whole beans at home. 
Furthermore, being fully automatic, you'll get one of the three available coffee drinks with the touch of a button, which, again, makes things easier for you.
Pros:
Can grind or use pre-ground coffee

Will switch to energy-saving mode when not in use

Manually adjustable grinder to get finer or coarser coffee grounds

Has simple and compact design

Quite to operate

Quick to make your favorite coffee drink

Delivers café-grade espresso, ristretto or long coffee

Features pulse extraction process
Cons:
Prepares one coffee at a time

Doesn't have the milk steaming function
Best For Office
Gaggia Velasca Prestige
Gaggia Velasca Prestige Espresso Machine
One touch brewing and frothing

Programmable: programmable brewing options for Espresso and Espresso Lungo, cappuccino, and milk froth, with 3 different temperature settings

Ceramic burr grinder and brew unit: ceramic burr grinder with 10 fineness settings, 5 brew strength settings, and bean hopper with 10.5oz capacity

Front loading 54 oz. water reservoi
Prices pulled from the Amazon Product Advertising API on:
Product prices and availability are accurate as of the date/time indicated and are subject to change. Any price and availability information displayed on [relevant Amazon Site(s), as applicable] at the time of purchase will apply to the purchase of this product.
The Gaggia Velasca Prestige is a striking super-automatic machine that delivers piping hot espresso and milk-based drinks at the press of a button. 
This excellent one-touch automatic espresso machine comes with a wide range of state-of-the-art additions, including 10 separate grind settings, a wealth of programmable features, a ceramic burr grinder, and a simple but extremely effective interface.
This one of the best super automatic espresso machine under $1000 features a detachable milk carafe that can automatically froth milk for cappuccinos and lattes. It froths the milk twice to ensure the ideal temperature and texture is achieved. 
The machine also has a "Carafe Quick Clean" button that you can press to rinse the milk circuit after each use.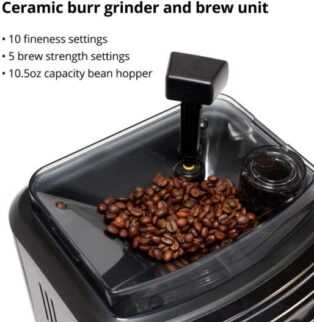 The machine has a simple interface with just a few buttons. All the basic coffee blends have their dedicated buttons, including cappuccino, latte, and espresso, and it is programmable so that you can customize your drink. 
The interface has five strength settings, three temperature settings, and three pre-infusion levels
Every coffee you prepare will be topped with a silky, milk layer that beckons the taste buds. The milk carafe froths the milk twice, then pours a splash free creamy layer into your cup at just the right temperature. 
The carafe can also be stored conveniently in the fridge, it 's dishwasher proof, and incredibly hygienic.
Sometimes it 's nice to have the option of a full-bodied, delicious coffee, without the caffeine kick. Thanks to the Powder Option you can make decaffeinated coffee whenever you please.
The machine includes a front loaded water reservoir. This area has a total capacity of 54 ounces. You can pull it straight out from the front. This makes the machine ideal for low hanging drawers and cabinets in your kitchen area.
Pros:
Stainless steel rugged construction

Always delivers hot milk

Bean to cup espresso machine

Makes a variety of coffee beverages

Large water capacity

Easy to clean
Cons:
Best Basic Super Automatic
Philips Carina 1200
Philips Carina 1200-Series Compact Super-Automatic Espresso Machine
Panarello Steam Wand

Programmable Drinks - Each drink button can be preset to your favorite recipe, and changed on the fly with handy dose and volume buttons.

Front Loading 1.8L Water Tank

Bean Hopper - The Carinas 10-ounce bean hopper offers ample shots between refills.
Prices pulled from the Amazon Product Advertising API on:
Product prices and availability are accurate as of the date/time indicated and are subject to change. Any price and availability information displayed on [relevant Amazon Site(s), as applicable] at the time of purchase will apply to the purchase of this product.
Philips Carina 1200 Series Super automatic Espresso Machine is designed with an intelligent brewing system to deliver a silky smooth cappuccino or latté macchiato at the press of a button. Moreover, this Philips Carina 1200 Series Machine features an easy-touch display. This non-complicated design makes the 1200 Series suitable for everyone and convenient to use. 
Dedicated espresso and coffee buttons save your size and strength settings, leaving foam frothing up to you with a panarello-style steam wand. 
Furthermore, it comes with a 100% ceramic grinder. Consequently, the grinder is precise, so you can enjoy at least 20,000 cups of coffee. The cleaning process is quick, too. Simply rinse the filter under the tap to prep it for your next use.
This one of the best super automatic espresso machine under $1000 also features a water reservoir and dump box that load from the front, and a generously-sized 10-ounce bean hopper for less refills and more ristrettos.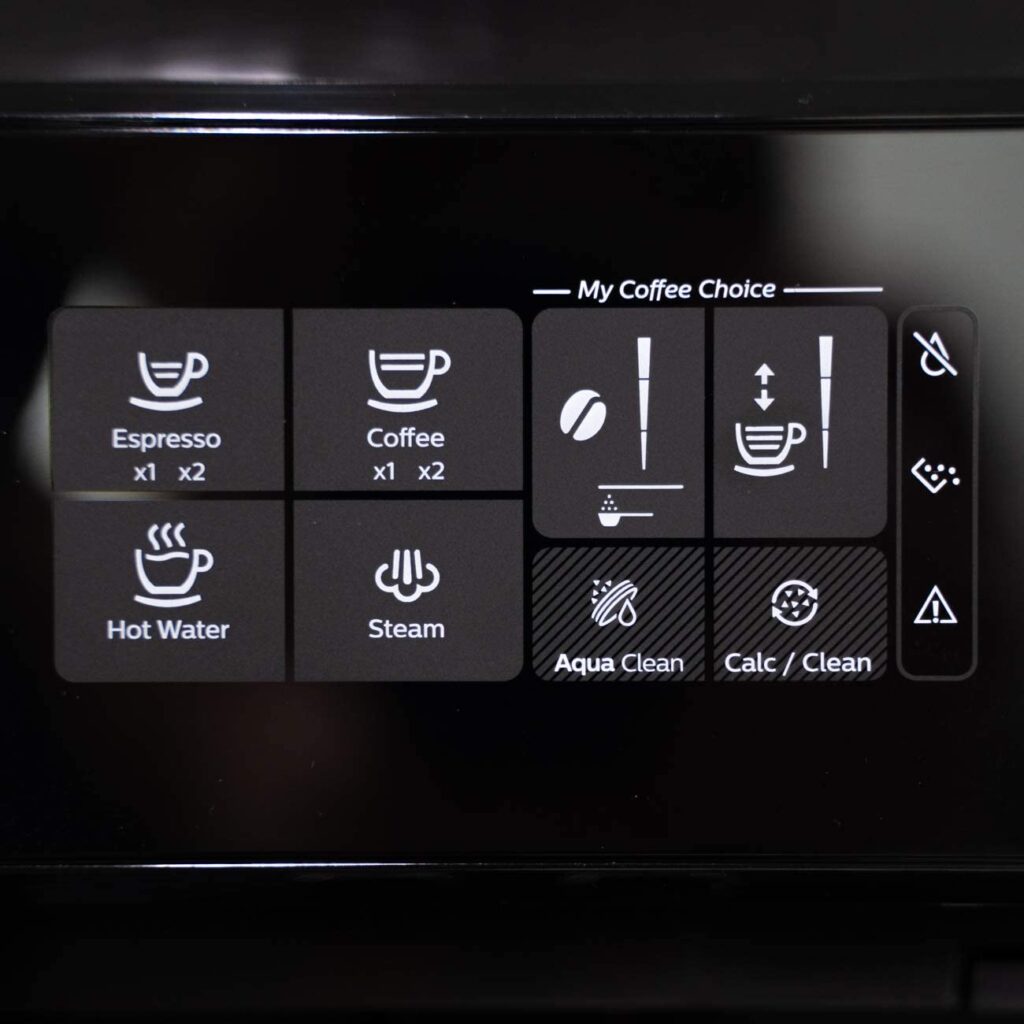 The Carina is really easy to use, all you need do is add whole bean coffee, work through an easy grinder setting process, and then brew and steam with just a few presses of a button. From lattes and cappuccinos to americanos and flat whites, you'll have a cafe at your fingertips.
As far as the quality of frothing is concerned, it depends on the quality of the milk used. It produces different results depending on whether one uses dairy or non-dairy milk. 
It also features a removable brew group. To an average user, this characteristic translates into an easy-to-clean option.
Pros:
Easy to use

Low maintenance

Easy to clean
Cons:
Requires a bit of practice
Best Dual Boiler Super Automatic Machine
Saeco Incanto
Saeco Incanto Super Automatic Espresso Machine
Elegant design, Best materials, and high quality Workmanship

Brew each Coffee as you like it, and save your preferences With the memo function

Professional Disc grinder made of 100% ceramic for consistent performance and natural taste

Classic milk frother

Large capacities in compact design: 8. 8oz bean container, 15x waste container; 60. 9oz
Prices pulled from the Amazon Product Advertising API on:
Product prices and availability are accurate as of the date/time indicated and are subject to change. Any price and availability information displayed on [relevant Amazon Site(s), as applicable] at the time of purchase will apply to the purchase of this product.
If you are looking for a programmable super automatic espresso machine but don't want to spend too much, Philips Saeco makes your dream come true. With its Saeco Incanto coffee machine, you can pull out espresso, cappuccino or latte macchiato with a press of a button.
It features the capability to produce 6 delicious beverages at the touch of a button, it is beautifully styled in Stainless Steel, it has an integrated milk carafe, and it grinds coffee with the long-life ceramic grinders for which Saeco has become famous. 
Saeco has provided that extra touch throughout, such as the milk frother which froths the milk twice to remove all impurities and make the froth incredibly smooth.
You can customize your espresso with five different settings of the length of the brew and the temperature. This Incanto espresso machine makes it easy to reproduce your favorite drinks with the memo function, which memorizes your personal settings.
Although Saeco Incanto uses plastic in its construction, its front face and top are brushed aluminum with black highlights, and its drip tray is rugged stainless steel. That gives it a heft and sense of permanence that a lot of other models on the market just don't have.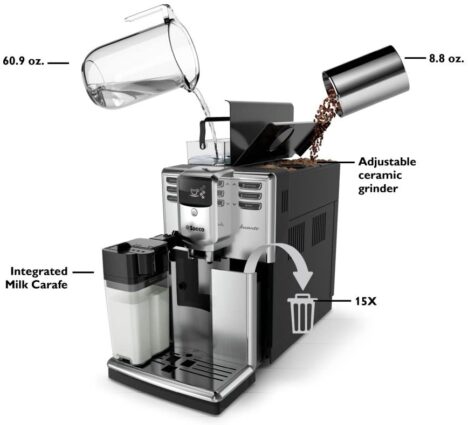 The Incanto has an impressive 60.9-ounce, top-loading tank.  At that size, it can keep pace with a single power drinker with ease, or support the coffee habit of a large household of casual drinkers, and that's a very good thing.
The water reservoir is accessible from the top — removable and easy to clean. If you want to prepare a decaf coffee drink, you can use the bypass coffee doser on top.
The grinders in this machine are made from ceramics, which are exceptionally hard and precise. Ceramic grinders in this Incanto super automatic espresso machine under $1000 eliminate any burnt coffee flavor sometimes experienced with steel. 
You get to experience the full pleasure of the aroma and taste of your coffee unaffected by flavors imparted by grinding. The ceramic grinders have an expected life of at least 20,000 cups of espresso–far longer than steel. 
To extract the best-tasting espresso, you need to exert at least 9 BAR pressure. This Incanto model has 15 BAR pressure pump so the best coffee drink is assured — every time. 
It has a stainless steel boiler, so you don't have to wait for long before the machine becomes ready.
This machine has an adjustable coffee dispensing spout with cup clearance of 4.5 to 6 inches. 
At least, you can fit in different coffee cup sizes. It has a 500 ml milk carafe with an integrated milk frothing system that you can easily pull out and push back to the machine if you'll prepare milk-based drinks.
Pros:
Fast heat up and has auto rinsing

Removable water reservoir

Large water tank and bean hopper

Automatic clean prompt and quick cleaning

Integrated milk carafe and milk frother

AquaClean filter status 
Cons:
We hope you found the best super automatic espresso machine under $1000 for yourself. Now all you need to do is learn how to use your machine to brew damn fine espresso – then drink and enjoy your cup of joe. Once you have chosen the best super automatic espresso machine for your needs you'll go to sleep each night with a smile on your face knowing what the next morning holds – that's right -freshly brewed, high quality espresso.
We are a team of coffee affcianados with experience and expertise in making world renowned coffee. In fact, preparing the best coffee ever with a fluffy top reminds us of magic, with secrets of how to achieve each particular effect. Making coffee is not our only hobby, we always keep our ears open as to what's happening around and what scientists and manufacturers produce for consumers. It's not an easy task to do – it's rather time consuming. Hence, Caféish website was launched.
Caféish is a participant in the Amazon Services LLC Associates Program, an affiliate advertising program designed to provide a means for sites to earn advertising fees by advertising and linking to Amazon.com. Caféish also participates in affiliate programs with Clickbank and other sites. Caféish is compensated for referring traffic and business to these companies.