Best Automatic Latte Machine For Home 2023; Reviews
Disclosure: This post contains affiliate links and I may earn a small commission (at no extra cost to you) if you click through and make a purchase. Thanks in advance – I really appreciate it!
Here in this article "Best Automatic Latte Machine For Home" we've rounded up 11 top super automatic latte makers of various types, specifications, and budget. Below, you'll find in-depth reviews of each, as well as an elaborate buying guide to pick out your favorite.
If you enjoy a delicious, creamy latte to start your day, wouldn't you like to be able to create your brew at home, without having to endure the hassle of waiting in line at the coffee shop?
Of course, there are ways of making your own barista-style latte at home, but sometimes we all just want to be spoiled a little and have someone (or something) else do the work for us.
Enter your new friend, the automatic home latte machine, perched cheerfully on your countertop. Ready to greet each new day with you. And forever ready to brew you up a cup of mindfulness. 
[amalinkspro_table id="2942" new-window="on" nofollow="on" addtocart="off" /]
Best Automatic Latte Machine Buying Guide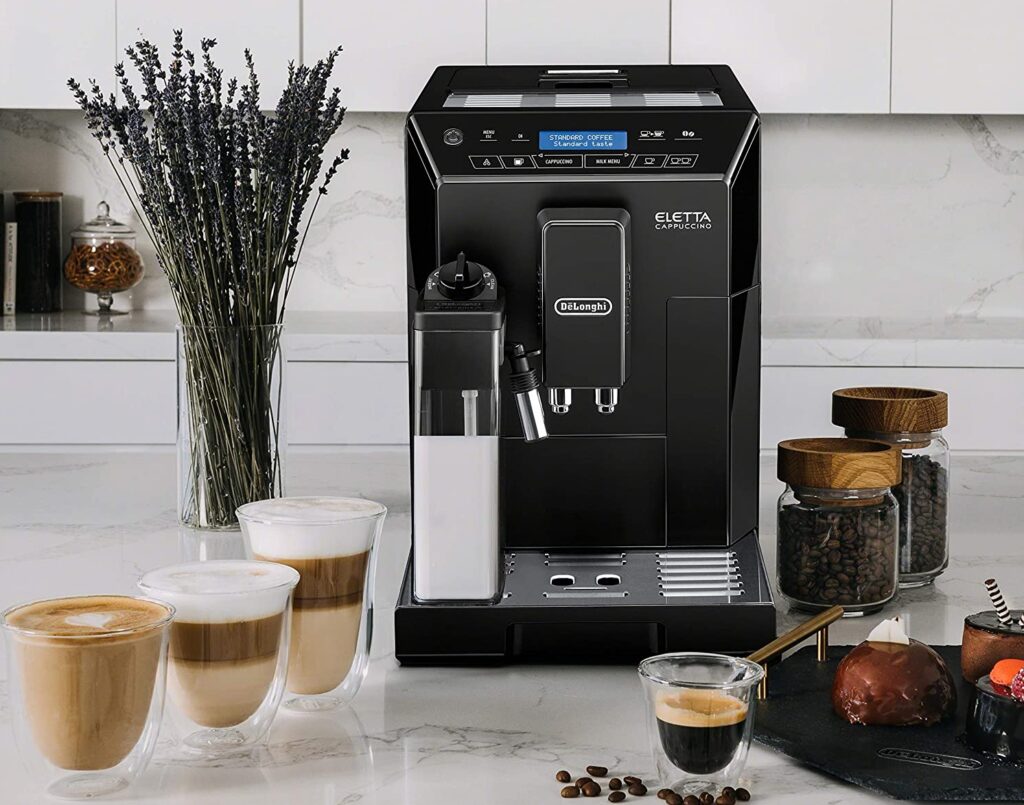 If you're interested in obtaining a good automatic latte machine so you can brew authentic espresso, cappuccino and latte right in your own kitchen. This is certainly a great idea if you love good latte, and with some guidance you should be able to choose the best automatic latte machine to meet your individual needs, desires and budget.
Here is a list of few factors to consider before choosing a latte machine for home use.
Things To Look For In A Good Automatic Latte Machine For Home
1.Milk Frother
For lattes, milk frother plays a vital role, it enhances the flavor and takes your plain coffee to the next level. Without it, you just can't craft those silky and barista style textures.
Always make sure, your machine must have a built-in steam wand with enough pressure capability to consequently top off your lattes or cappuccinos with fluffy cloud of milk froth.
2.Size Of The Machine
Some latte machines can get pretty darn big. If you have limited kitchen space, you could have a hard time finding anywhere to fit it without sacrificing the accessibility of another kitchen appliance. 
Many of the larger models do make two lattes at once or have extra useful features, which can be benefits that make the big size worth it.
3.Programmable Settings
Once you know how you like your latte best, you can program the machine and make it easier on yourself in the future. Some machines will let you program settings for multiple individuals, so everyone in the family can make their perfect latte more easily.
4.Ease Of Use
A big differentiating factor in different models is how easy and convenient they are to use. 
If convenience is your top priority, look for an espresso maker that falls into one of the more automated categories and has programmable settings. And make sure you find all the buttons and extra features intuitive before you buy.
5.Self Cleaning
If you end up with a latte machine that's easy to use but a pain to clean, then it's not actually all that convenient after all. Make sure you get a latte maker with self cleaning function. The more features and components the machine has, the more likely it will take you a long time to clean.
Automatic Latte Machine For Home Reviews
Best Overall
Breville Oracle Touch
[amalinkspro type="showcase" asin="B073TYYM91" apilink="https://www.amazon.com/dp/B073TYYM91?tag=cafespress-20&linkCode=osi&th=1&psc=1" new-window="true" addtocart="false" nofollow="true" sc-id="4" imgs="LargeImage" link-imgs="false" specs="Dual Boiler construction~~~Dose Control Grinding~~~Optimal Water Pressure~~~Precise Espresso Extraction~~~Automatic Microfoam Milk Texturing: Self-cleaning steam wand~~~Touch Screen~~~~~~~~~1/2 lb Bean Hopper, 67 oz Water Tank~~~Warranty: 2 Year Limited Product Warranty; " btn-color="#ff9900" btn-text="Buy on Amazon" alignment="aligncenter" hide-prime="0" hide-image="0" hide-price="0" hide-button="0" width="750"]Breville Fully Automatic Espresso Machine, Oracle Touch[/amalinkspro]
The Breville Oracle Touch boasts a vibrant touch display, allowing you to scroll through 5 customizable drink options: espresso, long black, latte, flat white, and cappuccino.
Just as well, you can save up to 8 personalized drinks; especially useful when there are multiple users with differing tastes.
The Oracle Touch features automatic grinding, dosing, tamping and milk texturing, automating the two most difficult parts of manual espresso.
The Oracle Touch is one of the best automatc latte machines available in the marketplace today. You can extract espresso and texture milk simultaneously, enabling you to go from beans to latte in under a minute.
This dual boiler professional grade home espresso machine features a triple heat system comprised of a steam boiler with an integrated heat-exchange and dedicated brew boiler, a built-in grinder and tamping system, programmable shot volumes, automatic rinsing and descaling options, milk frothing controls, PID temperature control, adjustable grind settings, and more.
With the Oracle Touch you get nothing less than an all-in-one home latte machine that combines innovative features with modern technology.
But it's the steam wand that puts the Oracle Touch in a category of its own. You can get it right every time without having any experience.
You just put the milk in, center the wand and it does its thing. It textures with microfoam, so you can pour a latte.
The microfoam mixes with espresso to produce the velvety mouthfeel that signifies a quality espresso drink. By contrast, most super automatic espresso machines froth milk in such a way that it just sits atop a cup of espresso.
The steam wand on the Oracle Touch reads the temperature of the milk being used and, according to the specific type of drink being made, calibrates steam pressure and temperature accordingly.
This is the best bean-to-cup home espresso machine available in the marketplace today.
Making espresso shots, lattes, cappuccinos, flat whites, and even hot chocolate couldn't be any simpler or more intuitive thanks to Breville's user-friendly design. But it's not so automated that someone who knows espresso drinks can't craft something completely unique.
The Oracle doesn't just grind your coffee beans directly into espresso portafilters, it can also automatically tamp their contents down into brewable beds by itself.
The machine steams milk with minimum fuss or direct handling, so you won't need to copy those complex swirling motions you've seen baristas perform.
Pros:
Brews espresso, americano, latte, cappuccino, flat white or custom beverages
Built-in grinder and milk steamer/frother
Easy-to-use LED-lit touch-screen controls
Customizable coffee strength, milk temperature and texture
45 adjustable grind settings
Automatically grinds, doses and tamps 22g ground coffee
Brews single, double and custom-size espresso shots
Cons:
Its pricey
It needs a bigger space on your kitchen countertop
Best Budget Pick
De'Longhi ESAM3300
[amalinkspro type="showcase" asin="B000N2YKQ0" apilink="https://www.amazon.com/dp/B000N2YKQ0?tag=cafespress-20&linkCode=osi&th=1&psc=1" new-window="true" addtocart="false" nofollow="true" sc-id="4" imgs="LargeImage" link-imgs="false" specs="Patented Cappuccino System frother ~~~Easy-to-use rotary and push button control panel with programmable menu settings and beans container capacity is 8.8 ounces. ~~~Grinds beans instantly with the patented, compact and easy-to-clean Direct-to-Brew system. Use your favorite coffee beans to create your perfect espresso. ~~~~~~" btn-color="#ff9900" btn-text="Buy on Amazon" alignment="aligncenter" hide-prime="0" hide-image="0" hide-price="0" hide-button="0" width="750"]De'Longhi ESAM3300 Super Automatic Espresso Machine[/amalinkspro]
The Magnifica is an entry-level super-automatic espresso machine from DeLonghi, and it shows on the outside. It's silver-colored, all-plastic exterior is well built but doesn't have the elegant appeal of a stainless steel body.
In terms of features, however, the Magnifica excels. This Italian machine comes with a fantastic cup warmer on top, and an auto-shutoff feature that's adjustable from 15 min to 3 hours. This DeLonghi machine comes with a standard 2-year warranty too.
Considering its price, it is a solidly-built and compact machine. Cleaning is simple, and it is easy to remove the brewing unit. 
The professionally designed low pitch conical burr grinder is equipped with 13 adjustable settings. This makes it easier to grind fresh beans every time so that the maximum freshness of the coffee is retained. If you are short on time, the pre-ground option comes in handy.
The pre-ground in the second chamber lets you choose between decaf, specialty or the regular. Moreover grinding levels can be adjusted to make customized espresso.
The espresso machine's cappuccino system allows any size of the milk container to adjust due to its flexible 180 degrees rotating system.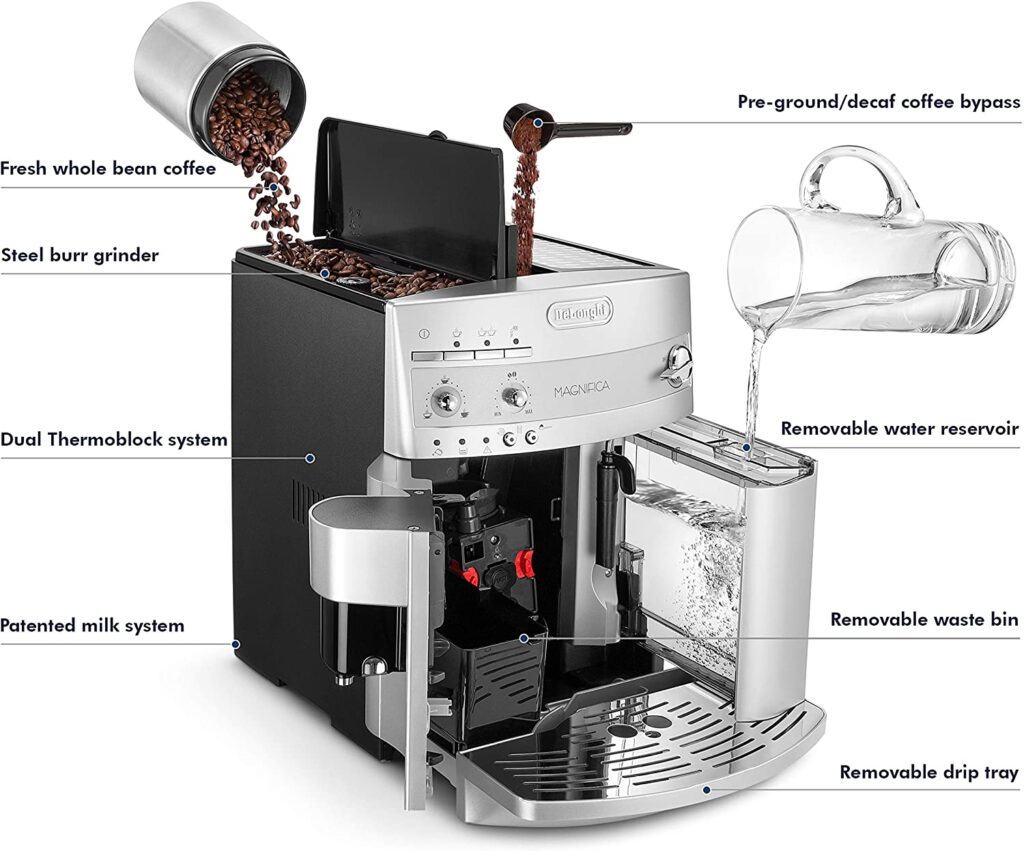 The spigot height can be adjusted as well so it's easier to chanel coffee in any mug size from the standard coffee cup to a travel mug. The maximum cup height it adjusts is 4.25 inches.
One major advantage of the DeLonghi Magnifica is its 60-oz water tank capacity . This is particularly important if you are using your machine to make Americanos or other beverages that are hot-water reliant. 
The front-access water tank is great for putting your coffee maker in tight spaces, and indicator lights will let you know when it's time to refill. Unfortunately, though, the water tank isn't designed to accommodate a filter, so you'll have to use your own filtration or bottled water.
The DeLonghi has dual stainless steel thermoblock boilers, with the brew side and the steam side each having their own.
The machine also features a three-hour automatic shutoff system which is essential for safety purposes, firstly the appliance won't burn out and secondly, it saves energy.
Pros:
You can operate everything from the front.
It is very inexpensive.
It has infinitely variable coffee and water levels.
The grinder has 14 settings.
It is easy to use.
The machine is compact.
Cons:
Not compatible with water filters
Can't brew and steam at the same time
Best For High Volume Environment
Jura Giga W3
[amalinkspro type="showcase" asin="B01D3U20B0" apilink="https://www.amazon.com/dp/B01D3U20B0?tag=cafespress-20&linkCode=osi&th=1&psc=1" new-window="true" addtocart="false" nofollow="true" sc-id="4" imgs="LargeImage" link-imgs="false" specs="~~~The integrated rinsing, cleaning and descaling programs reduce the effort involved to a minimum. ~~~Cup warmer and milk cooler~~~The GIGA W3 is also capable of producing the internationally popular flat white~~~Elegant and professional~~~" btn-color="#ff9900" btn-text="Buy on Amazon" alignment="aligncenter" hide-prime="0" hide-image="0" hide-price="0" hide-button="0" width="750"]Jura GIGA W3 Professional Automatic Coffee Machine[/amalinkspro]
The Jura GIGA W3 is a professional-quality latte machine. It is the kind of appliance that you would want for a family that are power coffee drinkers as they will benefit immensely from this one of the best automatic latte machine for home. 
The W3 is really really fast, it makes coffee in 33 seconds. What is even more remarkable is that you get two cups of your favorite espresso for the same amount of time. 
And if you want lattes for you and your partner, the GIGA W3 can have it ready in 1 minute, 30 seconds. That's 2 cups of lattes in 90 seconds!
The W3 can produce hundreds of cups of coffee in one go. More importantly, you get to enjoy up to 43 different styles of coffee that already include 12 famous barista coffee recipes.
The Giga W3 is incredibly easy to use. So it's a bean to cup latte machine. Drinks are selected from a color screen. Just place a cup and push a button to choose from favorites not just great lattes but beverages like cappuccino, espresso, coffee and more. 
The machine then grinds whole beans fresh, extracts the coffee and steams and textures milk if needed for drinks that are every bit as beautiful and delicious as those made by a professional barista.
But that's just the beginning. Using a ball bearing mounted rotary switch users can access 31 individually programmable specialty coffees and as mentioned before – there are another 12 barista recipes available at the touch of a button.
The GIGA W3 takes Jura's design philosophy to heart. The machine will sit well in a modern kitchen where the central theme is stainless steel. It has a sheen that can complement other contemporary appliances in the kitchen.
The Jura GIGA W3 Professional is the closest that you can get to having a barista in your kitchen. 
As a professional coffee maker, it will function like a dream in a restaurant or cafe and give you access to amazing drinks at home. 
The GIGA W3 is undoubtedly one of the best automatic latte machines and it has the large hopper and water tank that you need for making lattes for a crowd.
Want 2 lattes? The automatic Giga W3 latte machine is one of the few machines that can make 2 milk based drinks simultaneously. 2 lattes, 2 flat whites, and make any of the specialty coffees 2 at a time by pressing the preparation button 2 times within 2 seconds.
Though the adjustable coffee spouts will not release milk, the machine does have a steaming wand that acts like a frother. This frothing attachment can make a lighter and thinner layer of crema or a thicker and richer layer of cream.
An adjustable air intake added to its design increases and decreases the amount of air that moves through based on the type of drink it brews. 
The machine can add more air to give you a lighter and more complex drink, or it can add less air to concentrate down that flavor and give you a bolder roast.
The cup platform is large enough to accommodate several cups at a time. There is also an integrated drip tray at the bottom of the appliance. The best part of it is that there is no need to check the drip tray from time to time. You will see an alert on the LCD screen about when you need to empty the drip tray.
Descaling your espresso maker ensures that your coffee tastes the same day after day. Lime and calcium deposits left behind by your water can make the coffee taste bitter or burnt. 
This one of the best Jura coffee & espresso machine comes with a built-in descaling feature that removes those deposits from its internal tank.
This espresso maker also has a built-in rinsing feature that quickly rinses away any left over residue.
Pros:
5 litre water tank & 3 pound bean hopper

Professional-grade performance for large homes and power coffee drinkers

Very intuitive, convenient, and simple operation

Provides up to 43 different specialty and barista coffees

Grinds coffee beans in a professional way 

Includes every accessory you need to make a great coffee

Excellent preservation of the aroma and flavors of coffee beans

Comes with an intuitive programming for effortless maintenance and cleaning
Cons:
Best Compact Automatic Latte Machine 
Gaggia Brera
[amalinkspro type="showcase" asin="B003XV31IG" apilink="https://www.amazon.com/dp/B003XV31IG?tag=cafespress-20&linkCode=osi&th=1&psc=1" new-window="true" addtocart="false" nofollow="true" sc-id="4" imgs="LargeImage" link-imgs="false" specs="FROTHING FOR MILK BEVERAGES: Pannarello wand frothing for cappuccinos & lattes. ~~~EASY ACCESS: The dregs drawer, drip tray, and water tank are all within reach and accessible~~~USER-FRIENDLY DISPLAY~~~RAPID STEAM TECHNOLOGY. Coffee bean capacity : 250 gr~~~1 YEAR WARRANTY~~~~~~" btn-color="#ff9900" btn-text="Buy on Amazon" alignment="aligncenter" hide-prime="0" hide-image="0" hide-price="0" hide-button="0" width="750"]Gaggia Brera Super Automatic Espresso Machine [/amalinkspro]
The Gaggia Brera is a compact super-automatic with automated brewing capabilities and easy frothing with its integrated pannarello wand, which is specially designed to aerate milk to create delicious lattes.
Despite being a small, compact machine designed for home use, the Brera delivers cafe-quality espressos and lets you customize it as per your preference.
The Gaggia Brera is a sturdy, robust machine that is built to last. While its top and sides are made of plastic (you can choose silver or black), the stainless steel front panel, drip tray, and smooth corners give it an elegant retro feel, perfect to fit traditional kitchens as well as more modern countertops.
The Gaggia Brera is a great automatic latte machine for home use, with a perfectly user-friendly design that will help you learn more about the basics of brewing before moving on to a more advanced machine. 
Some of the components that make this espresso machine stand out from the rest are the programmable settings, rapid steam and bean-to-cup tech, LED screen, and compatibility with water filters.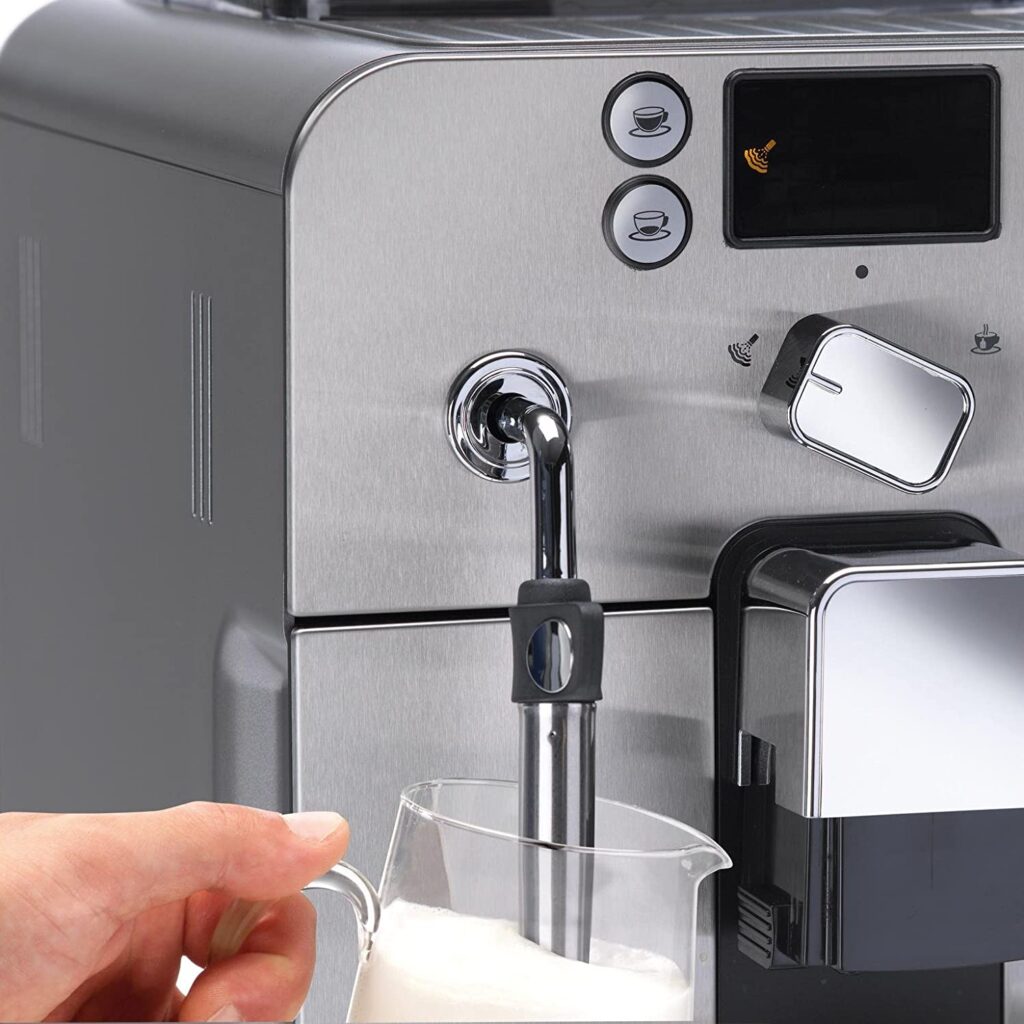 Some of the key functions that make this machine great include the programmable clock and timer, automatic shut-off, low water warning, and the handy "Decalcification Needed" indicator.
Another element of the Gaggia Brera's design that makes it unique is its bean-to-cup grinding feature. 
This machine features a flat ceramic burr grinder along with an 8-ounce bean hopper that's airtight. The grinder features five settings to allow for some experimentation to get that ideal brew.
The "smart system" is another great feature you're likely to find useful, as it adjusts the grind time and speed to meet your specific roast preferences. 
For those times when you need an extra caffeine boost, the Brera has an option for double shots.
Another brewing related feature is the pre-infusion technology. Basically, this function soaks your grounds in the internal portafilter post-tamping, pre-shot pulling. 
By pre-wetting the grounds, the machine helps to ensure full, even saturation and extraction.  
This step is especially important because you cannot pre-infuse the ground yourself. 
Also, because espresso machines require a fine grind, complete saturation without pre-infusion can be difficult. 
Pros:
Compact, sleeker and functional design
Built-in ceramic burr grinder, perfect for those with minimal kit
Removable parts make for easy cleaning
Respectable programmability range for a super-auto
Competitively priced
Cons:
Small water tank
Loud grinder
Easiest To Clean
Philips 3200 Series
[amalinkspro type="showcase" asin="B07VFY4MXM" apilink="https://www.amazon.com/dp/B07VFY4MXM?tag=cafespress-20&linkCode=osi&th=1&psc=1" new-window="true" addtocart="false" nofollow="true" sc-id="4" imgs="LargeImage" link-imgs="false" specs="Enjoy 5 coffees~~~Intuitive touch display~~~12-step grinder adjustment~~~20,000 cups of finest coffee with durable ceramic grinders~~~Keep your beans fresh for longer thanks to the aroma seal~~~Up to 5,000 cups without descaling thanks to AquaClean~~~~~~~~~Makes Espresso, hot water, cappuccino, coffee, latte macchiato and americano~~~" btn-color="#ff9900" btn-text="Buy on Amazon" alignment="aligncenter" hide-prime="0" hide-image="0" hide-price="0" hide-button="0" width="750"]Philips 3200 Series Fully Automatic Espresso Machine [/amalinkspro]
The Philips 3200 with LatteGo is one of the best super automatic latte machine for home use. This means it's a machine that combines an espresso brew unit, a milk steaming system, and a grinder in one machine. What's more, it means that the machine uses extensive automation to make drink prep extremely simple. With just a few button presses you can get a shot of espresso or a latte.
Coffee lovers have their favourites and the Philips 3200 LatteGo is designed to make the core beverages at the touch of a button. 
The machine makes Black Coffee, Espresso, Americano, Cappuccino and Latte macchiato. It will also dispense hot water.
To make a drink, choose your beverage from the control panel and press start. The machine will grind the beans, and make your espresso shot on the spot. To brew one shot of espresso from start to finish it takes about a minute.
If you want a double, just tap the double shot option and it will make two individual shots, unlike some machines which just use the same amount of beans but with twice the water.
The touch interface also has buttons to adjust the dose (or amount of coffee used per drink) and drink volume, as well as milk foam amount. 
The biggest thing that sets this machine apart from others in the Philips line is the LatteGo steaming system.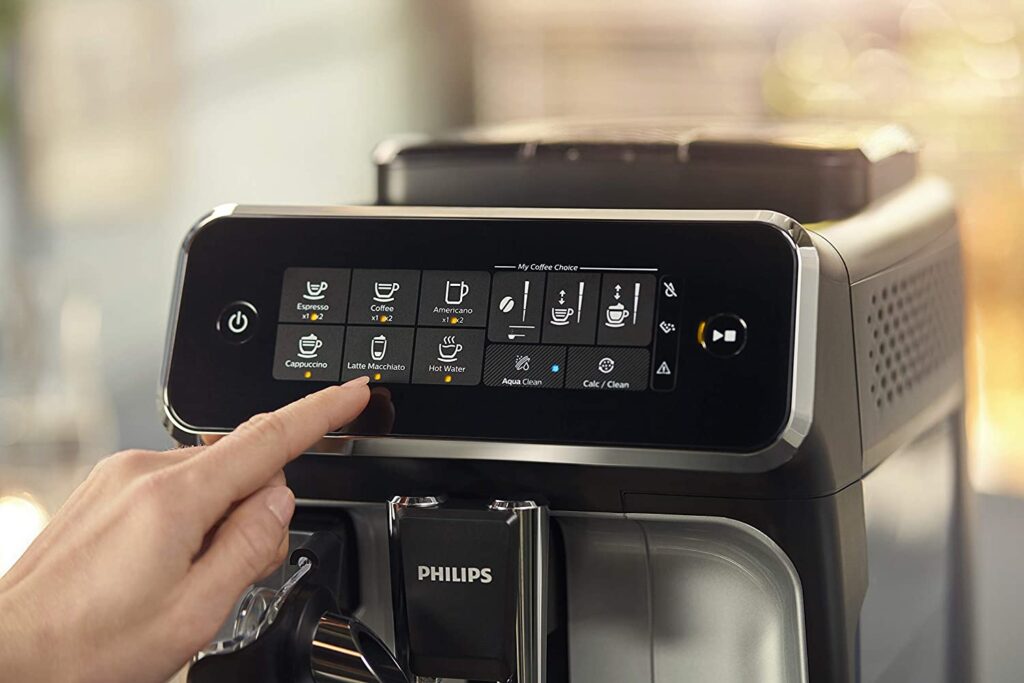 With LatteGo, milk is siphoned through the carafe, but upon heating it is poured through a spout that is part of the carafe itself. 
The difference here is a very simple system that looks like a standard carafe on its surface, but one where the milk doesn't have to move through tubing inside of the machine to get to a spout at the brew unit. The result is a much easier to clean system that actually produces hot, well textured milk.
To make your cleaning process easier Philips 3200 espresso machine is made with stainless steel. Its large water tank assists you in easy cleaning. 
When you go to clean you should remove the water tank then it automatically cleans the machine or you can wipe it.
Another impressive feature is the large water tank which holds 1.8L or water. A filter can also be inserted into the machine to cut down on the need for descaling or if you have crappy tasting water. The drink spout on this machine is also adjustable to accommodate many sizes of cups.
Pros:
4 different preprogrammed coffee recipes
AquaClean filter to remove any impurities
3 different temperature settings
Classic frother 
3 different aroma settings
Intuitive touch screen
Cons:
Generally noisy operation
Best With Removable Milk Carafe
Gaggia Anima Prestige
[amalinkspro type="showcase" asin="B016RYODRS" apilink="https://www.amazon.com/dp/B016RYODRS?tag=cafespress-20&linkCode=osi&th=1&psc=1" new-window="true" addtocart="false" nofollow="true" sc-id="4" imgs="LargeImage" link-imgs="false" specs="ONE TOUCH BREWING AND FROTHING: Bean-to-cup feature with automatic milk frothing for cappuccinos, macchiatos and lattes. ~~~PROGRAMMABLE~~~TEMPERATURE CONTROL: 3 different temperature settings. ~~~EASY ACCESS TO WATER RESERVOIR AND BEAN HOPPER: Features a removable 60 oz water reservoir and an 8.8 ounce capacity bean hopper~~~" btn-color="#ff9900" btn-text="Buy on Amazon" alignment="aligncenter" hide-prime="0" hide-image="0" hide-price="0" hide-button="0" width="750"]Gaggia Anima Prestige Super Automatic Espresso Machine[/amalinkspro]
The Gaggia Anima is a super-automatic espresso machine that automatically brews espressos and longos at the press of a button, and makes frothing milk for cappuccinos and lattes easily with the manual pannarello wand. It's a sleek machine that's easy to use and maintain.
The combination of black and silver looks fantastic and it also isn't particularly wide or deep compared to other fully automatic coffee machines, so the Anima should fit neatly on any kitchen counter.
The Gaggia Anima is one of the best super automatic latte machine for home and it features a large removable 60 oz. water tank which can be accessed at the top left of the machine and it also has an 8.8 oz. bean hopper.
The machine features a Panarello steam wand which is very simple to use. All you have to do is fill your cup with milk and hit the steam button which is located on the front of the machine.
The wand automatically injects air into the milk, and once it has been frothed, you can press the Espresso machine, also located on the front and once your coffee is brewed your drink is ready for you.
With the integrated frother, integrated grinder, adjustable grind size, 3 temperature settings, 5 dose size settings and easily programmable brew sizes, you can pull almost any kind of shot you want and make any kind of specialty beverage you desire.
The Anima Prestige has a nice, large display, which makes it simple to use.
You can use the display to easily set the amount of coffee you want to use and make, and it will even let you know if the brewing unit or the drip trays aren't correctly installed.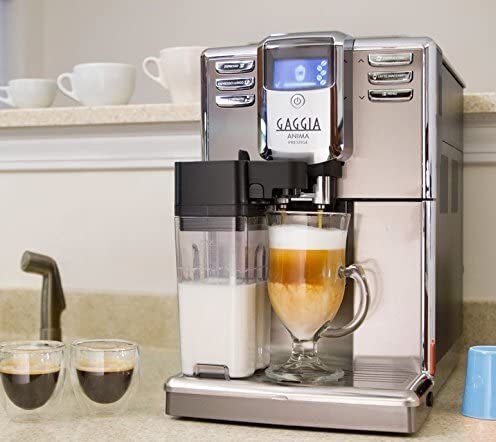 This amazing super-automatic espresso machine under $1000 uses a milk carafe that saves space by attaching directly to the machine's front.
When you are done making your coffee, you can easily take off the milk carafe to store it in the refrigerator.
Both the bean hopper and water reservoir are conveniently placed which makes this machine easy to fill and clean.
You can lift lids on the top of the machine to access either one. The water reservoir is on the left, and the bean hopper is on the right.
In addition to the pressure used by the steam wand, the Anima Deluxe features a 15-bar pump that uses pressure as well.
This pump increases the pressure used when brewing to get more flavor from the beans and to increase the aroma you smell and taste you get.
Cleaning is relatively simple, too. The Anima goes through a self-cleaning process when you power it on and off to keep the coffee dispenser clean, and you can just whip off the steam head to clean it manually after you've used it.
Pros:
Espresso lungo mode makes good coffee
Easy-to-use
Compact footprint
Sturdy and robust stainless-steel exterior
intuitive display
Simple custom shot size selector
Cons:
No steam tap
No cup warmer
Bean hopper lid isn't airtight
Best Under $2000
DeLonghi Eletta
[amalinkspro type="showcase" asin="B01ISTTBY0" apilink="https://www.amazon.com/dp/B01ISTTBY0?tag=cafespress-20&linkCode=osi&th=1&psc=1" new-window="true" addtocart="false" nofollow="true" sc-id="4" imgs="LargeImage" link-imgs="false" specs="Stainless steel grinder~~~Energy saving switch~~~Water filtration system~~~Hot water spout for tea and hot chocolate~~~Metal sensor touch control panel~~~ LatteCrema System" btn-color="#ff9900" btn-text="Buy on Amazon" alignment="aligncenter" hide-prime="0" hide-image="0" hide-price="0" hide-button="0" width="750"]DeLonghi Eletta Super Automatic Machine[/amalinkspro]
The DeLonghi Eletta is a slick and stylish looking model that looks amazing sitting on a kitchen worktop, with a slightly futuristic feel to its design which grabs the attention.
The Eletta has high end professional looks with a design that fits into any kitchen. With excessive chrome-finished plastic housing plus an angled up view of the control panel for easy viewing, it's one of its kind.
With Eletta, all the milk-based drinks are easily programmable to deliver the amount of milk and espresso you want. And you can do the same for espresso and long coffees as well. When making a long coffee, the Eletta uses lower pressure pulse brewing to make a drip style coffee.
It's LatteCrema system introduces customizable froth for perfect latte or cappuccino foam with remarkable results! You'll be able to adjust from a creamy microfoam up to a thick, heavy cappuccino foam consistency at the turn of a dial.
The dial lets you adjust how frothy the milk is. It ranges from just heating the milk without froth, to a medium froth which is good for a latte macchiato or flat white up to an airier froth for cappuccino and espresso macchiato. And the Eletta is fast. It starts dispensing milk while grinding the beans.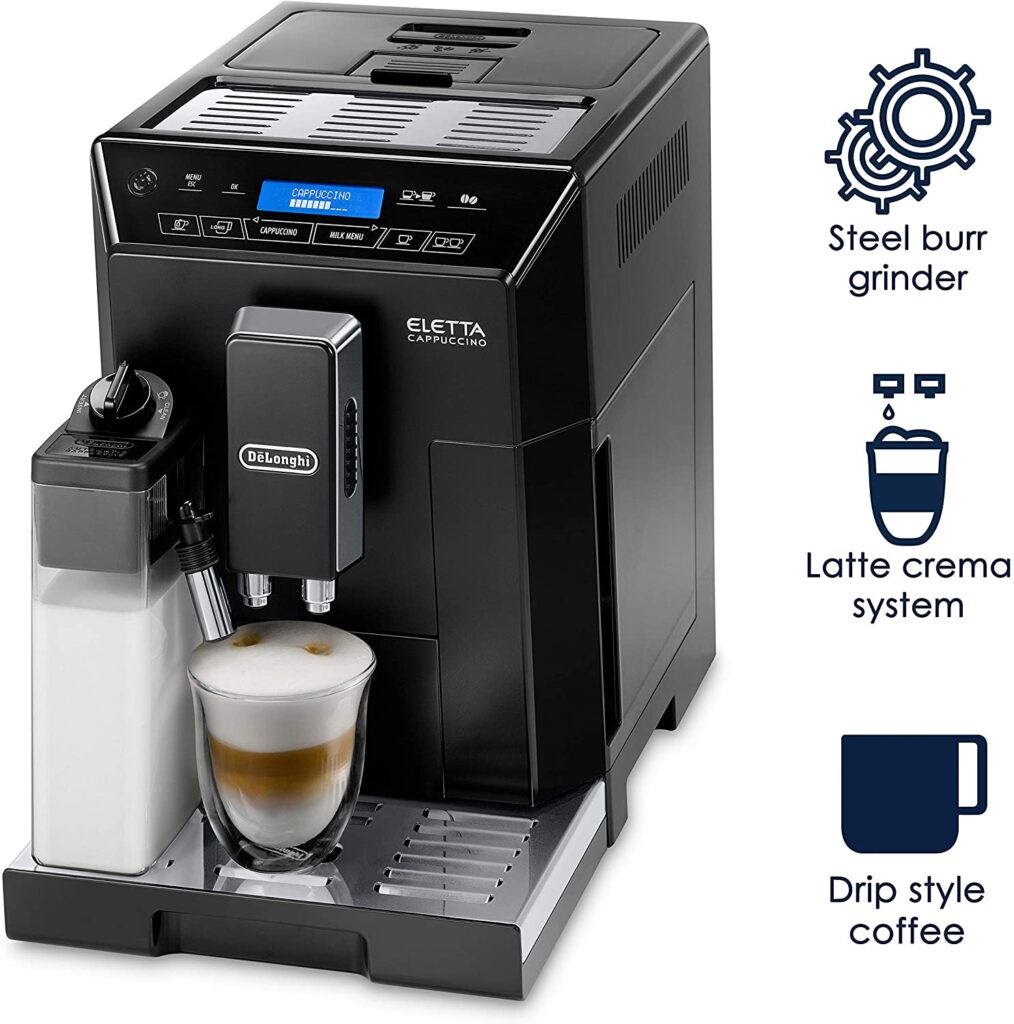 All the controls on the display panel are fairly easy to use with one-touch operation for some popular coffee drinks. You have dedicated buttons for your favorite single and double espresso, cappuccino, caffé latte, latte macchiato, long, and hot water.
When you press the dedicated button, the settings will automatically be displayed on the screen for adjustments on the fly.
Each drink option is customizable according to your coffee addiction. You can easily adjust the temperature, strength, and the milk-to-espresso ratio. It's automatically displayed when you select a drink and the wonderful thing is — the machine remembers your settings.
It has a 400g bean hopper with a rubber-sealed lid where you can store your coffee beans to preserve their freshness.
A small bypass doser can be found which is capable of brewing one (1 measuring scoop) dose at a time if you're using decaf or other pre-ground coffee.
The Eletta has an integrated silent burr grinder with 13 different grinder settings to fine-tune the coffee grounds for different espresso-based drinks you can think of.
Pros:
Produces nice crema for espresso
Grinder can make finer coffee grounds 
Auto-frothing wand produces hot steam milk
Includes a cup warmer
Auto-on function 
Has adjustable froth level to get the right froth for your drink
Great milk system cleaning
Cons:
Display could be better
Too many options
Best For Customized Beverages
Saeco Xelsis
[amalinkspro type="showcase" asin="B07G3XYR3R" apilink="https://www.amazon.com/dp/B07G3XYR3R?tag=cafespress-20&linkCode=osi&th=1&psc=1" new-window="true" addtocart="false" nofollow="true" sc-id="4" imgs="LargeImage" link-imgs="false" specs="Premier programming~~~Save Your User profile~~~Touchscreen control~~~Hygiesteam system~~~Double thermo blocks~~~Refined ergonomics " btn-color="#ff9900" btn-text="Buy on Amazon" alignment="aligncenter" hide-prime="0" hide-image="0" hide-price="0" hide-button="0" width="750"]Saeco Xelsis Super Automatic Espresso Machine[/amalinkspro]
The Saeco Xelsis comes with 15 preprogrammed drink options that you can create using the touch screen. No matter what you're in the mood for, chances are that the Xelsis has you covered.
Saeco Xelsis features a revolutionary Coffee Equalizer function that provides adjustment of the strength, volume, temperature and taste of coffee, the amount and volume of milk foam, and the sequence of the coffee and milk supply.
The range contains almost all of the most popular recipes, including strong ristretto, velvety espresso, cappuccino and latte macchiato with excellent milky foam, etc. Each drink has preset parameters.
The Saeco Xelsis features a high-quality ceramic grinder designed to be gentle on your coffee beans, so it can produce fresh grinds on demand without causing overheating due to excessive friction. This helps deliver fresh-tasting coffee without burnt off-flavors.
It also has a HygieSteam function that automatically cleans the milk supply system with a jet of steam, ensuring almost instant readiness of the coffee machine for a new cycle.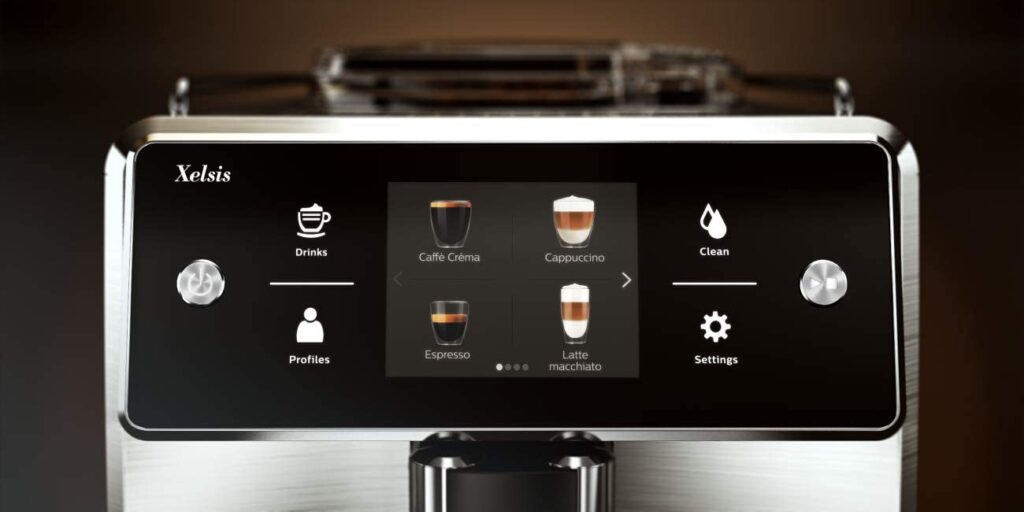 Another great feature of the Xelsis is that it allows you to maintain six customizable user profiles, so each member of your family can save their particular preferences and easily recall them with the push of a button. Your entire family will benefit from the luxury of enjoying their coffee drink just the way they like it.
The Xelsis also features Saeco's AquaClean filtration system. These filters cut down on maintenance like descaling by simply telling you when they need to be changed through the machine's interface.
Another reason why this is one of the best automatic latte machine for home is because it features some of the best milk texturing and flavor of any other super automatic that we've ever seen.
Recreating the delicate process of hand steaming milk is a huge challenge, and the Xelsis really excels at it. The microfoam from this machine is even of a high enough quality to pour latte art.
Pros:
15 different coffee drinks
Save up to six different user profiles
HygieSteam makes it easy to keep the entire milk handling system clean
Easy to make adjustments to the presets
Cons:
[amalinkspro type="showcase" asin="B07DNZLN3Z" apilink="https://www.amazon.com/dp/B07DNZLN3Z?tag=cafespress-20&linkCode=osi&th=1&psc=1" new-window="true" addtocart="false" nofollow="true" sc-id="4" imgs="LargeImage" link-imgs="false" specs="ONE TOUCH: Prepare 15 barista quality specialties including espresso, coffee, cappuccino, flat white and latte macchiato at the touch of a button~~~~~~CONICAL BURR GRINDER: Fast and precise AromaG3 grinder grinds whole beans to the optimum fineness~~~~~~CAPACITY: 64 ounce water tank, 10 ounce bean container" btn-color="#ff9900" btn-text="Buy on Amazon" alignment="aligncenter" hide-prime="0" hide-image="0" hide-price="0" hide-button="0" width="750"]JURA S8 Automatic Coffee Machine[/amalinkspro]
Jura S8 is a compact coffee maker that measures 21.4 L x 12.9 W x 17.4 H inches. You can place it on kitchen countertops or store it in cabinets with no worries as the overall build of Jura S8 is not space-grabbing. Its water reservoir can hold up to 64 oz of water while its bean container can keep 10 oz of coffee beans.
Making coffee starts with whole beans loaded into the hopper on top of the machine. The hopper lid has a gasket seal to keep beans fresh. Behind the hopper lid, 2 doors flip up.
On the left is access to a bypass chute for loading pre-ground coffee – really handy for making an occasional decaf coffee. On the right, a lever to adjust grind size in seven levels.
For an optimal extraction process, it uses the Pulse Extraction Process (P.E.P.), which obtains the coffee grounds' ultimate aroma even with specialty coffee shots like espresso and ristretto. The pulse extraction process takes place with water being pressed through the ground coffee in a quick burst, optimizing the extraction time.
What's amazing about the Jura S8 is that it brings together hints of high-class espresso machines and elements of the compact class, without compromising its outer beauty. 
It's comprehensive 4.3″ TFT Touch Colour screen provides a high resolution, intuitive, vivid user experience. All you have to do is pick a drink, press the button, and let the S8 make you an exquisite coffee.
This one of the best automatic latte machine for home can also make cappuccinos, espresso, coffe, macchiatos and the flavorful flat white. All at the touch of a button without moving your cup and all easily programmable so you can have your favorite drink exactly how you like it. The S8 uses a pick-up tube system for milk. 
Milk is a key ingredient in many different coffee drinks; it neutralizes the bitterness of the espresso and improves the taste.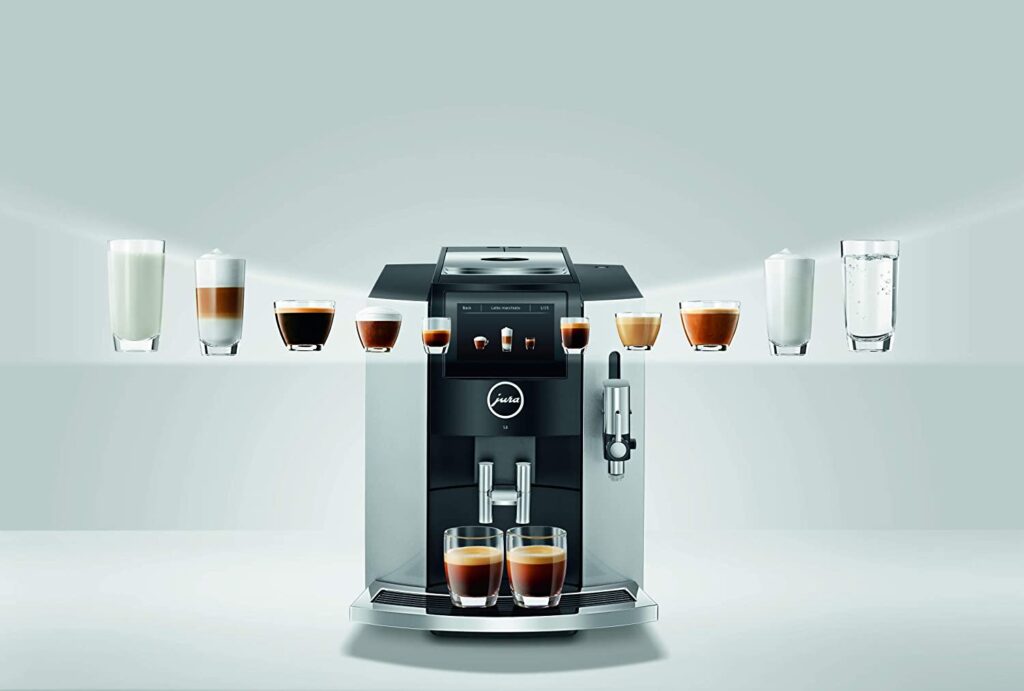 Where the S8 gets milk right is with its new professional fine foam frother. This frother creates flawless microfoam and steams milk to perfection at the press of a button. Plus, it doesn't require maintenance – it cleans itself.
The S8 is completely programmable, meaning you can program each drink to your liking or make changes on the fly with the intuitive touch screen. 
The S8 will walk you through each process. If you like more milk in your latte, you can program it as such. If you prefer a double shot, you can program that too. The options are endless!
Aside from these, you can make 15 specialty beverages with Jura S8. From espresso to latte macchiato, delight your family, relatives, or friends using the S8 with different coffee beverages and coffee strength you usually get from coffee shops.
The water filter used int he machine has a radio frequency ID chip built in. With that the machine knows when a filter is in use and when it gets changed. And the machine alerts you when to change the filter.
The exterior of the machine is plastic with the exception of the hopper lid and metal surround in the drip tray. The S8 can be set to automatically turn off in a range of 15 minutes to 9 hours but uses only 6 watts of power per hour when on and idle.
Pros:
One-touch brewing system that can prepare 15 barista-quality specialty coffee

Uses the Pulse Extraction Process for a perfect and aromatic espresso

Has built-in AromaG3 conical burr grinder

Compact size

Automatic milk rinse

Adjustable water hardness

Fine foam milk frothing

Perfect for making lattes
Cons:
Best With Auto Cappuccino System
Gaggia Babila
Bean-to-cup espresso machine
One touch brewing and frothing
Dual boilers
8 Programmable brewing options
Tall Spouts
Stainless Accents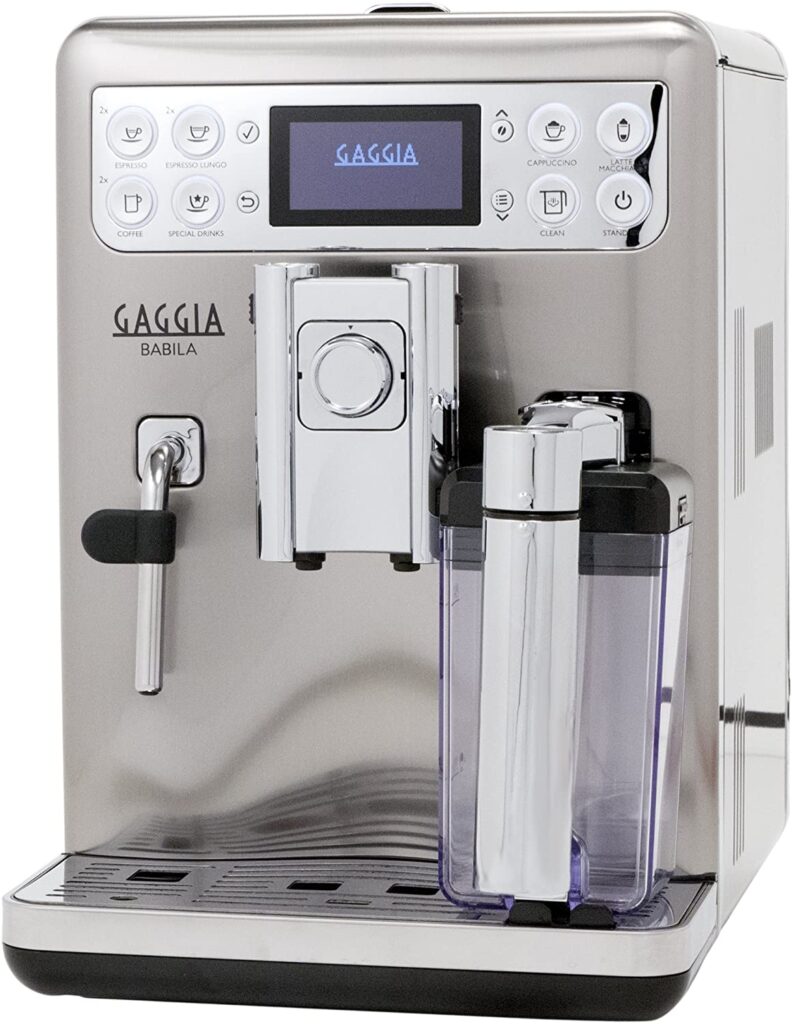 The Gaggia Babila is a one of the best dual boiler super-automatic espresso machine geared towards simplicity and a high-level of programmability, and boasting a retro look for a modern machine. The beautiful, simple-to-use interface disguises a powerful array of drink options that we can't help but get excited about.
The Babila delivers on ease-of-use and programmability with its eight drink options which can be personalized by preferred strength, volume, temperature, and taste.
The Gaggia Babila is fairly slim for a superautomatic of its grade. And it comes with a decent sized water reservoir, ceramic burr grinder, buttons to make eight different types of coffee, and lots of other programmable options. It's a great choice if you love milk coffee and you want your coffee at the press of a button.
The water tank is housed under a flap on the left-hand side of the machine. This keeps the Babila looking neater from the outside. When you want to fill it, you can just pull the tank out and fill from under a tap, which makes the job straightforward.
A flap on the other side of the Babila hides the bean hopper. It's big enough to take a standard-sized bag of beans.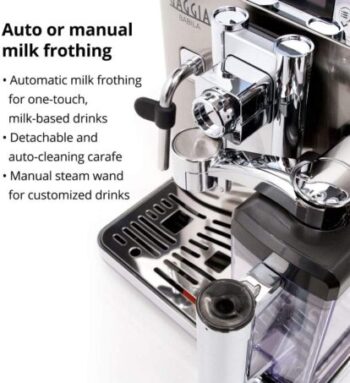 There's a small flap on top that can take pre-ground coffee, too. The front of the machine is dominated by the quick-dispense buttons for the most common drinks. They're neatly labelled and feel responsive to the touch.
This one of the best high end espresso machine features a ceramic burr grinder adjustable across fifteen settings, and an integrated bypass doser for pre-ground coffee brewing.
A manual steam wand, unique for one-touch machines, is integrated into the Babilia as well as an automated milk carafe, for the barista who wants convenience without sacrificing control.
The Gaggia Babila has an excellent water capacity to bean capacity ratio that is perfect for precise timing of refilling. The 50.7-ounce tank is perfect for the Babila's 10.58-ounce bean hopper. The grinder features a silent and efficient ceramic disk.
The Babila has lots of options to choose from. From the grind of the beans, to the type of coffee you want, to the pre-infusion levels, the water temperature, the height of the spout and the ability to adjust your flow, the Babila has options for just about everything.
Pros:
Produces consistently amazing coffee without the burnt taste
Hassle-free, guesswork-free cappuccinos
Features a dual-chambered, removable, and self-cleaning milk carafe
Dishwasher-safe removable parts
Excellent ratio between hopper capacity and water tank capacity
Easy to maintain, descale, and clean
Allows for manual or automatic milk frothing
Cons:
Best For Home 
De'Longhi Magnifica
[amalinkspro type="showcase" asin="B07D5TVFMM" apilink="https://www.amazon.com/dp/B07D5TVFMM?tag=cafespress-20&linkCode=osi&th=1&psc=1" new-window="true" addtocart="false" nofollow="true" sc-id="4" imgs="LargeImage" link-imgs="false" specs="Thermo Block technology provides excellent heat distribution~~~Integrated burr grinder with adjustable settings~~~Consistent brewing every time~~~Patented cappuccino system frother~~~Compact design" btn-color="#ff9900" btn-text="Buy on Amazon" alignment="aligncenter" hide-prime="0" hide-image="0" hide-price="0" hide-button="0" width="750"]De'Longhi ESAM04110S Magnifica Fully Automatic Espresso Machine [/amalinkspro]
The DeLonghi ESAM04110S has a typical modern styling. Steel finish with a subtle touch of dark grey color, the DeLonghi ESAM04110S carries a very professional look and excellent build quality that will definitely add style points to your kitchen countertop. 
A total of ten buttons are displayed on the front, which is right below the accompanying monochrome LCD display.
This one of the best super automatic latte machine features an integrated stainless steel burr grinder with 13 adjustable settings and tubeless technology, which grinds fresh beans every time to ensure maximum freshness in every cup. With various Coffee strength settings, everyone gets their ideal flavor. 
With its additional manual milk frother, the De'Longhi ESAM04110S gives you foam your way. 
Add some texture and a rich and creamy froth to your speciality drinks to give them the edge and customize them to your own taste preferences.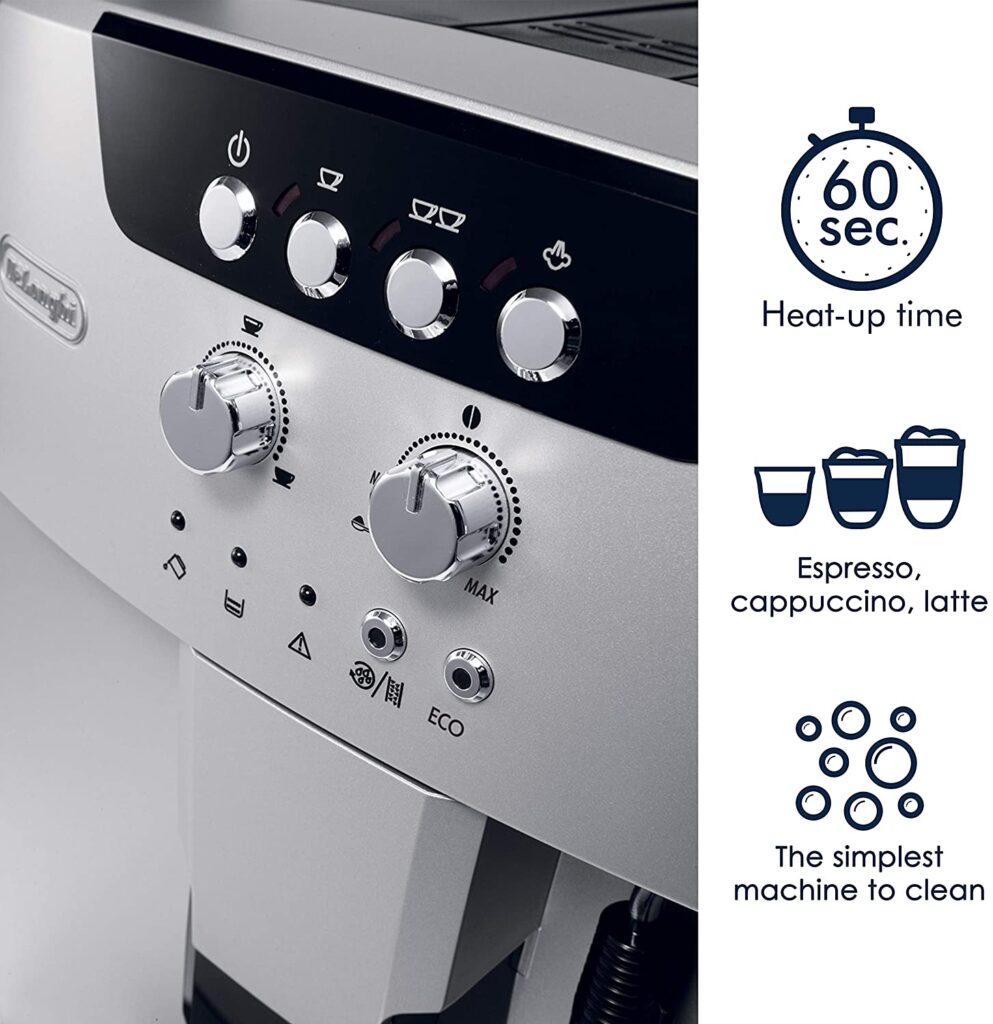 A speedy thermoblock boiler provides even heat distribution, which, in combination with its 15 bar pump, produces a perfect shot of espresso. 
Plus, DeLonghi's instant reheat function allows for immediate brewing directly afterward for multi-user homes.
DeLonghi's automated decalcification process keeps the machine in tip top shape, and its removable brew group makes cleaning in between decalcifying a breeze. 
You can simply slide out the brew group along with the internal drip tray and dredge drawer, clean each in the sink, and slide them back into place. 
Also, the 57 oz. water reservoir is front-loading, so refilling is a snap letting you enjoy your drink with minimal interruption.
The machine also features an easy to clean and handle: the compact, extractable brew unit is not only easy to clean, but It also self-adjusts for one or two shots of espresso.
It also has a rapid cappuccino system that maintains the optimal temperature so you can brew cup after cup instantly.
DeLonghi Magnifica also has a removable automatic latte and cappuccino system that includes a 25-ounce milk reservoir and two detachable lids (one for foam and the other for steam). 
With this, you can easily store leftover milk in the fridge and have it ready to use the next day without the hassle of transferring the milk or cleaning the container. 
Pros:
One-Touch operation and plenty of programming options
Removable milk container
Integrated conical burr Grinder
Five coffee-strength options; 
3 buttons for choosing cup size; height-adjustable coffee spouts
Instant reheat function
Cons:
Steam knob is a bit tight
FAQs On Automatic Latte Machines
Can All Espresso Machines Make Lattes?
No, not all espresso machines can make lattes (although every automatic machine in this review does). Only machines with some kind of milk frother or steaming wand can make lattes. If your machines does not have a steaming wand, you can make steamed milk without an espresso maker using a separate milk frother.
What Is A Latte?
A latte is a coffee drink made with six to eight ounces of steamed milk and one shot of espresso.
What sets a latte apart from other coffee drinks is the ingredients and the preparation process. While all lattes are made with espresso and steamed milk, larger lattes are often made with a double shot of espresso. The beverage may also be topped with foam for both flavor and presentation.
Whats The Difference Between An Espresso and A Latte?
It's the espresso that makes a modern latte unique. In fact, the latte has it's signature "kick" because of this ingredient. 
Espresso is coffee prepared using a pressurized brewing process to create a more concentrated drink. Because it's so concentrated, it has a more dense proportion of caffeine than other drinks. One latte can give you the same buzz as a tall energy drink.
What's The Difference Between A Cappuccino and A Latte?
Both are espresso drinks that contain espresso and two additional ingredients: steamed milk and foamed milk. 
A traditional cappuccino has an even distribution of espresso, steamed milk, and foamed milk. A latte has way more steamed milk and a light layer of foam.
A cappuccino is distinctly layered, while in a latte the espresso and steamed milk are blended together.
What's The Difference Between Steamed Milk and Frothed Milk?
Frothed milk has more volume, with significant amounts of foam. Steamed milk is heated and more delicately aerated, producing small amounts of microfoam. 
Steamed milk is also more widely used in a variety of coffee drinks, while frothed milk lends itself specifically to foam filled beverages.
What type of milk do baristas use?
Baristas use a variety of milk, including almond, oat, low-fat, skim, 1 percent, 2 percent, and whole milk, depending on each customer's preference. However, whole milk is the best option for fluffy latte foam and latte foam art.
Conclusion
The Breville Oracle Touch is our top pick for the best automatic latte machine for home use. Its automated, touch screen operation simplifies how to make your favorite cafe coffee in three easy steps – grind, brew and milk. 
You can easily adjust the coffee strength, milk texture or temperature to suit your taste. Then save it with your own unique name. Create and save up to 8 personalized coffees.
The Jura S8 is or next pick for the top automatic latte machine for home. JURA's Professional Fine Foam FrotherG2 features innovative fine foam technology delivering ultimate quality milk foam or steamed milk to perfectly top milk specialties.
Dial positioned vertically produces finely textured milk foam with long-lasting consistency for classic cappuccino, trendy flat white and latte macchiato.
We are a team of coffee affcianados with experience and expertise in making world renowned coffee. In fact, preparing the best coffee ever with a fluffy top reminds us of magic, with secrets of how to achieve each particular effect. Making coffee is not our only hobby, we always keep our ears open as to what's happening around and what scientists and manufacturers produce for consumers. It's not an easy task to do – it's rather time consuming. Hence, Caféish website was launched.
Caféish is a participant in the Amazon Services LLC Associates Program, an affiliate advertising program designed to provide a means for sites to earn advertising fees by advertising and linking to Amazon.com. Caféish also participates in affiliate programs with Clickbank and other sites. Caféish is compensated for referring traffic and business to these companies.