Best Espresso Machine Under $1000 of 2023; Reviews
Disclosure: This post contains affiliate links and I may earn a small commission (at no extra cost to you) if you click through and make a purchase. Thanks in advance – I really appreciate it!
Here in this article "Best Espresso Machine Under $1000" we've rounded up 9 top espresso makers of various types, specifications, and budget. Below, you'll find in-depth reviews of each, as well as an elaborate buying guide to pick out your favorite.
Considering the number of options available in the marketplace today, choosing the best espresso machine under $1000 can be a challenging task.
Amateurs may often consider coffee and espresso alike, but the connoisseurs know that there is a world of difference between the two. An espresso delivers a higher intensity of flavor whipped up in luscious crema that gives you a kind of experience you cannot imagine with an ordinary cup of coffee.
With so many options to choose from, we thought we'd make your buying decision a little easier by sharing our list of best espresso machines. From lever press machine to bean-to-cup automatic espresso machine, there's something here for everyone.
Image
Title
Best For
Price
Buy

Top

Top

Top

Top

Breville Barista Express Espresso Machine
Best Semi Automatic
See on Amazon

Top

Top

Top

Jura D6
Best Home Espresso Machine
See on Amazon

Top

Top

Top

Rancilio Silvia Espresso Machine
Best Commercial
See on Amazon

Top

Top

Top

Breville Barista Touch Espresso Maker
Best Automatic
See on Amazon

Top

Top

Top

De'Longhi ECAM22110SB Espresso Machine
Also Great
See on Amazon

Top

Top

Top

Gaggia Anima Prestige
Best Super Automatic
See on Amazon

Top

Top

Top

De'Longhi ESAM3300 Super Automatic
Also Great - Super Automatic
See on Amazon

Top

Top

Top

De'Longhi La Specialista
Best Dual Boiler
See on Amazon

Top

Top

Top

La Pavoni EPC-8 Europiccola
Best Manual
See on Amazon
Product prices and availability are accurate as of the date/time indicated and are subject to change. Any price and availability information displayed on [relevant Amazon Site(s), as applicable] at the time of purchase will apply to the purchase of this product.
Prices pulled from the Amazon Product Advertising API on:
Can an espresso machine save you money in the long run?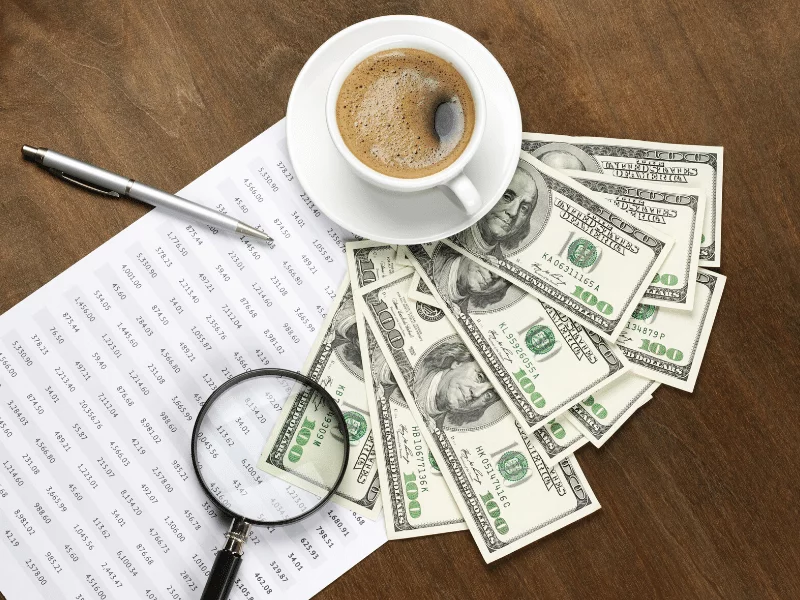 These amazing espresso machines on our list make more than just espresso, they can create a variety of coffee drinks. In fact, if you learn to use the features of these machines, you can replace your morning coffee shop stop with a homemade cup for the road.
If you buy lattes at coffee shops regularly, the cost over the course of a year will add up.
For example, if you were to buy 2 cafe lattes from Starbucks every workday for a year, it would cost you roughly $3,500, and that's just for one person. The cost would be much higher for a family of two or more.
While the initial sticker price can seem daunting, home espresso is a terrific long-term value. Even if you are buying the best machine and beans, the average cafe consumer will save thousands of dollars per year by switching to home espresso.
Depending on how you prepare your drinks, you might get dozens of cups from a single bag of coffee. If you drink espressos, lattes or cappuccinos every day, you'll see definite savings. You'll also be thankful you no longer have to wait in the drive-thru or café line.
Best Espresso Machine - Buying Guide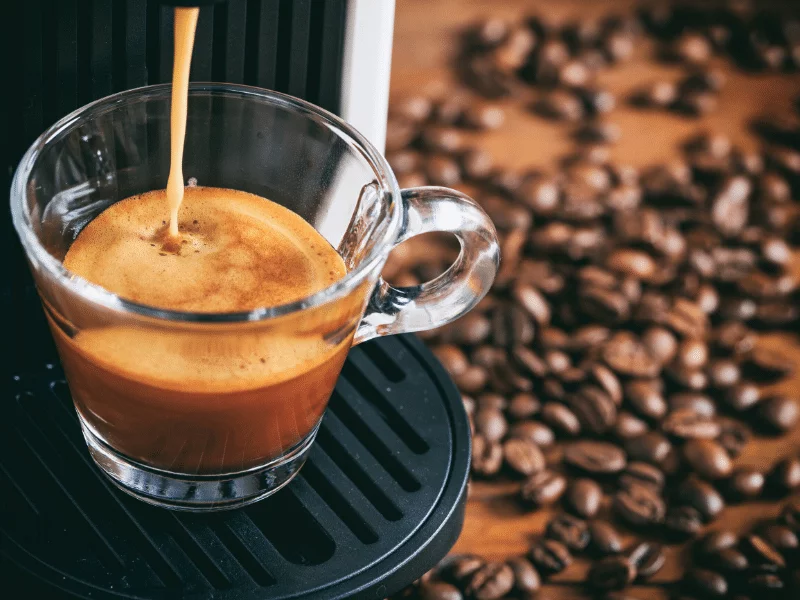 Are you looking for an espresso machine but are overwhelmed by the choices? Not sure whether to invest in an automatic or semi-automatic machine?
What makes a good espresso maker? What should you look for when comparing models? And how much should you expect to pay for the espresso machine?
With so many different brands, models, and features to consider, it is natural for anyone to feel confused and intimidated.
If you are ready to take the plunge and invest in an espresso machine, here are 10 factors to consider before buying an espresso machine.
Things To Consider In A Good Espresso Machine
Your drink preferences
Most espresso fans will agree that this is a richer, stronger, and creamier version of coffee and quality of brew matters the most.
If you are a beginner, you will probably be satisfied with the quality of brew offered by any decent espresso machine.
However, if you are someone who appreciates the finer things about a cappuccino or mocha, you need to consider a lot of other factors. The number of boilers present in a machine can have a huge impact on quality.
If you prefer large milk drinks, you will most likely need a dual boiler or heat exchanger machine, unless you are only making one drink at a time. If you like straight espressos or Americanos, a single boiler machine will do the trick.
Other factors include whether the machine uses steam pressure, the highest temperature a machine can reach and whether it can stay steady at that temperature.
Cost of the machine
This is perhaps one of the most important things to know before buying an espresso machine. If you look into the various models available, you can see that they fall into a broad spectrum of the price range.
The factors vary so widely that it is difficult to generalize the models into different categories.
In some higher end models, you're paying more for durability and quality of materials.
In others, the higher cost may have more to do with extra features they include. Sometimes you're paying for ease of use, other times for better tasting espresso that still takes a while to make. The really costly models are usually combining several of these things.
How often will you use the machine
The number of espressos you will make in a day is an important factor to consider while choosing an espresso machine for yourself.
Is this for a single morning cup, or will you use it throughout the day for multiple drinks? Will you entertain friends and family and need to make back to back drinks?
For single morning drinks, a single boiler or small dual boiler will be adequate. If you make multiple back to back drinks during the day a larger dual boiler machine will likely be preferable.
Size of the machine
The question to ask here is – whether you have cabinet clearance constraints or enough space on your kitchen counter top for either your espresso machine and the integrated grinder.
If you don't drink coffee daily, you should find out how easy it would be to store the espresso machine you would like. A large espresso maker could be difficult to store safely.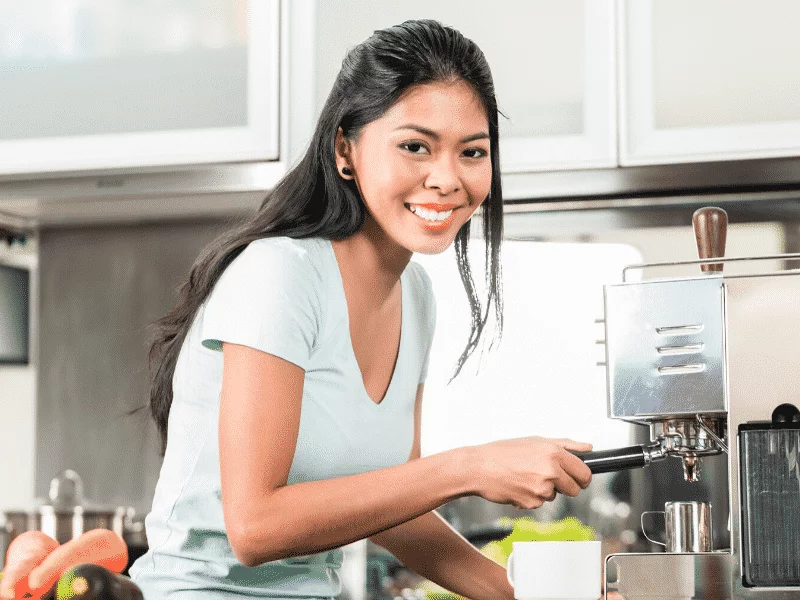 Durability
You should know how much the espresso machine can handle before purchasing it. A professional-grade espresso machine should be able to work all day without malfunctioning.
You will be shelling out a lot of money to buy an espresso machine, so it makes sense to consider how long the product will last.
Most of the high-end models come with a manufacturer warranty that can give you a fair idea of the machine's durability.
You may also check the brand reputation and customer reviews to get a picture of the life expectancy of specific models.
The type of material the machine is made of can also make a difference, espresso makers largely made of metals will tend to last longer, as well as maintain heat in a more efficient manner. And the more highly automated models with a lot of electric parts will likely need repairs more often than manual espresso machines.
Aesthetics
The factors that make an espresso machine aesthetically pleasing shouldn't stop at whether it would look nice on your kitchen countertop, coffee table, or dining table.
There are several other critical factors, including spout placement, cord length, and what color or material the exterior has.
Ease of use
Many espresso fanatics among us love having more control in their hands while brewing their espresso, while there are others who wish for an automated device to take the guesswork out of making a delicious cappuccino.
If you prefer the ease of use over anything else, look for models that can make the most complicated espresso drinks at the push of a button.
People who don't have much time to indulge in the coffee brewing rituals in the morning may buy an automated espresso maker that comes with programmable settings.
Make sure the espresso machine has intuitive controls and easy to use and understand features before you buy.
Ease of cleaning
If you end up with a model that's easy to use but a pain to clean, then it's not actually all that convenient after all. Make sure you have an idea of what will be involved in cleaning your espresso maker before you buy it so you know how involved the process will be.
Find out how easy the espresso machine you would like could be disassembled and reassembled. Cleaning the espresso machine can be a chore, but it is necessary to do every so often to keep it operating at a high level.
Safety
The temperature of each espresso machine's exterior as it brews matters. Most machines become warm to the touch but don't burn.
Still, this is something you'll want to be aware of when choosing your espresso maker. A status light that tells you when the machine is on can also help prevent accidental burns, in case you inadvertently press buttons. Makers with an auto shut-off feature receive more credit in our reviews than those without one.
Warranty & customer support
Just like any other electrical device, an espresso is also prone to breakdowns and bugs so make sure you look into manufacturer warranty and customer service.
Most reliable bands will offer a warranty period within which you can contact the manufacturer for repair or replacement of parts. Even after the warranty period is over, you should be able to contact the customer service in case you have any issues.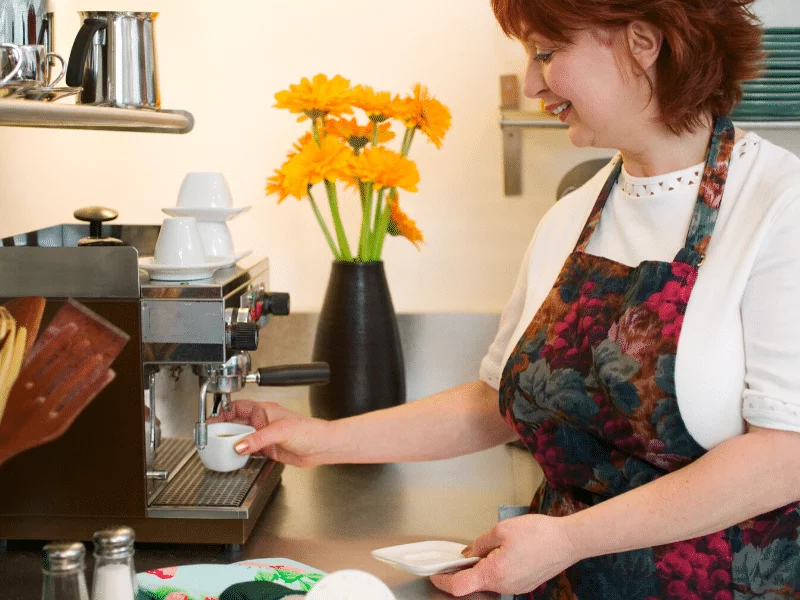 Features To Consider In A Good Espresso Machine
Above we talked about important factors that you'll need to keep in mind when you are buying an espresso machine. However, some models come equipped with some extra features that may persuade you while you're shopping around. Here are a few extra features that you should consider.
1. Built-In Coffee Grinder
There are two main reasons to purchase a machine with a built-in grinder: 1) convenience and 2) quality.
Often, the quality of grind with a built-in grinder will be superior to the grind on a separate machine. If you spend enough to get a machine with this feature, it is more likely to be well-made and durable.
When it comes to convenience, it is just so quick and easy to have the machine do everything for you: store the beans, grind them and then automatically drop them into the portafilter.
2. Water storage
Most espresso machines can hold enough water for making up to 8 cups of espresso. If you need more than that you are making a ton of espresso.
Some machines have water tanks with small filling spouts. For these machines it is handy to have a funnel.
Large, high-end espresso machines are designed to connect to a water source, like a refrigerator with a water dispenser.
Before you purchase this type of an espresso machine find out if you need your piping rerouted just to accommodate it.
3. Frothing wand
Most espresso machines can make espresso-based drinks like, lattes, cappuccinos, and macchiatos. If you like these brews make sure you purchase an espresso machine that comes with a frother which froths the pressurized milk.
Most espresso machines come with the frother unless you are going for a really low budget machine. Just be aware that some of the cheaper ones do not have it and only make espresso.
4. Cup warmer
If you want your cup to help keep your espresso warm, rather than seeping the warmth out if it, a cup warmer is a nice feature.
The cups must be kept dry and warm in order to maintain the temperature and the nice color of the espresso cream longer. For this reason we usually place them on the cup warmer grill located on the top of each espresso machine.
5. Programmable settings
Once you know how you like your espresso best, you can program the machine and make it easier on yourself in the future. Some machines will let you program settings for multiple individuals, so everyone in the family can make their perfect shot more easily.
Most programmable espresso machines have an LCD display and then there are buttons or dials that let you select the time you wish to program. Many machines also let you choose the desired strength and amount.
6. Water filter
Impurities in water such as chlorine could impact the taste of your espresso and other beverages.
Machines with carbon block filters work particularly well in filtering out the impurities and other unwanted contents from water that can have an impact on the taste of coffee.
However, they generally don't make a noticeable difference if your water tastes good to begin with.
7. Included accessories
The best espresso machines include most of the pieces you need to get started right away. Also, some of the best cappuccino makers are either super automatic or pod machines that don't require the extra bits.
Some manufacturers include a pitcher for frothing milk so you can make a cappuccino or mocha right out of the box.
The semi-automatic espresso machines include at least one portafilter, but some may include a second one or a pod-adaptable filter. Most makers also come with a tamping tool, and some include a measuring spoon.
Espresso Machine Under $1000 reviews
Best Semi Automatic Espresso Machine 
Breville Barista
Breville BES870XL Barista Express Espresso Machine
Integrated precision conical burr grinder grinds on demand to deliver the right amount of freshly ground coffee

Optimal Water Pressure

Precise Espresso Extraction

Manual Microfoam Milk Texturing

Espresso Machine with Grind Size Dial:

Espresso Maker with built-in Coffee Grinder:

1/2 lb Bean Hopper, 67 oz Water Tank

Warranty: 1 Year Limited Product Warranty;
Prices pulled from the Amazon Product Advertising API on:
Product prices and availability are accurate as of the date/time indicated and are subject to change. Any price and availability information displayed on [relevant Amazon Site(s), as applicable] at the time of purchase will apply to the purchase of this product.
The Breville BES870XL Barista Express Espresso Machine is among the best semi-automatic espresso machines under $1000 which can be easily used by beginners and have highly customizable controls for experienced baristas.
The semi-automatic Breville Barista Express brews better espresso than more expensive machines.
It's quite easy to use and keep clean, plus it has an attractive stainless-steel design.
It features an integrated conical burr grinder & ½ pound bean hopper which maximizes the surface area of the grind which optimizes the extraction of flavour from the bean.
With Breville BES870XL you get 4 filter baskets when with the barista express – pressurized and non-pressurized versions of a single and double filter. You could also call them single or double walled baskets.
The Breville Barista Express has a modern brushed stainless steel finish. Button and knob-based controls make this an exceedingly intuitive machine.
The compact machine is approximately twice the size of a regular coffee maker and can be easily integrated into many kitchens.
The machine has been designed to look sleek and resemble the much more expensive models. It has been put together well and has a robust finish that is easy to clean.
The pressure gauge, mounted on the front panel, is large and simple to read.
The Barista Express has a 15-bar pump and thermocoil heating system to make brewing and frothing simple.
Pre-programmed espresso options allow you to make a single or double shot by simply pressing the corresponding button.
You can also override the preset espresso options if you want to customize your drink volume.
The BES870XL has a hands-free portafilter holder; select the filter size (single or double) and put the portafilter in place; the machine will automatically dose the proper amount of coffee.
A button, located by the portafilter holder, allows you to push once for an auto dose or push and hold to manually determine the grind amount.
The Breville Barista Express features a 67oz. removable reservoir and comes with a carbon resin water filter for clean water and great tasting espresso.
The BES870XL has a commercial-style 360 degree swivel steam wand that comes with a stainless steel frothing attachment. 
There are built-in reminders that will notify you when to clean the appliance. It comes with cleaning tools that are conveniently stored in the bottom of the machine.
The Breville Barista Express is perfect for both home use as well as for a small commercial establishment.
Pros:
Built-in grinder
Beginner friendly
Good value for money
High-quality espresso
Conveniently designed
Customizable settings
Cons:
Coffee sludge
Requires regular cleaning
Best Home Espresso Machine 
Jura D6
Jura D6 Automatic Coffee Machine
VERSATILITY: Cappuccino, espresso and coffee maker

OPERATION: Plain text display or Smart Connect App control

CUSTOMIZATION: Adjustable water level, coffee strength and temperature

GRINDER: Fast and precise AromaG2 integrated grinder
Prices pulled from the Amazon Product Advertising API on:
Product prices and availability are accurate as of the date/time indicated and are subject to change. Any price and availability information displayed on [relevant Amazon Site(s), as applicable] at the time of purchase will apply to the purchase of this product.
Jura D6 is indisputably a high-tech bean to cup espresso machine machine. You add whole beans, add some water to the machine, press a button and you can get an espresso or coffee. The D6, for a first at this level, you can make a cappuccino without moving your cup.
JURA uses what they call P.E.P. brewing. It's a pulse extraction process which slows down the extraction and pulses water through the coffee puck. The result is a really rich, nice crema in your espresso. Overall, the D6 does a really nice job of making an espresso.
Jura D6 is equipped with semi-automatic milk frother of 'tube' type. That means that you don't need to practice with a steam wand to get the foam for your cappuccino, the tube will suck milk from a pack or bottle and the machine will produce the milk foam by itself.
This coffee machine has a high pressure pump which manufactures amazing flavor and crema as well as finest foam technology.
Jura D6 is a high quality coffee machine that is bluetooth compatible with optional smart connect.
It comes with a stainless steel thermoblock heating system that allows two brewing temperatures.
The Jura D6 is a two-in-one coffee and espresso machine that controls your shots for you. You can choose between 1 or 2 shots of espresso (1-2 oz.), or coffee (4-6 oz.). You don't have to struggle with making cappuccinos and lattes because of the optimization of the regular coffee.
It features a removable water tank with a capacity of 63.6 ounces. It means you'll get approximately 63 single shots of espresso and 31 double shots. 
In terms of coffee, you can make anywhere from 15 to 10 cups of coffee if you have a standard 4 to 6-ounce mug.
The coffee grounds container can hold up to 16 ounces of grounds and the bean hopper can hold 7.1 ounces of beans. This makes it an ideal choice for use in offices and apartments where you don't want to refill the machine too often.
This espresso machine features the most minimal design out of any while providing all the necessary controls, thus making it one of the best espresso machines under $1000 for beginners.
The front face features three stations. The middle station features only the portafilter and brew group, along with a hot water dispenser. With the main unit, you also get a foaming pipe that can be attached to the side of the hot water dispenser.
On the left station, you have a large knob with an LED screen that dictates whether your machine is brewing espresso or cappuccino. The right station features a similar knob for controlling the steam output of the machine.
There's also the Smart Connect so you can connect to the JOE app on a smartphone or tablet and brew drinks from there or even do all your programming. 
It makes excellent, excellent espresso and coffee. Maintenance is really, really easy. You just toss a tablet in the chute, or empty the drip tray and dreg box when the machine tells you to.
Pros:
Comes with the Pulse Extraction Process technology

Very convenient to use because of its Smart Connect readiness

Fast and durable built-in grinder

Easy to program and operate

Fast-heating boiler system

You can make coffee adjustments while the machine is running

Embedded with smart sensors for ease of maintenance
Cons:
Requires more counter space, but little top clearance
Best Commercial Pick
Rancilio Silvia Espresso Machine
Rancilio Silvia Espresso Machine
Ergonomic porta filter handle

Commercial grade group head for superb heat stability and extraction quality

Articulating steam wand

Classic linear design fits most decors
Prices pulled from the Amazon Product Advertising API on:
Product prices and availability are accurate as of the date/time indicated and are subject to change. Any price and availability information displayed on [relevant Amazon Site(s), as applicable] at the time of purchase will apply to the purchase of this product.
The Rancilio Silvia coffee machine has a decidedly industrial appearance. Dressed all in silver, high polish and stainless steel construction this machine looks ready for a small coffee shop or an office.
Despite its sturdy commercial appearance, the machine only measures 9.2" x 11.4" x 13.3," which makes it ideal for home use.
The Silivia M features an insulated lead-free brass boiler that reduces energy consumption by 8% when in standby mode.
The large 12-ounce boiler also allows for steam capacity that is unmatched by other machines at this size and price.
An iron frame, housed by brushed stainless steel, provides durability as well as sleek, Italian style. The Silvia M comes standard with a 7 gram coffee scoop, a plastic tamper, and two filter baskets (single and double).
Not only is the Rancilio Silvia a beautifully crafted and constructed espresso machine that offers great value and costs below 1000 dollars, but it's also built to last — I know few kitchens where the Rancilio Silvia has been providing services for over 8-10 years.
The espresso machine features a traditional steam wand with a hot water feature and comes with a 58 mm chrome plated brass portafilter—the same ones found on their commercial machines, along with stainless steel single and double shot baskets. It is a durable machine with equally reliable accessories.
This Rancilio model comes with a single boiler. This means that steaming and brewing cannot be done simultaneously.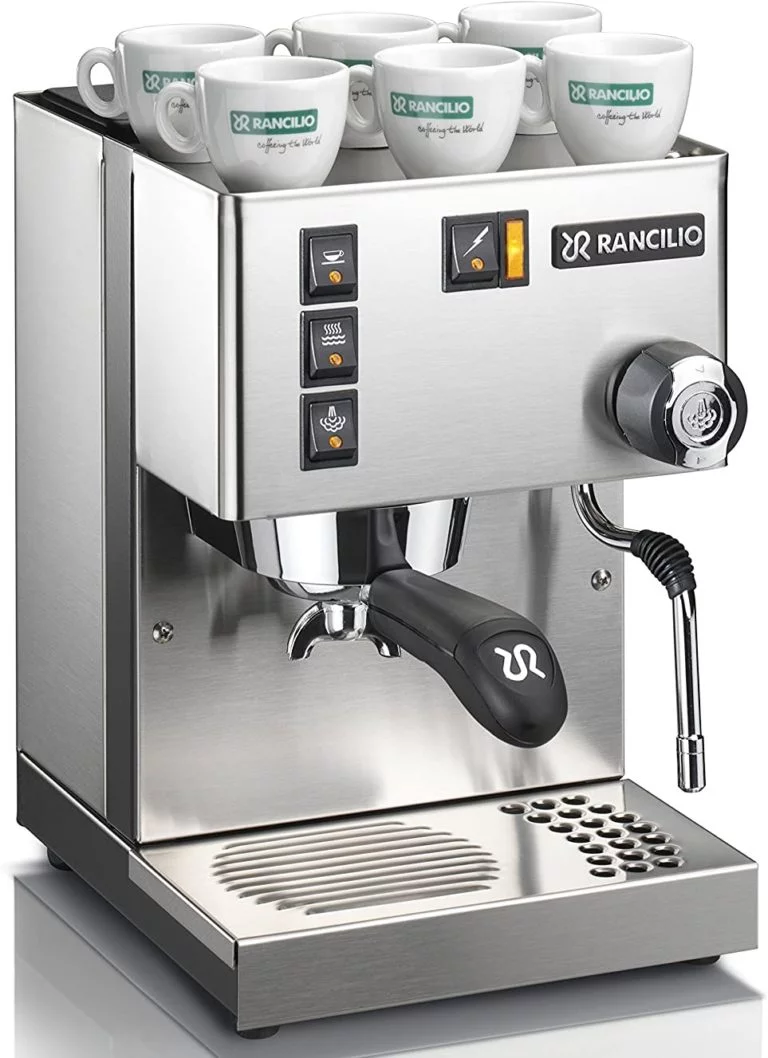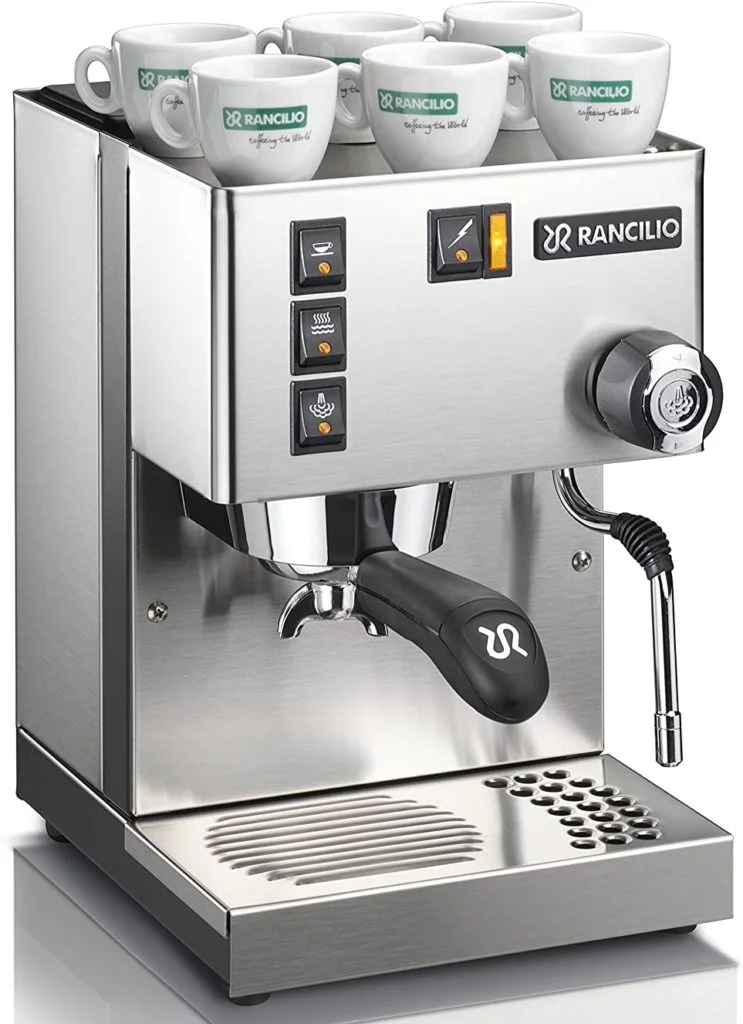 Thanks to its 15 bar heavy duty pump, this unit produces full flavor coffee. It may take some practice, but eventually, you can make your own delicious shots.
The handle of this Rancilio model is ergonomically designed. Even when making coffee for the entire office team, your hand won't get tired. This handle also gives you more control and power.
All functions such as buttons and knobs are located on the front panels, giving you easy access.
The Rancilio Silvia coffee machine also features a three way solenoid valve which takes the excess pressure and moisture off after you put your shot.
This makes it easier to get the dry coffee puck out of the porta-filter, which is handy, and it also reduces stress on other mechanical parts of the unit.
The machine is backed by an extended warranty for a total of two years of warranty coverage.
Pros:
Flexible steaming wand
Excellent temperature control
Large water reservoir
Commercial grade quality parts
Cons:
Expensive
Requires skill to use effectively
No built-in grinder
Best Automatic Espresso Machine 
Breville BES880BSS
Breville Barista Touch Espresso Maker
Dose Control Grinding: With a single touch, the integrated precision conical burr grinder with dose control delivers the right amount of coffee on demand

Optimal Water Pressure

Faster Heat Up Time

Precise Espresso Extraction

Automatic Microfoam Milk Texturing

Touch Screen

1/2 lb Bean Hopper, 67 oz Water Tank

Warranty: 2 Year Limited Product Warranty
Prices pulled from the Amazon Product Advertising API on:
Product prices and availability are accurate as of the date/time indicated and are subject to change. Any price and availability information displayed on [relevant Amazon Site(s), as applicable] at the time of purchase will apply to the purchase of this product.
The Breville Barista Touch Espresso Machine is packed with intuitive touch screen display and pre-programmed settings, the Breville Barista Touch delivers barista-quality coffee.
It has a built-in grinder, easily adjustable controls and automatic milk frother that lets you grind, brew and milk faster than ever.
The Breville Barista Touch is built from high-quality materials so the resulting machine is as sturdy as possible.
No-slip feet keep the machine from sliding across the counter when the burr grinder is activated. The Barista Touch is housed in a sleek stainless steel casing, making it an attractive and timeless addition to any kitchen.
The entire unit is easy to clean and comes with a hideaway storage compartment for the included cleaning tools, in addition to an easily removable drip tray.
The interactive touch screen controls all functions except for grind size adjustment. From the screen you select from espresso, Americano, latte, flat white or a cappuccino.
You can use the default settings or customize those drinks including: grind duration, your espresso—so you can do a single, a double or timed duration extraction.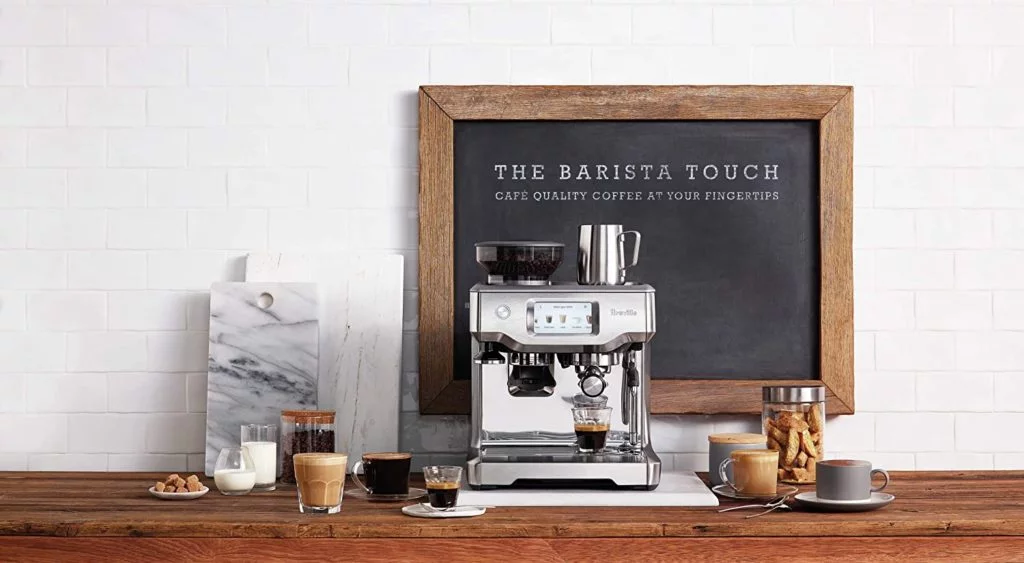 The Barista Touch allows you to choose from eight levels of froth density. At a setting of one you'll get a superfine micro foam, with a delicate silky smooth mouthfeel and latte art capabilities.
As you go up to higher settings you get an increasingly airier froth—what you'd use for a classic cappuccino.
According to hundreds of users The Barista Touch is the best espresso machine under $1000 that you can buy right now.
In addition to its integrated burr grinder, the Breville Barista Touch has an Italian-manufactured 15 bar pump and thermocoil heating system that ensures accurate regulation of water temperature for a full-flavored espresso.
A pre-brew function and flat shower head make sure that the water is optimally distributed through the coffee puck.
The Barista Touch is one of the best automatic espresso machine under 1000 dollars and it also has several helpful features, such as a cup warmer on the top of the machine and a feature that removes excess water from the filter basket after coffee extraction, so the used grounds form a dry puck for quicker cleanup.
The Touch features the Innovative ThemoJet heating system that achieves the optimum extraction temperature in 3 seconds. Ready to make your best coffee without the wait.
Additionally, it has a stainless steel 360 degree swivel-action steam wand for lattes and cappuccinos.
With this bean to cup coffee machine, you can enjoy your coffee quick and easy.
So, if you like to prepare milk-based espresso, flat whites, lattes or cappuccinos in the morning, this one is the perfect product you can have. It's simple and its elegant design can be a great add-on to your kitchen or office.
Pros:
Touchscreen control with custom drink programming
Built-in conical burr grinder
Programmable milk temperature and texture
PID-adjustable temperature
Quick heat up time of 3 seconds
Easy to clean and descale
Nearly hands free operation
Produces consistent results
Cons:
A bit expensive than other models with same features
No preheating option for the mug
Also Consider
DeLonghi Compact Automatic
Delonghi Super Automatic Espresso Machine
Compact size yet maintains all the features of our full-size automatic machines

No waiting between making espresso and frothing milk with the rapid cappuccino system

Professional quality, stainless steel low pitch conical burr grinder

MAINTENANCE: De'Longhi machines require half the cleaning time of other brands.
Prices pulled from the Amazon Product Advertising API on:
Product prices and availability are accurate as of the date/time indicated and are subject to change. Any price and availability information displayed on [relevant Amazon Site(s), as applicable] at the time of purchase will apply to the purchase of this product.
DeLonghi Compact Espresso Machine is one of the best fully automatic espresso machines under $1000, which means you can make a cup of coffee by simply pressing a button.
It is also a versatile machine, capable of making a shot of espresso, a cappuccino, or even a standard cup of coffee.
In addition to a compact, easy to place design, the DeLonghi is a relatively quiet machine.
It's been designed with the similar features as a full size automatic machine, but in a compact and streamlined design to make it easily fit on your home's kitchen countertops.
The machine comes with a front-mounted water reservoir that holds 60 oz. of liquid.
The tank is detachable and can be refilled with water directly from the tap. It is easily accessible from the front panel and allows monitoring the level of water.
It comes integrated with a 8.8 oz. bean hopper and a silent grinder which has a total of 13 powerful controls and settings.
These settings allow you to adjust your coffee to your preferred taste.
With the integrated frother unit, you can create a variety of authentic Italian drinks.
The machine's thermoblock boiler is made from stainless steel which conserves energy and quickly heats fresh water for the steaming and brewing process.
The DeLonghi Compact Espresso Machine features an easy to use rotary and push button control panel which includes a convenient selector dial that allows you to choose the strength of your coffee.
There are four buttons that are pre-set for a single shot of espresso, a double, one long coffee, and two long coffees.
All four buttons can be reprogrammed to whatever quantity of water you prefer.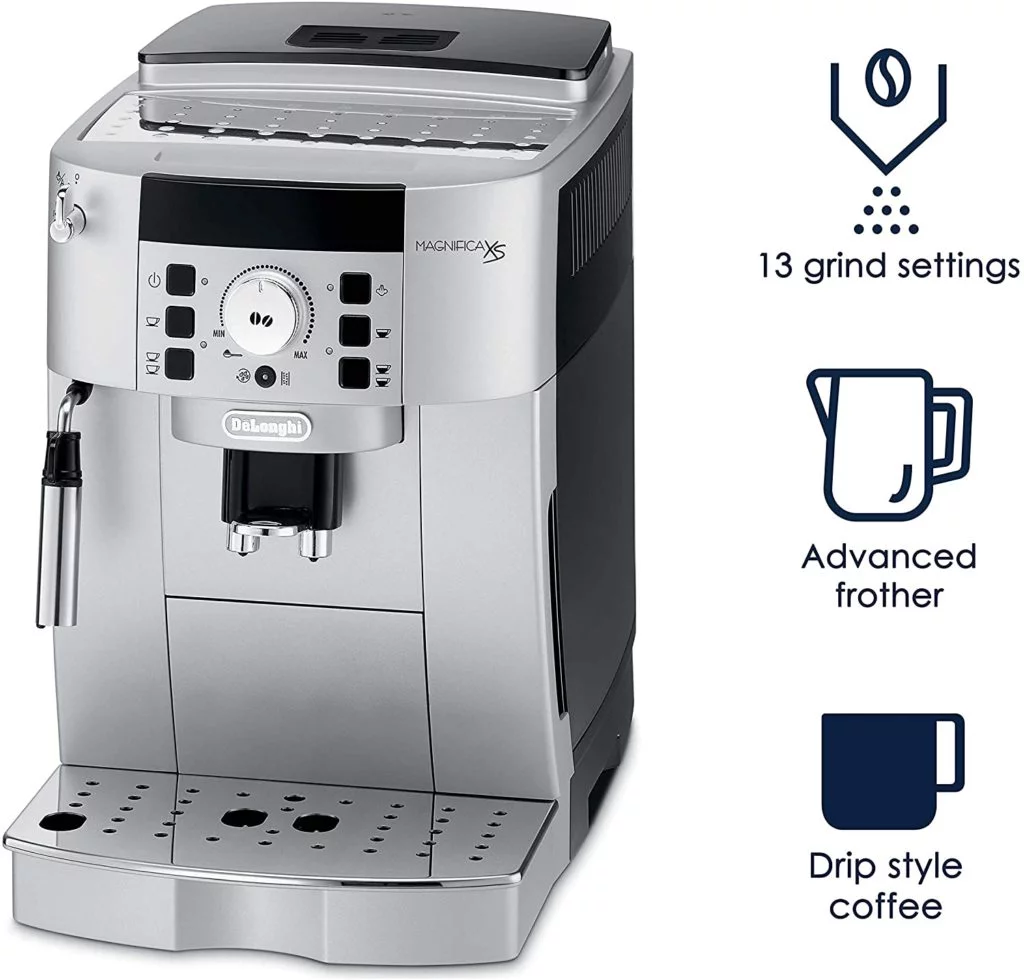 Additional features include 4 programmable temperature settings, energy-saving auto shut-off, instant reheat, and a counter for the number of cups brewed.
When you use the Delonghi Compact Espresso Maker, you do not just get to make your favourite drink consistently and automatically. But you also can get it done quickly because the water heat up time is about 60 seconds.
Even if you need to make multiple cups, there is no need to wait between cups because its Rapid Cappuccino system keeps the water temperature at the optimum level.
Topping up the coffee beans, filling up the water tank and emptying used coffee grounds can be a time-consuming chore.
But this is kept minimal with its huge 60 ounces water tank, 8.8 ounces bean hopper and a large coffee ground container which can store used coffee grounds for 14 espresso shots.
Pros:
Compact size
Fast operation & heat up time
Self cleaning
4 options of the cup sizes
Integrated burr grinder
Cons:
Single thermoblock
Short manual milk wand
Best Super Automatic Espresso Machine
Gaggia Anima Prestige
Gaggia Anima Prestige Super Automatic Espresso Machine
ONE TOUCH BREWING AND FROTHING: Bean-to-cup feature with automatic milk frothing for cappuccinos, macchiatos and lattes.

PROGRAMMABLE

TEMPERATURE CONTROL: 3 different temperature settings.

EASY ACCESS TO WATER RESERVOIR AND BEAN HOPPER: Features a removable 60 oz water reservoir and an 8.8 ounce capacity bean hopper
Prices pulled from the Amazon Product Advertising API on:
Product prices and availability are accurate as of the date/time indicated and are subject to change. Any price and availability information displayed on [relevant Amazon Site(s), as applicable] at the time of purchase will apply to the purchase of this product.
The Gaggia Anima is a super-automatic espresso machine that automatically brews espressos and longos at the press of a button, and makes frothing milk for cappuccinos and lattes easily with the manual pannarello wand. It's a sleek machine that's easy to use and maintain.
The combination of black and silver looks fantastic and it also isn't particularly wide or deep compared to other fully automatic coffee machines, so the Anima should fit neatly on any kitchen counter.
The Gaggia Anima is one of the best super automatic espresso machines under $1000 and it features a large removable 60 oz. water tank which can be accessed at the top left of the machine and it also has an 8.8 oz. bean hopper.
The machine features a Panarello steam wand which is very simple to use. All you have to do is fill your cup with milk and hit the steam button which is located on the front of the machine.
The wand automatically injects air into the milk, and once it has been frothed, you can press the Espresso machine, also located on the front and once your coffee is brewed your drink is ready for you.
With the integrated frother, integrated grinder, adjustable grind size, 3 temperature settings, 5 dose size settings and easily programmable brew sizes, you can pull almost any kind of shot you want and make any kind of specialty beverage you desire.
The Anima Prestige has a nice, large display, which makes it simple to use.
You can use the display to easily set the amount of coffee you want to use and make, and it will even let you know if the brewing unit or the drip trays aren't correctly installed.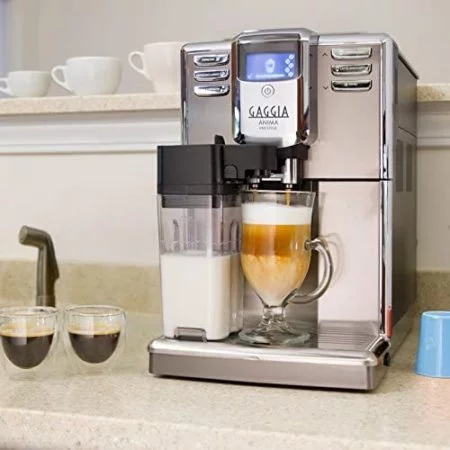 This amazing super-automatic espresso machine under $1000 uses a milk carafe that saves space by attaching directly to the machine's front.
When you are done making your coffee, you can easily take off the milk carafe to store it in the refrigerator.
Both the bean hopper and water reservoir are conveniently placed which makes this machine easy to fill and clean.
You can lift lids on the top of the machine to access either one. The water reservoir is on the left, and the bean hopper is on the right.
In addition to the pressure used by the steam wand, the Anima Deluxe features a 15-bar pump that uses pressure as well.
This pump increases the pressure used when brewing to get more flavor from the beans and to increase the aroma you smell and taste you get.
Cleaning is relatively simple, too. The Anima goes through a self-cleaning process when you power it on and off to keep the coffee dispenser clean, and you can just whip off the steam head to clean it manually after you've used it.
Pros:
Espresso lungo mode makes good coffee
Easy-to-use
Compact footprint
Sturdy and robust stainless-steel exterior
intuitive display
Simple custom shot size selector
Cons:
No steam tap
No cup warmer
Bean hopper lid isn't airtight
Also Great – Super Automatic
De'Longhi ESAM3300 Super Automatic
De'Longhi ESAM3300 Super Automatic Espresso Machine
Patented Cappuccino System frother

Easy-to-use rotary and push button control panel with programmable menu settings and beans container capacity is 8.8 ounces.

Grinds beans instantly with the patented, compact and easy-to-clean Direct-to-Brew system. Use your favorite coffee beans to create your perfect espresso.
Prices pulled from the Amazon Product Advertising API on:
Product prices and availability are accurate as of the date/time indicated and are subject to change. Any price and availability information displayed on [relevant Amazon Site(s), as applicable] at the time of purchase will apply to the purchase of this product.
The Magnifica is an entry-level super-automatic espresso machine from DeLonghi, and it shows on the outside. It's silver-colored, all-plastic exterior is well built but doesn't have the elegant appeal of a stainless steel body.
In terms of features, however, the Magnifica excels. It comes with a fantastic cup warmer on top, and an auto-shutoff feature that's adjustable from 15 min to 3 hours. This DeLonghi machine comes with a standard 2-year warranty too.
It features a patentented cappuccino system that rotates 180 degrees to allow for any size milk container.
Magnifica ESAM3300's digital control panel with programmable settings, built-in burr grinder and one-touch foam system help save you time, while its 7 1/2 cup (60 ounce) water reservoir means you'll need to refill less often.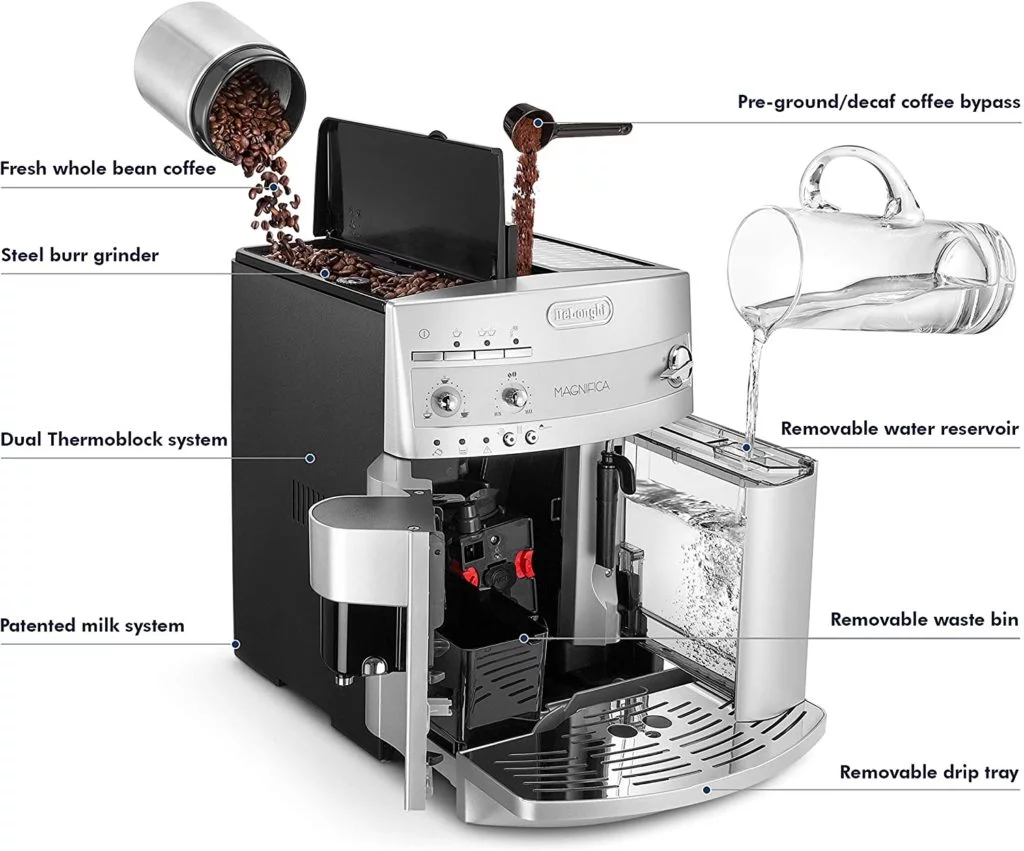 The machine also features an integrated Burr grinder and a space saver container for coffee beans is fully integrated into the Magnifica. You can set the grinding level to customize your espresso or cappuccino.
Another major advantage of the DeLonghi Magnifica is its 60-oz water tank capacity. This is particularly important if you are using your machine to make Americanos or other beverages that are hot-water reliant.
The pump in the DeLonghi Magnifica ESAM 3300 can build up 15 bars of pressure. That should easily be enough to make an espresso or a cappuccino because a traditional espresso machine "only" uses 9 bars of pressure.
Thanks to the stainless steel thermoblock, the inside is easy to maintain and keep clean. It is recommended to descale it every two to three months to ensure all mineral deposits are removed. Descaling is very easy to do and is outlined in a few simple steps in the manual that is included with the machine.
Pros:
You can operate everything from the front panel.
It is very inexpensive.
It has infinitely variable coffee and water levels.
The grinder has 14 settings.
It is easy to use.
The machine is compact
Cons:
Not compatible with water filters
Can't brew and steam at the same time
Best With Dual Boilers
De'Longhi La Specialista
De'Longhi La Specialista Espresso Machine
Sensor grinding technology

The smart tamping station.

Active temperature control with dual heating system

Advanced latte system

1 second quick start

Separate hot water spout

Warranty: 2 years, plus 1 additional year of warranty for registering your espresso machine.
Prices pulled from the Amazon Product Advertising API on:
Product prices and availability are accurate as of the date/time indicated and are subject to change. Any price and availability information displayed on [relevant Amazon Site(s), as applicable] at the time of purchase will apply to the purchase of this product.
The DeLonghi La Specialista is a nice looking semi-automatic home espresso machine with a classic, stainless steel look that also features all of the tools needed to make coffee, espresso, and more.
The La Specialista is one of the best home espresso machines with grinder that can be adjusted for both fineness and dosage, a tamping station, and a dial that can switch between brewing coffee, an americano, or espresso.
The button interface is easy to understand, with a x2 button for making a double shot or pouring into two cups, a "my" button to customize the length of your drink.
This is a high end Italian espresso machine with sensor grinding technology. It gives you complete control and consistency in coffee pouring as it works with two sensors that detect and deliver a consistent and optimal coffee dose to your cup.
To ensure maximum temperature stability, Delonghi has developed the high performing dual Thermoblock that has a controlled temperature system. This ensures maximum temperature stability and all of the right conditions for a perfect coffee brew.
After making your drink, you can easily heat up milk for a latte or cappuccino with the steam wand. The La Specialista has two heating elements, meaning there is no wait time when switching from brewing to steaming.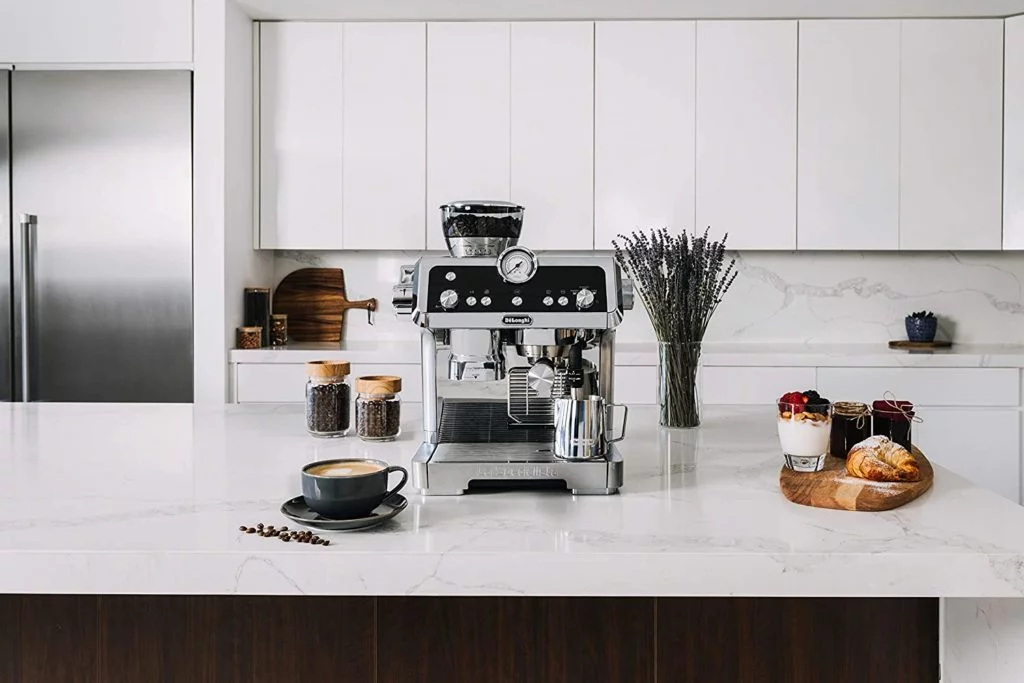 A slider on the steam wand allows you to choose between Flat or Foam for lattes and Flat Whites, or a cappuccino for the latter.
As with many bean-to-cup machines, the La Specialista has one-touch controls for espresso, Americano or long coffee. There are also auto-rinse and clean functions and an automatic process for descaling.
The DeLonghi La Specialista's one-of-a-kind programming is designed to work with its included pressurized baskets—meaning users looking to manually control their machine have few options for customization.
The DeLonghi has an extremely short start-up time of just one second.
You don't have to stand around for your espresso machine to heat up for ten minutes. In just 1 second, this Delonghi La Specialista is ready to go and is prepared to start grinding.
It looks great, produces high quality drinks and is really easy to use. It has a huge level of customisation, which makes it easy to really explore the science behind brewing the perfect espresso.
Obviously, finding that perfect cup requires a lot of trial and error, but coffee aficionados will enjoy tinkering away with the settings and making drinks that match their personal preferences when it comes to taste and strength.
The Specialista is a unique bean to cup coffee machine. You get very close to the convenience of push-button superautomatic machines, but with more programmability to experiment with.
Pros:
Integrated coffee grinder
Integrated coffee tamper
Smart sensor grinding technology
Smart tamping station
Advanced latte system that allows either hand-free or manual control
1-second start uptime
Active temperature control for espresso extraction
Dual thermoblock heating system
Self-cleaning function
Sleek design with stainless steel body
Cons:
A bit expensive to buy
Stainless steel exterior is easily scratched
Learning curve to make a perfect espresso
Best Manual Espresso Machine
La Pavoni EPC-8 Europiccola 
La Pavoni EPC-8 Europiccola
Ideal for making coffee specialty drinks at home

Sturdy all-steel construction under heavy chrome plating

Comes with tamper, screen, screen holder, measuring ladle, and cappuccino attachment
Prices pulled from the Amazon Product Advertising API on:
Product prices and availability are accurate as of the date/time indicated and are subject to change. Any price and availability information displayed on [relevant Amazon Site(s), as applicable] at the time of purchase will apply to the purchase of this product.
The La Pavoni EPC-8 Europiccola 8-cup Lever Style Espresso Machine is one of the best manual espresso machines under $1000
The EPC-8 Europiccola is as much about the espresso as it is about the art of the brewing process itself.
With this beautiful and sleek espresso machine, you take complete control of the brewing process. The brewing pressure, the brewing time, the coffee grinding, and the coffee tamping are all done manually by you. This might seem a little daunting but it also results in the highest quality espresso possible.
The Europiccola espresso machine has a chrome base and is triple plated to maintain its beauty and elegance. By lifting the lever, a piston inside the group is raised allowing water under pressure to infuse the coffee in the filter holder.
The lever is then lowered causing the piston to force the water through the coffee into the cup. Make one or two cups of perfect cafe quality espresso.
The machine has a water level sight gauge located on the side of the machine and it is capable of making 8, 2 oz cups of espresso.
The La Pavoni EPC-8 Europiccola features a large capacity boiler that holds up to 20 ounce of water.
The boiler is made of brass and is chrome plated on the outside. The inner workings of the boiler are made of food safe nickel plate. The boiler heats in about six minutes.
There is no wait time between brewing and steaming. The boiler temperature is actually controlled with a pressure controller for quick and accurate response.
The boiler will cycle on and off constantly and is set to maintain boiler pressure between .7 bar and 1 bar of pressure.
Those who like to have a foamy cup of coffee will enjoy the amount of flexibility that the ECP-8 offers. Initially it might be difficult to get the exact amount of foam that you like, but the design is ergonomic enough to allow you to learn very quickly.
This is quite a heavy machine, so it's not suitable for lugging out of the cupboard every time you want to make a quick latte. Fortunately, it looks exceptional enough to leave out on the counter as a feature appliance for any kitchen.
The La Pavoni Europiccola has no cheap plastic parts that will break, warp or otherwise threaten the longevity of the machine. This is one espresso maker that is seriously built to last.
The resulting crema produced by this manual espresso machine is superb. The cappuccino attachment does a brilliant job, and no matter whether you prefer a strong, rich espresso or a light, creamy latte, the La Pavoni Espresso Maker does an exceptional job every time.
Certainly, The La Pavoni Europiccola is the best manual espresso machine under 1000 dollars as La Pavoni has an exceptional track record of providing very high quality appliances. This is one machine that is designed to last a long time.
Pros:
Small profile helps it fit nicely into most kitchens
User has control over the entire end-to-end process of perfecting and pulling an impressive shot.
Brass boiler reacher brewing temperature fairly quickly
Powerful steam wand with no downtime between brewing and steaming
Levers and knobs are easily removed allowing you to customize and replace them effortlessly
No included electronics parts adds to it's long life span
Cons:
Steaming wand does not swivel
A bit of learning curve since it being a manual espresso machine
What You Can Make With An Espresso Machine
A lot of the most popular drinks at coffee shops are made with espresso, so if you typically order any of the items on the list below, an espresso machine may be worth considering.
If you own an espresso machine, any one of these can be made in your own kitchen for less money, as long as you have the proper ingredients and a little time to spend on them.
Needless to say a best espresso machine under $1000 will be able to make all the below beverages and more for you.
a) Espresso Shot
Espresso is a concentrated form of coffee served in small, strong shots and is the base for a number of coffee drinks.
It's made from the same beans as coffee but is stronger, thicker, and higher in caffeine. However, because espresso is typically served in smaller servings than coffee, it has less caffeine per serving.
It is made by forcing pressurized hot water through very finely ground coffee beans using an espresso machine.
The result is a liquid stronger than coffee topped with a "crema," a brown foam that forms when air bubbles combine with the soluble oils of fine-ground coffee and sits on top of a properly pulled shot of espresso.
The difference between coffee and espresso is in the grind and the treatment of the beans. The beans are ground to a finer consistency than coffee and firmly packed before hot water is forced through using an espresso machine.
b) Macchiato
The macchiato gives coffee addicts a nice middle ground between an espresso and a cappuccino. It doesn't pack as much of a punch as an espresso shot, but it's also stronger than your regular cappuccino.
Macchiato means "stained" or "marked" in Italian. This term is used because of how the drink is made. The drink is a double shot of espresso with a splash of milk in it. The "mark" comes from the barista adding a small dollop of foam on top of the drink as some customers don't want the full strength of an espresso.
The point of this drink is to have an espresso slightly moderated or subdued by a splash of milk. Compared to other espresso-based drinks, the macchiato tips the espresso to milk scale the furthest towards espresso.
This drink is prepared by first pulling a shot of espresso, as normal. Then about 1-2 teaspoons of steamed milk and a bit of foam are poured on top.
c) Cappuccino
A cappuccino is an Italian coffee drink that is traditionally prepared with double espresso, hot milk, and steamed milk foam on top.
Cream may be used instead of milk and is often topped with cinnamon. It is typically smaller in volume than a cafè latte, with a thicker layer of microfoam.
Microfoam is frothed/steamed milk in which the bubbles are so small and numerous that they are unseen, but make the milk lighter and thicker.
When the espresso is poured correctly, the microfoam will remain partly on top of the mug as well as mix well with the rest of the cappuccino.
Cappuccinos are usually made using an espresso machine. The double espresso is poured into the bottom of the cup, followed by a similar amount of hot milk, which is prepared by heating and texturing the milk using the espresso machine steam wand.
The top third of the drink consists of milk foam; this foam can be decorated with latte art made with the same milk.
d) Mocha
Mocha is another espresso based drink and another name for "mocaccino," "mochaccino," or "mochachino."
A cafe mocha is essentially a chocolate flavored variant of a cafe latte, or even a hot chocolate with shots of espresso in it. It is made up of espresso, milk, and chocolate.
It can include one or two shots of espresso depending on taste preferences and traditionally is topped with milk foam, just like a latte.
Unlike other coffee drinks, the mocha is a lot sweeter in taste and can be great for those who have a sweet tooth or enjoy a good dose of sugar.
It is a very customizable drink in as many types of chocolate can be used. Depending on the place, a mocha can have chocolate syrup, dark chocolate, milk chocolate, or even white chocolate.
Toppings can also be customizable with some people replacing the milk foam on top with whipped cream.
Some mochas can also have chocolate shavings or cinnamon added on top for extra decoration and taste.
Those are the main standards, but if you want you can always add extra touches based on your preferences like whipped cream, flavorings like hazelnut, caramel or peppermint, and even use alternatives to milk.
e) Latte
The name "latte" is derived from the Italian words caffè latte, which means "milk coffee."
The latte is very similar to the cappuccino, but contains more milk and is also served in the larger 8 ounce cup compared to cappuccino's 6 ounce cup.
It is made with one or two shots of espresso, 5-6 ounces of hot steamed milk, and a thin layer of milk foam on the top.
The layers of espresso and steamed milk are usually mixed together with only the top foam being its own distinct layer. Many times the top foam layer is made into latte art by the barista.
As the latte is an espresso-based drink and steamed milk doesn't contain caffeine, the amount of caffeine in your cup depends on the amount of espresso shots.
Depending on your order or the place you get your coffee from, your latte could contain one to two espresso shots.
Needless to say most of the models on our list of best espresso machine under $1000 are perfectly capable of helping you in making amazing latte art.
With an espresso maker in your home, you can experiment to your heart's delight and produce concoctions that beat out the flavor of the drinks at your local coffee shop because they're based on your personal preferences.
Types Of Espresso Machines
There are essentially four types of espresso machines available for use in the home setting and in the commercial environment.
When shopping for an home espresso machine, it can become very confusing to choose among these many different makes and models that may or may not suit your needs and lifestyle. To narrow your search for the best home espresso machine the first essential step is to learn the basic categories that almost all espresso machines fall into.
By learning these categories, you will understand the variances and nuances between "ease of use" and "user control". With this understanding, you can select the appropriate home espresso machine that will meet your needs.
Lever Driven Espresso Machine
Manual lever espresso machines can make espresso without the need of a pump. Generally there are less components meaning less to maintain.
Manual espresso makers allow you to control every part of the process of making a shot of espresso so that you can potentially end up with the perfect shot.
There are two kinds : manual and spring-loaded.
A manual machine can be recognised by the horizontal resting position of the lever. When it is raised, an opening in the brewing chamber draws in pre-heated water to saturate the grounds. 
The barista can control the length of pre-infusion, flow rate, and pressure by when they bring down the lever.
The pressure produced with the help of this kind of espresso machine amounts to 8 to 10 Bar. 
In spring-driven machines, the lever points up when the internal spring is relaxed. Pulling the lever down causes the spring to compress and brings the piston up. This creates space in the brewing chamber for water to enter.
The lever comes back up as the spring releases its tension. This causes the piston to push the water down and extract the espresso.
Manual espresso machines are often attractive, almost as decorative as they are functional. They're costly, but for the real connoisseurs willing to put the work in, they can produce a great shot of espresso.
The La Pavoni Europiccola on our list is a representative of non-spring manual lever style home espresso machines.
Fully Automatic Espresso Machine
These are very similar to semi-automatic machines, but they automatically stop the flow of water. This ensures consistent volume in each shot and means you don't have to stand over each espresso to stop overflow.
The fully-automatic espresso machines measure the amount of water that passes through the coffee grinds.
Once the preset amount is reachable, the machine will automatically shut off the water.
The pre-set amount of water forced through the coffee is usually programmable by the user on commercial machines.
In addition, most fully-automatic espresso machines allow the operator to utilize the machine as a semi-auto, whereby the operator can control the amount of water to be pumped.
Whether for your home or your office, the Automatic espresso machines are the front-runners in preparing hot beverages.
The DeLonghi ECAM22110SB and the Jura ENA 1 Automatic on our list are one of the best automatic home espresso machines under $1000.
Super Automatic Espresso Machine
The idea behind Super Automatic Espresso Machine is to make the process of making a shot of espresso as easy as adding your coffee grounds and pressing a button. That's it. Quick and simple with no mess to clean up.
These automatic machines with single or dual pumps grind whole coffee beans using a built in grinder with hard steel conical burrs.
They measure the appropriate amount of coffee grinds, tamp the grinds into a puck in the extraction chamber, measure the water, dispense the espresso and eject the extracted grinds into a dump container, removable for easy cleaning.
Most super automatic espresso machines have some type of indicator to warn the user of low water, out of beans, or full dump box. These machines are a perfect example of bean to cup coffee machines.
Semi-Automatic Espresso Machine
Semi-automatic machines use an automated system to drive the water through the grouphead. Grinding, tamping, and control of extraction time are the responsibility of the barista.
They are a good compromise between human control and mechanized consistency.
Semi-Automatic Espresso Machine offers you with the real-time control of your extraction of coffee, Latte or Cappuccino.
The set up of the Semi-Automatic Espresso Machine consists of a portafilter, a boiler, a button as well as a piston for extraction.
This kind of Machine can be both programmed as well as manually controlled.
In the manually controlled system, the user has to stop the flow of Coffee once the sufficient amount of Coffee has come out. And in the programmed system, the flow of coffee stops on the basis of the preset time which you have entered in your machine.
The Breville Barista BES870XL is one of the best semi automatic home espresso machines available in the market today.
Tips On How To Brew Espresso At Home
Once you've settled on which espresso machine to invest in, here are some practical tips and things to know about how to use your new appliance. Of course, you'll read your machine's instructions, but beyond that, these tips will help you brew espresso that's consistently delicious.
Always preheat your machine.
To make sure you get the best brew, preheat your machine, cup, and portafilter. This can take up to 25 minutes, but it's extremely important. When everything is preheated and ready to go, no flavor is lost throughout the brewing process.
Use soft or filtered water.
Espresso is made of 98 percent water. To ensure the best brew, you need the best water. Not only will hard water lead to a poorer tasting espresso, it will also damage your machine and create limescale buildup inside over time. The solution is simple: use filtered water.
Steaming milk is a fine science.
Before steaming your milk, turn on your steamer briefly to get rid of any potential leftover condensation. Next, dip the tip of the wand just underneath the surface of the milk and begin frothing. The ideal temperature for frothing milk is 139 to 149°F. At that temperature, all the fat within the milk has turned to liquid and will not adversely affect your foam. Below that temperature range, your foam will fall apart. Above that temperature range, you risk burning the foam.
Conclusion
Our top pick is the Breville Barista BES870XL which is also the best semi automatic espresso machine under $1000. The Breville Barista Express is built to set you up for success. Featuring an integrated conical burr grinder, this machine cuts down the time between grinding and extracting leaving you more time to enjoy the exquisite tasting shots.
Our second pick is the Jura 13626 ENA 1 for the category best home espresso machine under $1000. The Jura ENA Micro 1 is an eco-friendly alternative to pod and capsule machines for making the perfect cup of espresso or crema coffee. The Jura Micro 1 features a multi-level grinder, micro brewing unit and powerful pump to make the ultimate espresso.
The Gaggia Anima Prestige is our pick for the best super automatic espresso machine for under 1000 dollars followed by KRUPS EA89, another super automatic espresso machine.
The Gaggia Anima Prestige is a super-automatic machine which grinds, tamps, brews and steams classic espresso and milk-based drinks at the press of a button. It's reliable, easy to use and maintain, and it brews quick and delicious drinks to your exact specifications every time.
We are a team of coffee affcianados with experience and expertise in making world renowned coffee. In fact, preparing the best coffee ever with a fluffy top reminds us of magic, with secrets of how to achieve each particular effect. Making coffee is not our only hobby, we always keep our ears open as to what's happening around and what scientists and manufacturers produce for consumers. It's not an easy task to do – it's rather time consuming. Hence, Caféish website was launched.
Caféish is a participant in the Amazon Services LLC Associates Program, an affiliate advertising program designed to provide a means for sites to earn advertising fees by advertising and linking to Amazon.com. Caféish also participates in affiliate programs with Clickbank and other sites. Caféish is compensated for referring traffic and business to these companies.