Best Latte Machine For Beginners 2023; Reviews
Disclosure: This post contains affiliate links and I may earn a small commission (at no extra cost to you) if you click through and make a purchase. Thanks in advance – I really appreciate it!
Here in this article "Best Latte Machine For Beginners" we've rounded up 11 top latte makers of various types, specifications, and budget. Below, you'll find in-depth reviews of each, as well as an elaborate buying guide to pick out your favorite.
Latte might seem like the kind of drink you only buy at the coffee shop, but this doesn't have to be the case.
The two biggest barriers to making latte yourself are cost and expertise. You need a fairly complex machine to make espresso, and you need to know what you're doing.
When it comes to cost, the good news is that latte makers come in a wide range of prices, as you'll see below in our list of the best latte machine for beginners. You can even buy one for as little as $100, although most will be more expensive than that.
Then there's the expertise hurdle. It can be daunting to watch a barista brew up a latte, and indeed it takes some know-how. But that's also the beauty of the latte-making process.
Product prices and availability are accurate as of the date/time indicated and are subject to change. Any price and availability information displayed on [relevant Amazon Site(s), as applicable] at the time of purchase will apply to the purchase of this product.
Prices pulled from the Amazon Product Advertising API on:
Who Is This Guide For
Our picks are for people who have developed a taste for good latte and want a good latte machine for beginners that strikes a balance between automated convenience and moderate skill-building. 
People who have learned about latte by frequenting neighbourhood cafes or reading a few coffee blogs will be able to develop their craft using our picks. And those who might be overwhelmed by coffee jargon should also be able to find their way on these machines. If you understand the basics of the grind, dose, and tamp, you'll be able to make delicious lattes. 
Latte Machine For Beginners - Buying Guide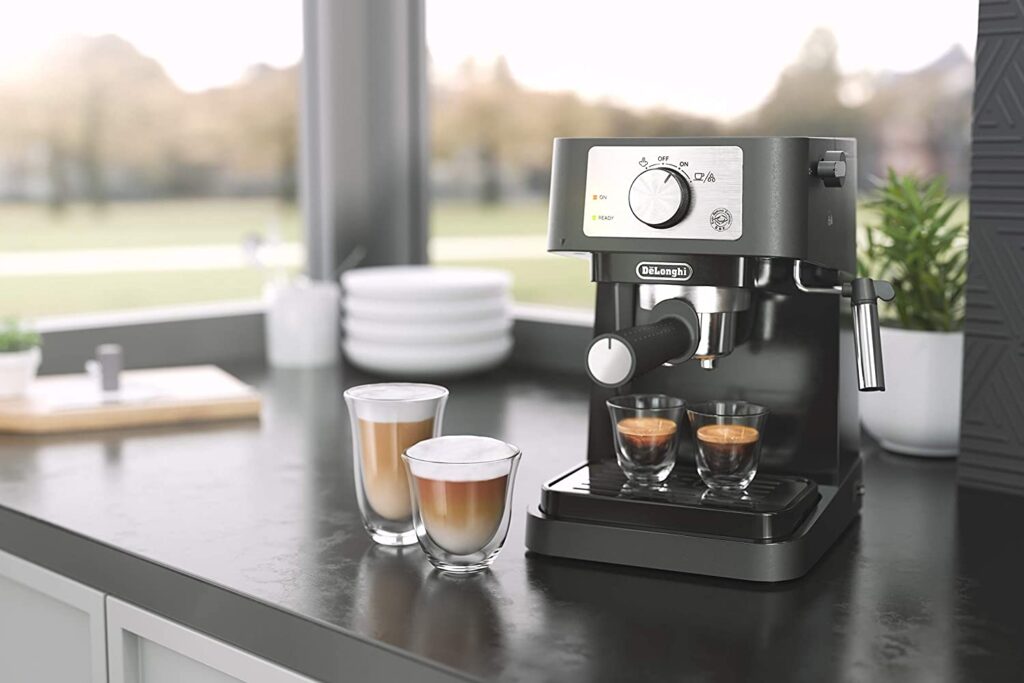 Whether you want to someday produce lattes with barista-quality espresso art, or if you just want to cut down on the daily trips to the cafe nearby, here are a few factors that you should consider before buying the best latte machine for beginners.
Things To Look For In A Good Latte Machine For Beginners
Learning Curve
Usually, there's a tradeoff between feature-richness and user-friendliness. The more a machine can do, the more time it takes to learn. Some people want a high degree of control and don't mind having to do a little homework to get it. Others just want simplicity. Somewhere between those two extremes lies your sweet spot.
Milk Steaming Capability
It can be a challenge to steam milk properly using an espresso machine, and so having the option to either manually or automatically froth milk is ideal for beginners. Automatic frothing that generates real distinctions in texture and temperature is great for those who might initially struggle to do this manually. However, the exact nuances that distinguish lattes are better achieved with an observant eye and your palm's sensitivity to the steam pitcher's angle and temperature.
Size Of The Machine
Some latte machines can get pretty darn big. If you have limited kitchen space, you could have a hard time finding anywhere to fit it without sacrificing the accessibility of another kitchen appliance. 
Many of the larger models do make two espresso shots at once or have extra useful features, which can be benefits that make the big size worth it.
Programmable Settings
Once you know how you like your latte best, you can program the machine and make it easier on yourself in the future. Some machines will let you program settings for multiple individuals, so everyone in the family can make their perfect shot more easily.
Heating Capabilities
Latte makers use a variety of methods to heat water for espresso, and these heating systems have their own advantages and drawbacks.
The main types of espresso machine heating systems are the single boiler, the heat exchanger, and the double boiler. Each of these heats water in a slightly different way, and there will be slight differences in price, consistency, speed of heating and energy efficiency.
Take a bit of time to research the heating systems your potential espresso maker uses and whether it seems right for you.
Frothing Wand
Most latte machines have this feature, but if you're into the types of espresso drinks that involve steamed milk such as delicious lattes, it's an absolute necessity and you don't want to end up with a unit without it.
Aesthetics
Latte machines, like most kitchen appliances, can help your kitchen look incredible, or they can seem out of place with the rest of your decor. If you are satisfied with how your selected latte machine works, the next step is deciding if it will look good in your kitchen. 
While aesthetics should not be a primary consideration when choosing a latte machine, it also shouldn't be neglected.
Latte Machine For Beginners - Reviews
Breville the Bambino Plus Espresso Machine
Dose Control Grinding: Achieve a consistent and balanced espresso using the right amount of ground coffee.

Faster Heat Up Time: Innovative ThermoJet heating system achieves the optimum extraction temperature in 3 seconds

Precise Espresso Extraction: Digital temperature control (PID) delivers water at precisely the right temperature

Automatic Microfoam Milk Texturing: The automatic steam wand allows you to adjust the milk temperature and texture to suit your taste.

Compact Footprint: Espresso machine with a width of 7.7 inches, the Bambino Plus easily fits on your countertop

Auto Purge: The Bambino Plus Espresso Machine automatically purges the heat system after steaming
Prices pulled from the Amazon Product Advertising API on:
Product prices and availability are accurate as of the date/time indicated and are subject to change. Any price and availability information displayed on [relevant Amazon Site(s), as applicable] at the time of purchase will apply to the purchase of this product.
The Bambino Plus makes the best quality lattes with the lowest amount of requisite skill or knowledge.
Five buttons control the whole process and two of them serve the sole purpose of pulling one shot or two shots.
The others start the steam wand, control milk temperature and decide what level of foaminess you want from your milk.
This machine is one of the narrowest & best latte machine for beginners. So it'll fit in even if you are pretty tight on counter space. Additionally, the water tank has a respectable 64 fl.oz. capacity, so you thankfully won't be refilling it after every other cup you brew.
The Bambino Plus includes an automatic steam wand for microfilm milk texturing. You can adjust both the milk temperature and the texture as you please.
This machine has a 54mm porta-filter with a 19 gram dose, which means you'll get a full dose of flavor. Breville is known for having consistent, high-quality shot pulling capabilities.
Beyond the dosing, the Bambino Plus has a pre-infusion function. This feature gradually increases water pressure, gently allowing the grounds to expand and creating an even extraction.
When brewing, you can select a single shot or a double shot. Additionally, there are controls for the steaming, milk temperature, and texture level.
The Bambino Plus comes with a 54mm Tamper, the Razor precision dose trimming tool, a 16 oz stainless steel milk jug, 1 & 2 cup dual wall filter baskets, and cleaning tools.
The Bambino's most unsurprising feature is its ability to pull a great and consistent shot. Breville has proven themselves capable of making machines that do the hard work of temperature and pressure control for us, and this machine doesn't step away from that. The 3-second heat time is pretty amazing, too.
Pros:
Great build quality
Compact design
Steam wand with temperature sensor
Simplicity of design – only five buttons
Competitive price
Cons:
Does not include a grinder
Only comes with dual wall baskets
Gaggia Classic Pro Espresso Machine
Rugged Brushed Stainless Steel housing

Commercial three-way solenoid valve. Capacity water tank - 2,1 liter

Commercial-style 58mm chrome-plated brass portability and brew group

Commercial steam wand. Rotating steam want movement type

Easy-to-use rocker switch controls
Prices pulled from the Amazon Product Advertising API on:
Product prices and availability are accurate as of the date/time indicated and are subject to change. Any price and availability information displayed on [relevant Amazon Site(s), as applicable] at the time of purchase will apply to the purchase of this product.
The Gaggia Classic Pro is a sturdy, durable and affordable latte machine for beginners. It has a number of amazing features for making a professional-level espresso, complete with steamed and frothed milk and a mechanism for extracting maximum flavour from the coffee grounds.
For an entry level machine, it can basically pull a professional espresso. You can't expect anything less from an Italian coffee machine.
The Gaggia Classic Pro Espresso Machine has a 58mm portafilter, which is similar to commercial machines in coffee houses in terms of size and style. This implies a greater capacity to hold coffee grounds, which is a huge advantage for those who like concentrated espressos.
It does come with a pressurized basket, but it has a double shot and single shot commercial basket. The pressurized basket is if you don't have a grinder, you can put any coffee in that and you should get a crema out of that coffee and a decent espresso. If you use the commercial ones, you'll get a real commercial espresso.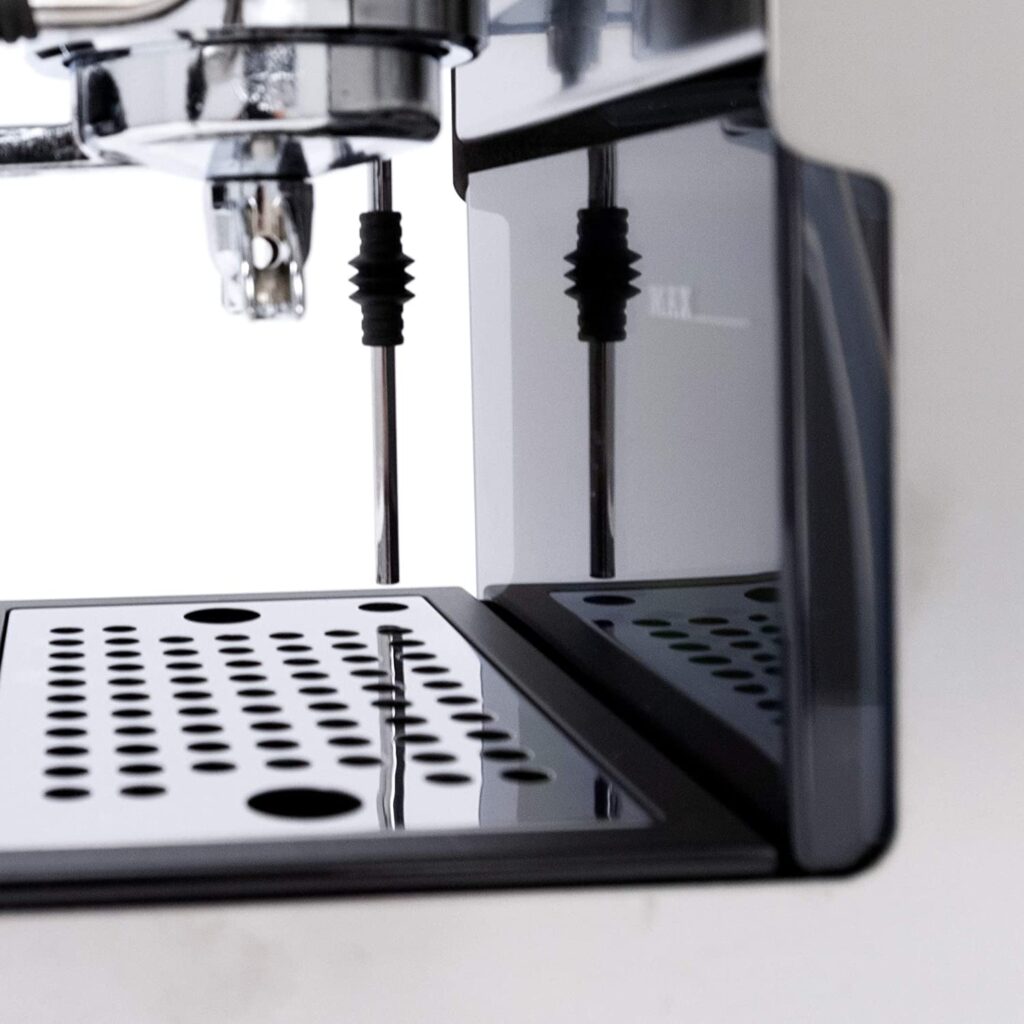 One of the best features of the Gaggia Espresso Machine is the large 72-ounce water reservoir. This allows you to store water for your future brews. 
At the top of the machine is a passive stainless steel cup warmer. The water reservoir can be filled from up top or pulled from down below. 
The Gaggia Classic Pro has three rocker switches for powering up, brewing, and steaming. There are three ready lights beneath these switches.
On the side of the machine is a knob to control the steam valve for getting steam or hot water out of the wand. It also has a commercial wand with the two hole steam tip and the rubber grip so you don't burn yourself.
The steam wand helps to steam and froth the milk. This creates microfoam and gives a velvety texture to the milk. This is especially useful for creating latte art.
Pros:
Brushed stainless steel body is sleek and easy to clean
Can accommodate both coffee grounds and pods
Not very noisy when brewing and frothing
Standard 58mm portafilter that's the same as commercial coffee machines
Can extract double shot espresso quickly — in less than 30 seconds
With pressurized filter basket to use any coffee and still get nice crema
Quick heat-up, especially if you want to steam milk
Cons:
Single boiler — can't brew and froth milk simultaneously
Drip tray has smaller capacity
Can't use bigger cups/mugs only up to 2.75 inches
Need to keep the drip tray in place, drain pipe directly pours water into it
Mr. Coffee Café Barista
Semi automatic 3 in 1 espresso maker, cappuccino maker, and latte maker

15 Bar Pump System Brews Rich Tasting Espresso Coffee

Trouble Free Automatic Milk Frother

One touch control panel for drink selections

Easy fill, removable water and milk reservoirs
Prices pulled from the Amazon Product Advertising API on:
Product prices and availability are accurate as of the date/time indicated and are subject to change. Any price and availability information displayed on [relevant Amazon Site(s), as applicable] at the time of purchase will apply to the purchase of this product.
The Mr. Coffee Cafe Barista automatically pulls shots of espresso, steams milk, and creates cafe-style lattes at the push of a button. The coffee machine also has a removable milk reservoir that's refrigerator-friendly for easy storage.
This is a semi-automatic, 15-bar latte machine. It features a one touch control panel, so you can easily brew plain espresso, lattes, or cappuccinos with single and double shot options for each. The milk frother is automatic, so you don't have to worry about jumping into the world of latte art and milk frothing if you aren't ready yet. 
The Mr. Coffee Cafe Barista is a solid bargain buy, but naturally exemplifies the validity of the tradeoff between price and quality. 
Like with all inexpensive espresso machines, you as the barista are going to find yourself sacrificing some of the consistency of your espresso and coffee drinks.
The buttons on the front of the machine are clearly labeled with the corresponding drink, and there are manual and automatic options.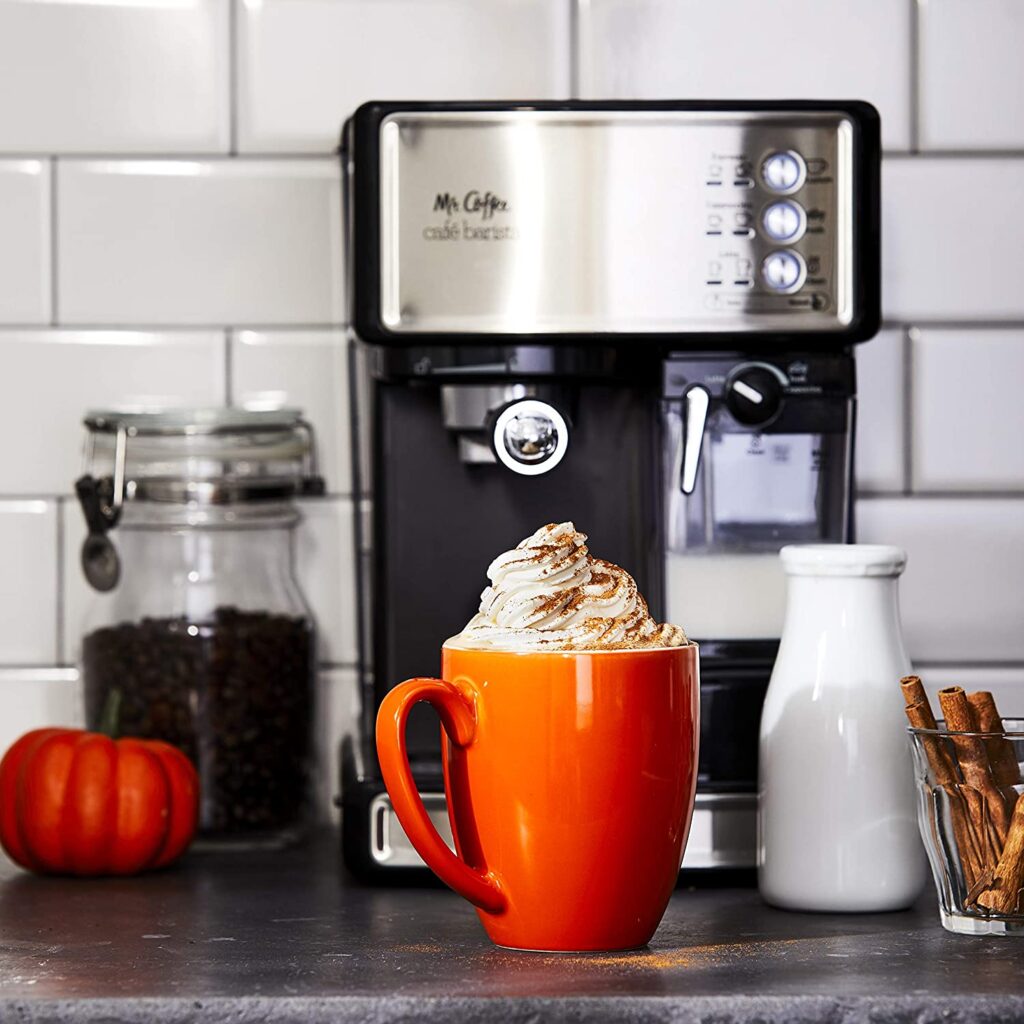 The milk reservoir conveniently fits within the unit, and it's removable, so leftover milk can be stored in the fridge when not in use. The frother also has a clearly labeled knob that controls how much froth goes into each drink.
Like most home espresso contraptions, the Cafe Barista comes with a portafilter for both brewing shots and loading the machine with grounds. 
It's essentially a metal filter attached to a sturdy handle that you must lock tightly into place under the Cafe Barista's brew head. Mr. Coffee also includes two filter baskets to choose from, for single and double shots.
Pros:
Affordable price
Most parts are suitable for dishwashing
Heats up in 3 minutes
Modern design
Removable frother allows you to store the extra milk elsewhere
Easy to understand controls
Cons:
Cannot accommodate tall cups
Works loudly
Nespresso Vertuo Evoluo
SMART COFFEE MAKER

VERSATILE AND AUTOMATIC

ENERGY EFFICIENT COFFEE MACHINE

FEATURES: Extra-large 54 oz water tank and a very large 17 count used capsule container

Includes Aeroccino 3 milk frother
Prices pulled from the Amazon Product Advertising API on:
Product prices and availability are accurate as of the date/time indicated and are subject to change. Any price and availability information displayed on [relevant Amazon Site(s), as applicable] at the time of purchase will apply to the purchase of this product.
The Nespresso Evoluo is a hybrid coffee maker designed to brew espresso and larger coffee drinks. As such it represents a tremendously versatile, all-in-one solution for home kitchens.
You can choose from a range of capsule sizes from 1.35 oz espresso up to 5 oz Grand Lungo, and coffee in sizes 7.77 or 14 ounces.
The Evoluo is practically ready to go out of the box. You can start pulling shots within minutes of cutting the packing tape.
Even though the various pods brew differently, the machine does all of the work for you. Each pod as a barcode that the machine reads and automatically brews according to the needs of the pod.
Since the barcode reader within the Evoluo does all the thinking for you, it can get away with an incredibly simple, one button interface. Just press that button to start the 15-second preheating process, insert, turn the lever to lock it in place, and press the button again. 
The barcode scanner determines what kind of coffee or espresso you're making and adjusts all of the settings accordingly. The interface really could not be simpler or easier to use.
Each cup is brewed in about a minute and a half, whether coffee or espresso. If you want to have your espresso as a latte, cappuccino, or otherwise with frothed milk, you'll have to make that commitment to purchasing a frother separately.
This amazing Nespresso latte machine for beginners also scores really well in terms of cleaning and maintenance. Because there aren't a lot of moving parts, there aren't very many short-term cleaning requirements for the unit. All you need to do is empty the bin where the spent capsules are collected periodically. 
As for water and the water tank, the coffee machine comes with a specific descaling process that you will need to follow. 
We definitely recommend a regular cadence of descaling the water tank to preserve the life of your Evoluo and to improve the taste of your coffee or espresso.
When it comes to the up-front cost of the Evoluo machine by Nespresso, it's certainly not one of the most expensive. It's not the cheapest, but there are many more expensive models on the market. However, the upfront cost is only part of the picture, so you'll need to consider the rest.
Pros:
An all-in-one hybrid machine that's a cut above the competition.
Extremely easy to operate. 
Good-looking and sturdily-built machine.
54oz. water reservoir
Initial warm-up is just 15 seconds
Cons:
Pod-scanning system means no 3rd-party capsules
De'Longhi EC702
Pump driven and 15 bars

Automatically self-primes, Water level indicator

Use pods or ground coffee with the convenient patented filter holder.

Craft cappuccinos or lattes with the patented easy to use frothier

44 oz. and 1.3 litter removable water tank.
Prices pulled from the Amazon Product Advertising API on:
Product prices and availability are accurate as of the date/time indicated and are subject to change. Any price and availability information displayed on [relevant Amazon Site(s), as applicable] at the time of purchase will apply to the purchase of this product.
The De'Longhi EC702 is a pretty solid choice for an entry-level latte machine for beginners. It's competitively priced and its Stainless steel components give the espresso machine a hardy, durable look.
The machine comes with the kit to allow for both single and double shots. Also, you can use either fine, loose grounds or ESE pods.
The machine has a self-priming operation, allowing the boiler to heat up and prepare for brewing on its own.
The De'Longhi has a patented dual-thermostat system so you can monitor and set the temperatures for the steam wand and the water tank separately.
Also, you have control over the amount of coffee you want to brew at once with both single and double pressurized filter baskets. Thanks to the machine's consistent thermoblock heating mechanism and optimization for brewing more than once with every use, you can count on good espresso cup after cup.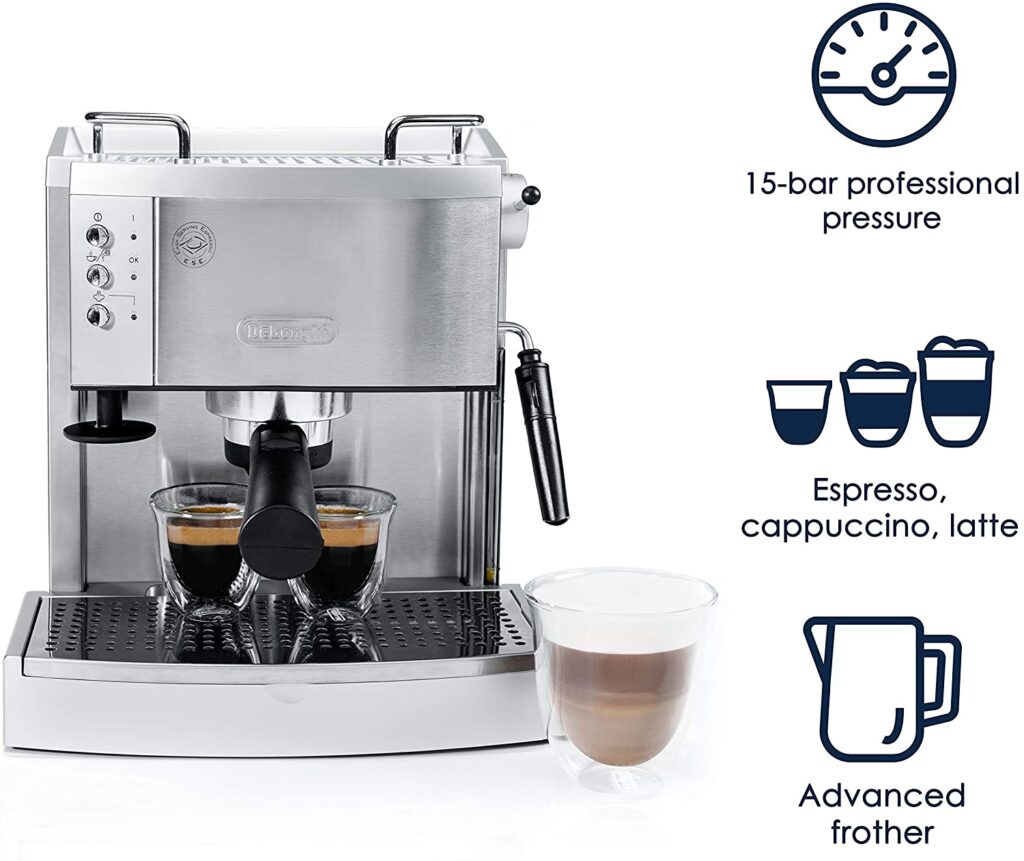 DeLonghi EC702 is a 15-Bar-pump machine that is integrated with a Cappuccino System frother. It makes it easy for you to make cappuccino, latte as well as coffee.
Due to its 15-bar pump, it creates a perfect pressure which extracts out the full flavor of coffee. The 1.3 liters and 44 oz water reservoir are removable for fast water refilling.
The De'Longhi EC702 is ESE (easy-serve-espresso) pod compatible, so you can easily pop in an espresso pod if you don't have time to grind your beans.
The EC702 is a great choice for milk based drinks such as cappuccinos and lattes as it features a "Rapid Cappuccino System" which allows you to brew your cappuccino, steam and froth milk, and then go immediately back to brewing to prepare yet another cappuccino, latte or other frothy beverage of choice.
Pros:
No fuss, or confusing extra features
Comes with cup warmer
Easy to use, beginner friendly
Rapid Cappuccino System
Pressurized portafilters and Pannarello steam wand require no skill to use
Pulls a very hot shot
Sturdy build with some stainless steel components
Compact, lightweight, good looking machine
Cons:
Not suitable for professional baristas
Can take anywhere from 5-15 minutes to heat up
Breville BES920BSXL Dual Boiler Espresso Machine
Dose Control Grinding

Optimal Water Pressure

Precise Espresso Extraction

Manual Microfoam Milk Texturing

LCD Display

Settings: Manual or Automatic; Single & Double Shot; Personalized Temperature

Warranty: 2 Year Limited Product Warranty; Capacity: 84 oz. Water Tank
Prices pulled from the Amazon Product Advertising API on:
Product prices and availability are accurate as of the date/time indicated and are subject to change. Any price and availability information displayed on [relevant Amazon Site(s), as applicable] at the time of purchase will apply to the purchase of this product.
Among the well-sought Breville espresso machines, the Breville Dual Boiler has the ability to texturize milk the old way. With a triple heat system, precision control of the water temperature and pressure and mind-blowing features, this product will surely enhance your barista skills. It's easy to operate and straightforward to clean.
The Breville BES920XL is one of the best dual boiler latte machines available today.
On this machine you get a lot of control. With PID, brew temperatures are extremely accurate and they're adjustable from 190 to 205 degrees. Then Breville takes temperature stability to another level with a heated group head. That means extra precise brew temps and faster warm-up.
And the machine does pre-infusion. Now you can program the time of the pre-infusion and in a very unique feature you can adjust the pressure of the pre-infusion also. So super accurate temps with the PID and super fine control with programmable pre-infusion.
The portafilter is stainless steel and commercial sized at 58 millimeters. You know with the PID, heated group and super adjustable pre-infusion you've got the ability to do some serious fine-tuning of your shots. And the nice thing is the technology Breville builds in makes it easy to control. When you get dialed in for a particular coffee it's going to be easy to repeat it.
We don't see too many dual-boiler machines with programmable shot volumes. But this one has programmable presets for singles and doubles.
This product doesn't spoon-feed the user with the fully-automated operation. Instead, it gives you the chance to develop your barista skills from ground zero. Notably, it also has a lot of features that you can explore to get the best-tasting espresso-based drinks that suit your taste.
It has a backlit screen display that shows all the current settings which simplifies the programming functions. It displays three modes — shot temperature, shot clock (duration extraction in seconds) and the clock.
Shot temperature is the default display. The other two will display for 10 seconds before returning to the default.
You'll have a hot water dial and hot water outlet, menu button, espresso pressure gauge and so much more. It also has a steam lever, tool storage tray, and a removable drip tray. All these and more will be further discussed in the 'Setup and Operation' section.
The machine features a 15bar pump that pulses the coffee grounds first to expand the grinds before the extraction begins. Then, it'll gradually increase the water pressure to achieve even extraction, hence a more balanced espresso shot.
It's also programmable, so have the freedom to experiment for the best water pressure to achieve the taste you want.
Pros:
A great espresso machine for its price
Gives consistent results every time
With reliable smooth lever that delivers excellent steam
A compact machine for a dual boiler espresso maker
Comes with precise control of the brew temperature, coffee strength, pressure, brew time and more
Cons:
Machine needs a big space and high counter clearance
Keurig K-Cafe
4 cup sizes: 6, 8, 10, and 12 ounce

Simple button controls

Large 60 ounce removable water reservoir:

Smart start

Energy efficient

Travel mug friendly

Compatible with the my k-cup universal reusable coffee filter:
Prices pulled from the Amazon Product Advertising API on:
Product prices and availability are accurate as of the date/time indicated and are subject to change. Any price and availability information displayed on [relevant Amazon Site(s), as applicable] at the time of purchase will apply to the purchase of this product.
If you love the taste and convenience of K-Cups, the Keurig K-Cafe is the most advanced machine out there. It ups the variety with 6 different brew settings and an integrated milk frother that allows you to make a reasonable facsimile of cappuccinos and lattes.
It does all this with the trademark Keurig convenience, ease of use, and ease of cleaning (even the milk frother is dishwasher safe).
When it comes to customizability, the Keurig K-Café coffee maker is very different from any other Keurig machines.
The first and most obvious one is the milk frother: it works with different types of fresh milk (including dairy-free alternatives), it can froth both hot or cold milk.
The other unique feature is the Shot button, which complements the frother.
K-Cafe is undoubtedly one of the best latte machine for beginners in the marketplace today.
It gives you a stronger, espresso-style shot of 2 ounces that you can use as a base to create frothy drinks. However, it's worth noting that it's not actual espresso, as that can only be achieved by pushing hot water under sufficient pressure through fine grounds.
While it's popular for frothy drinks, the K-Café will obviously give you regular drip coffee in different cup sizes (4, 6, 8 or 10 ounces) and you'll also be able to get a stronger brew if you wish.
Another strong point for this machine is the 60 oz reservoir, which will allow you to brew adequate times without even worrying about running out of fuel.
Obviously, the fact that this machine is compatible with the K-Cup coffee pods is one of the main features and it will allow you to make coffee fast and easy, without worrying much about cleaning.
The frother is dishwasher safe and is easy to clean by hand too.The pod container – which will obviously get slightly dirty, the materials are easy to clean and coffee tends to be easier to wipe. It will not stink like milk if you forget to clean for a few hours.
The handy descaling reminder will also alert you when it's time to run white vinegar or Keurig's descaling solution through your coffee maker.
Pros:
Easy to use and setup
Multi brewing options 
Shot and Strong Brew options
Brewing times are fast
Easy cleaning
Frother that works like a charm
Cons:
Relatively mediocre taste 
Milk drinks leave a bit to be desired
De'Longhi Stilosa Manual Espresso Machine
Brew lattes, cappuccinos and espressos in a comfort of your home.

Contemporary and Compact Design

15 BAR Pump

Manual Milk Frother:

Stainless Steel Boiler

Includes port a filter and 2 filters
Prices pulled from the Amazon Product Advertising API on:
Product prices and availability are accurate as of the date/time indicated and are subject to change. Any price and availability information displayed on [relevant Amazon Site(s), as applicable] at the time of purchase will apply to the purchase of this product.
De'Longhi Stilosa is an affordable, easy-to-use latte machine for the novice barista. The built-in frother lets you prepare your favorite café-quality drinks at home, and that the design is elegant enough to look good on any countertop.
The machine comes with single and double-shot pressurized baskets offer flexibility for fresh ground, pre-ground, or ESE pod options, while a panarello-style steam wand makes texturing and heating milk for lattes a breeze.
With this one of the best latte machine for beginners, you can also brew as much and as many espressos and cappuccinos too in your home kitchen. It would make a nice addition to your kitchen without occupying a lot of space and you can clean it easily once you're done. 
The 15 bar pump on this compact espresso machine gives you the ideal amount of pressure to get double or single espresso and you can enjoy the rich coffee flavors. By using the milk frother on the right hand side you can froth your milk to add to your flat white, latte or cappuccino.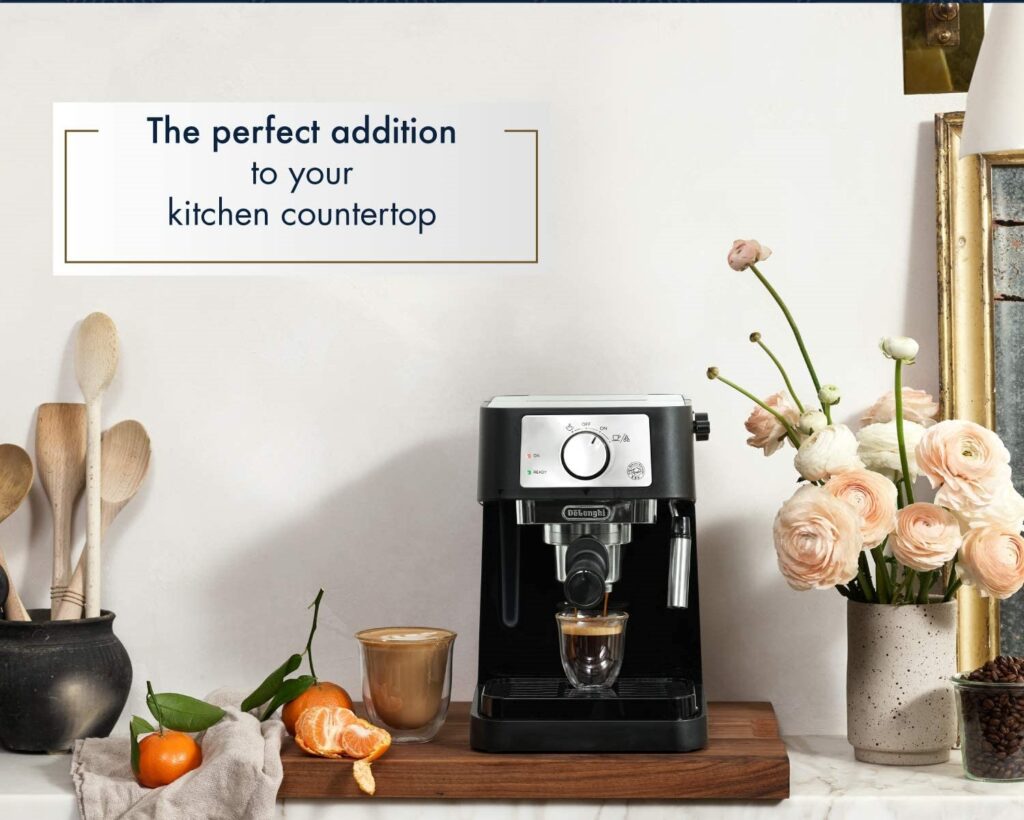 You don't need to heat the milk, and you can use cold milk straight from the fridge, that will heat up during frothing.
Additionally, the Stilosa makes use of a robust and durable stainless steel boiler engineered to last long and work for years with consistent performance, as well as a two-level cup holder that accommodates taller cups. When you're finished brewing, simple maintenance makes clean-up hassle-free.
If you're looking for a way to save money on expensive specialty drinks from coffee shops, the Stilosa is a great alternative. 
By replacing a daily $5 coffee with a home-brewed drink, you could save hundreds of dollars a year, and this particular machine will have paid for itself in less than a month.
Pros:
Affordable

Space saving design

Quiet operation

Quick & easy to use
Cons:
Casing is made of plastic
De'Longhi EC685M Dedica Deluxe
De'Longhi Dedica Deluxe Automatic Espresso Machine
15-bar professional pressure ensures quality results every time

Make single or double espresso, cappuccino or latte

The premium adjustable frother allows you to adjust the foam and steam levels to customize a variety of delicious espresso-based drinks

The automatic flow stop feature dispenses just the right amount of espresso.
Prices pulled from the Amazon Product Advertising API on:
Product prices and availability are accurate as of the date/time indicated and are subject to change. Any price and availability information displayed on [relevant Amazon Site(s), as applicable] at the time of purchase will apply to the purchase of this product.
The De'Longhi EC685M offers a manual latte brewing experience in a small package, and makes some pretty tasty espresso shots too.
The EC685M makes a great entry level espresso machine, if you want to try out making cafe style coffee at home.  It is a good looking, sleek machine that you can probably find space for in your kitchen. 
The machine has an adjustable frother to alter various levels of steam and milk to make different flavors of coffee. It has an auto-shutdown feature that conforms to whatever espresso volume could be filled over your cups. 
If you have large and tall cups, then don't panic, this latte machine has a double dip tray to help you with that.
The Delonghi Dedica Deluxe EC685M can also be used with ground espresso as well as ESE  (easy-to-serve) pods, meaning it is perfect for a first time user. 
Ground espresso is probably the choice you ought to end up making, as it's cheaper. But it's nice to have the option for ESE pods when you're in a rush so that you don't make a mess.
The Delonghi Dedica Deluxe EC685M has stainless steel casing and has been designed with the beginners in mind. The machine is slim line and sleek looking, and doesn't take up too much space on your counter.
The top of the machine can be used as a cup warmer which we always like and it looks elegant in the kitchen. 
There are three buttons on the top for single shot, double shot and steam, but it doesn't feel overly plastic or engineered, which is often a problem with cheaper machines.
The back of the machine houses a removable water container that can hold enough water to make several beverages. The steam spout is located on the right side of the body, with an on/off dial above it. Directly on the spout is a rubber switch, which determines how much foam your milk will have when you steam it. 
The front of the machine has a metal portafilter that looks and feels like a professional-grade filter. It has a good weight to it and makes you feel like a real barista when you're using it.
The EC685 comes with three filter baskets, a removable drip tray and stand, and a plastic scoop/tamper. 
Pros:
Stylish and compact

Utilizes both ground espresso and ESE pods

Convenient way to have a variety of espresso drinks at home
Cons:
Breville The Infuser Espresso Machine
Volumetric and Shot Control

Optimal Water Pressure

Precise Espresso Extraction

Manual Microfoam Milk Texturing

Auto Purge

Settings: Single or Double Shot; Volumetric Control and Manual Override
Prices pulled from the Amazon Product Advertising API on:
Product prices and availability are accurate as of the date/time indicated and are subject to change. Any price and availability information displayed on [relevant Amazon Site(s), as applicable] at the time of purchase will apply to the purchase of this product.
Breville Infuser is a mid-priced semi-automatic espresso machine that always satisfies your morning coffee cravings. It also makes great froth to complement the absolute best home-brewed latte you've ever tasted. The Infuser is no doubt one of the best latte machine for beginners.
This machine is as beautiful as it is efficient with bold stainless steel casing and equipment, smooth edges and clean lines. It's an ideal semi-automatic home brewing option from a company that knows their business when it comes to brewing coffee.
The machine also has a designated outlet for external hot water, which means you can make so much more than just espresso.
The steam wand to the right of the hot water outlet has 360 swivel action so you can effortlessly froth milk and accommodate different sizes of frothing containers.
The Infuser is the best espresso machine for lattes, cappuccinos and latte arts on our list.
This frother/steam wand that is included in the Infuser will allow you to make hot chocolate, a fast Americano or use the frother to make some cool latte art.
The biggest selling point for the appropriately named Infuser is the pre-infusion feature, which evenly coats espresso grounds at a low pressure before beginning full extraction.
One of the many keys to the art of making a quality espresso is to ensure that your espresso grinds are evenly extracted. The goal of pre-infusion is to saturate the coffee grounds with a controlled volume so that each grind then extracts at the same rate.
The pre-infusion feature, in addition to the internal PID temperature control and 15 bar pump, is what makes the Infuser a quality home espresso machine.
This machine comes with a single boiler with a thermocoil heating system that uses PID technology to regulate the water temperature. On average, it takes about 30 seconds for the machine to heat up, 15-second shift from extraction to milk-steaming mode.
The thermocoil heating system circulates the water you use through a coil, regulating the water temperature for you and allowing you to make minute temperature adjustments to the Breville Infuser at will.
It has a 61oz. removable water tank which is located at the back of the machine. At the top is the cup warming tray.
The auto-purge function will prompt you to clean with an "Empty me" notice, making it easy to know when to clean.
Pros:
Produce great-tasting espresso and froth
PID control guarantees stable temperature during extraction
Low-pressure pre-infusion great to get the aroma and crema of the espresso
Auto purge function is outstanding
Hot water outlet allows you to heat your cup or make other drinks
Cons:
Has a steeper learning curve
Lack of dual boiler means you cannot steam and extract at the same time
Nespresso Lattissima Pro
IThe De'Longhi Automatic Cappuccino System creates perfectly layered espresso beverages, with dense, rich, long-lasting foam

Nespresso capsule system

Brings out more flavor: De'Longhi's patented espresso extraction system creates the ideal flow of water with 19 bars of pressure

The perfect amount of milk: During the extraction process, the integrated carafe dispenses milk in adjustable levels for taste.

Rapid heat-up time
Prices pulled from the Amazon Product Advertising API on:
Product prices and availability are accurate as of the date/time indicated and are subject to change. Any price and availability information displayed on [relevant Amazon Site(s), as applicable] at the time of purchase will apply to the purchase of this product.
For those looking to make excellent espressos, lattes and cappuccinos at home, without the hassle of a manual machine, Nespresso's top-of-the-line Lattissima Pro is the way to go.
The Nespresso Lattissima Pro is a top of the line machine that consistently crafts high-quality espresso-based coffee creations such as delicious lattes with ease. It is easy to set-up and use, which makes it perfect for use in a home or office.
It makes creating multiple drinks straightforward. So, whether you enjoy a straight-up shot or a macchiato, you can in just a few minutes.
The machine's stainless steel exterior has a great look and feel. Unlike many machines, it is not bulky. Nespresso has genuinely created a beautiful piece of kitchen equipment with attractive lines. The simplistic style gives it a timeless appearance, and it does not take an excessive amount of counter space.
 The one-touch features built-in to the Nespresso Lattissima Pro include: Ristretto, Espresso, Lungo, Cappuccino, Latte, Macchiato, Warm milk froth and Hot water.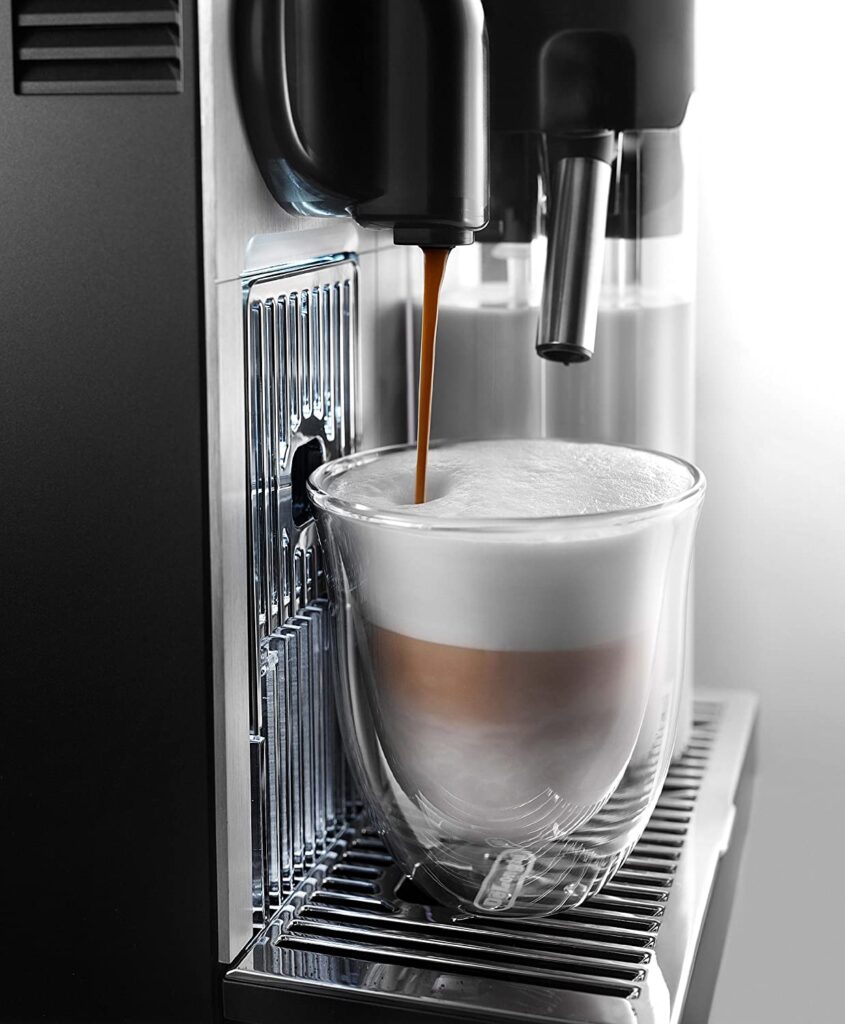 The water reservoir located at the back of the machine holds 44 ounces of water, and the location does not take away from the appearance of the device.
The Nespresso Lattissima Pro has a built-in milk frother that is easy to adjust for the perfect foam for latte.
The descaling options make it easy to maintain your machine. Just follow the simple steps to perform the descaling.
A pod disposal system makes it easy to remove used pods from the machine. It can hold up to 16 pods before you have to empty the container. You can also send the pods to Nespresso to have them recycled.
A foldable, metal cup rest, unique to the Pro among the Lattissima models, lets you accommodate glasses up to 5.5 inches tall or small espresso cups.
Refilling the water reservoir is simple. A pop-up lid on the top of the tank lets you refill the tank without removing it from the machine, or pull the tank off and fill in your sink.
Pros:
Multiple functions for coffee and more
Small footprint saves counter space
Nearly hands-off operation
Cons:
High price might be off-putting
Uses pods rather than ground coffee
Easy Latte Art Secrets For Beginners
In its simplest form, a latte is espresso mixed with steamed milk that culminates into a foamy surface of sippable heaven.
While drawing the espresso itself is definitely important, this guide will primarily address the technique for steaming milk. Once you've mastered steamed milk, you can take it further by decorating with basic latte art and creating your own designs.
What do you need?
All that you need for preparing these 5 easy latte art designs are:
A pitcher/jug
A cup

A latte art tool or a toothpick (or something a bit thicker than a toothpick)

Espresso machine
And let's not forget about the main ingredients: coffee, milk and chocolate syrup.
How To Steam The Milk For Latte Art
Fill your pitcher with milk approximately to the bottom of the spout and turn on the wand. Submerge the wand and then raise it up just to the point where you can hear a couple of hisses. If you've raised it too far you'll see large bubbles forming, and it will start to sound like violent hiccupping.
You can tilt the pitcher towards you to see inside. We recommend keeping the pitcher low but then raising it up as it becomes warmer, so that the wand is swirling deeper in the pitcher.
Turn off the wand once the milk has reached about 140°F–180°F. As you aren't experienced and cannot know when you should turn it off just by looking, make sure you use a thermometer in order to be accurate.
Give the pitcher a firm tap on the counter. This disperses any large bubbles, effectively giving you thicker foam. If you don't fully submerge the wand, it can cause the steamed milk and the foam to form as two distinct layers, which makes latte art more difficult. You can swirl the pitcher around to incorporate the layers.
How To Make A Heart Latte Art
Use three ounces of milk per one ounce cup, and steam it. Tilt the cup at the angle of 45 degrees with one hand, and with the other pour the milk in the center. The pitcher should be held high in order to let the milk come to the bottom of your cup. 
Can you make a latte with regular coffee?
Yes, you can make a latte with regular coffee.
Prepare milk in a small saucepan over medium heat until you see bubbles forming around the edges of the pan, or put the milk in the microwave for a few minutes.

Make the milk frothy by using a handheld milk frother.

Brew approximately 2 tablespoons of dark roast coffee for every 5 or 6 ounces of water.

Pour brewed coffee into a cup leaving space for the frothed milk.

Top with the frothed milk and enjoy.

When your cup is up to three-quarters full, pour the milk, start shaking your hand a bit (not the cup, but the pitcher), then put the pitcher closer to your cup, and don't shake anymore. You will notice white circles appearing. 

The moment the cup gets almost full, pour the milk in line from one side to the other through the center.
Conclusion
Each of the best latte machine for beginners on our list above is carefully researched and considered by us to recommend them to everyone. This list has a variety of models and types, from home coffee makers to large-capacity machines, but they all of them have one thing in common: simplicity and ease of use for a beginner.
We are a team of coffee affcianados with experience and expertise in making world renowned coffee. In fact, preparing the best coffee ever with a fluffy top reminds us of magic, with secrets of how to achieve each particular effect. Making coffee is not our only hobby, we always keep our ears open as to what's happening around and what scientists and manufacturers produce for consumers. It's not an easy task to do – it's rather time consuming. Hence, Caféish website was launched.
Caféish is a participant in the Amazon Services LLC Associates Program, an affiliate advertising program designed to provide a means for sites to earn advertising fees by advertising and linking to Amazon.com. Caféish also participates in affiliate programs with Clickbank and other sites. Caféish is compensated for referring traffic and business to these companies.