What's In An Espresso Martini? How To Make One?
Disclosure: This post contains affiliate links and I may earn a small commission (at no extra cost to you) if you click through and make a purchase. Thanks in advance – I really appreciate it!
Key Takeaways:
Espresso martini is a cocktail that was invented in the late 80's. Its made by mixing 1 1/2 oz. vodka, 3/4 oz. coffee liqueur, 1/4 oz. white crème de cacao, and one ounce chilled espresso. 
The Espresso Martini is perfect for giving you a jolt to keep you awake with its boozy magical powers, especially if you are looking for a pick-me-up after dinner. The cocktail has been jumpstarting outings and extending nights ever since making its debut in the late '80s.
Ingredients:
1 1/2 ounces vodka
3/4 ounce coffee liqueur (such as Kahlua)
1/4 ounce white crème de cacao
1 ounce chilled espresso 
Garnish: 3 coffee beans
How do you make an Espresso Martini?
Recipe:
Step 1: Add vodka, coffee liqueur, espresso and creme de cacao to a shaker filled with ice and shake until well-chilled.
Step 2: Strain into a chilled cocktail glass.
Step 3: Garnish with 3 coffee beans.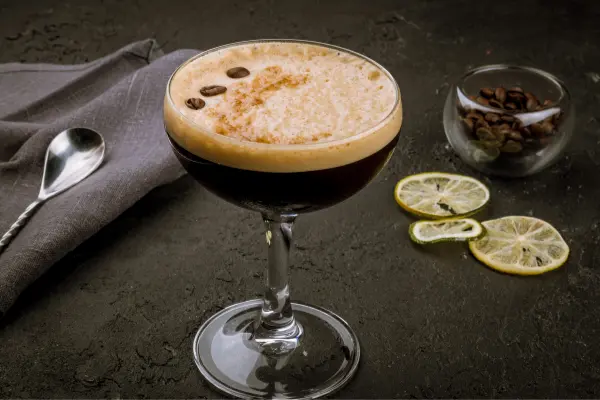 Tips On Making A Good Espresso Martini
Prepare the espresso coffee beforehand and let it chill. That will help to minimize the dilution, make your drink colder and even tastier.

Three espresso beans will make your martini look as good as it tastes, simply float them on your cocktail foam.
Where was the Espresso Martini invented?
The famous Espresso Martini is a top drink and a classic Kahlua cocktail. Invented by the famous late bartender Dick Bradsell, as a peculiar request from a British top model at Fred's Club in London in 1983. Since its debut, there have been many variations on the espresso martini.
How do you make an Espresso Martini frothy?
The froth is made from the drink being shaken and cold. As it warms up, the froth will go away. 
To get a very frothy crema on top of your espresso martini, you need to shake and shake more and then continue shaking the mixture for sometime (minimum 20 seconds). The ice needs to near-freeze all the liquid and the ice needs to break up in the shaker. 
We recommend you put your empty, clean martini glasses in the freezer so they are nice and cold. Also once you are done shaking, don't let the drink sit around. Pour it right into the chilled martini glass.
What do the three beans in an Espresso Martini mean?
The garnishing of three beans on an espresso martini are called con la mosca meaning "on the fly" and they represent health, wellness and happiness.
So when friends, lovers or relatives are having a toast while drinking espresso martinis, they are celebrating those three things.
Which coffee liqueur is best for Espresso Martini?
Kahlua is the preferred choice for the connoisseurs for making a perfect Espresso Martini. 
What can you use instead of Kahlua in Espresso Martini?
You can use both alcoholic and non-alcoholic ingredients instead of Kahlúa in an Espresso Martini.
Substitute any other coffee flavored liqueur, such as Tia Maria or Sheridan's coffee liqueur.

Use chocolate flavored liqueur such as crème de cacao.

For a non-alcoholic substitute, mix 1 teaspoon instant coffee or espresso powder, 2 tablespoons simple syrup.
We are a team of coffee affcianados with experience and expertise in making world renowned coffee. In fact, preparing the best coffee ever with a fluffy top reminds us of magic, with secrets of how to achieve each particular effect. Making coffee is not our only hobby, we always keep our ears open as to what's happening around and what scientists and manufacturers produce for consumers. It's not an easy task to do – it's rather time consuming. Hence, Caféish website was launched.
Caféish is a participant in the Amazon Services LLC Associates Program, an affiliate advertising program designed to provide a means for sites to earn advertising fees by advertising and linking to Amazon.com. Caféish also participates in affiliate programs with Clickbank and other sites. Caféish is compensated for referring traffic and business to these companies.