How To Clean A Keurig With Apple Cider Vinegar
Disclosure: This post contains affiliate links and I may earn a small commission (at no extra cost to you) if you click through and make a purchase. Thanks in advance – I really appreciate it!
Owning a Keurig means you no longer have to think about wrangling filters and ground coffee beans every morning. But many of us are probably guilty of not thinking about cleaning it either — and that thing can get dirty. 
Like all coffee makers and pod coffee systems, Keurigs can serve as a breeding ground for harmful bacteria and mold if not regularly cleaned.
Key Takeaways:
This is how you can clean your Keurig with Apple Cider vinegar.
Step 1: Fill the water reservoir with 1-2 parts vinegar to 1 part water.
Step 2: Start a half brew cycle and then let the solution sit for 20 minutes.
Step 3: Rinse and repeat the process until you are satisfied your water lines are clean and descaled.
Apple cider vinegar vs. white vinegar – what's the difference?
Regarding being used as a cleaning agent, they are both an acidic liquid which achieves great results when used for cleaning a coffee maker. Depending on where you live, white vinegar is typically cheaper and it leaves a less recognizable taste behind.
However, apple cider vinegar has far more health benefits than white vinegar, including being a natural antibiotic and is good at killing off harmful germs and bacteria.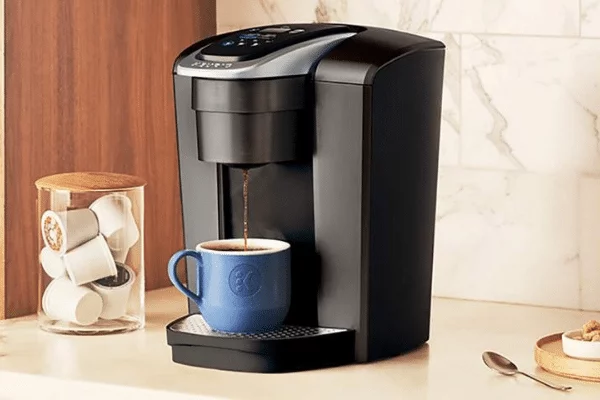 How Often You Should Clean Your Keurig?
When your keurig is dirty it not only affects the life of the parts inside it, but the mineral deposits and clogged lines will lead to water not being heated properly and affecting the brewing temperature.
The mineral build up inside the machine can also have an impact on the taste of the coffee you're going to get out of it.
It is surprising how often people take incredible care in every aspect of the making of their coffee, but neglect to keep their machine in a decent enough state to work to its full potential.
It is recommended to clean your coffee maker once a month to keep it in good shape and get the best coffee and the longest life span of your machine.
Here's some things to bear in mind when cleaning your machine:
If your keurig hasn't been cleaned in a LONG time then you will have to devote more time to running vinegar through it – you will have to use more cycles than if you were cleaning a newer machine.

People who have hard water and use it in their coffee machines may find that vinegar alone is not enough to descale, no matter how many cycles you run through it.

Apple cider vinegar costs more than regular distilled white vinegar. If you don't need to descale with a different product you should opt for using white vinegar instead of apple cider to save some money.
If you have hard water we would recommend you use Keurig Rinse Pods instead of running cycle after cycle of vinegar through your machine. It does a better job at breaking up mineral deposits than vinegar and it will cost less money in the long run.
Steps to Clean a Keurig Coffee Maker with Apple Cider Vinegar
Wipe down all parts of your coffee maker you can reach.

Fill the water reservoir all the way with 1-2 parts vinegar to 1 part water.

Begin the brew cycle and then pause it when it is half done.

Let the coffee maker sit for 20 minutes.

Finish the brew cycle.

Rinse and repeat steps 2-5 until you are satisfied your water lines are clean and descaled.
Run 2-3 brew cycles with water only to flush vinegar from the coffee maker.
You may also want to replace your charcoal filter once and in a while. The water then goes
into the reservoir and passes through this filter when moving towards the heating element.
By regularly replacing the filter, you will see a reduction in mineral buildup inside your coffee maker, which results in much better tasting coffee.
We are a team of coffee affcianados with experience and expertise in making world renowned coffee. In fact, preparing the best coffee ever with a fluffy top reminds us of magic, with secrets of how to achieve each particular effect. Making coffee is not our only hobby, we always keep our ears open as to what's happening around and what scientists and manufacturers produce for consumers. It's not an easy task to do – it's rather time consuming. Hence, Caféish website was launched.
Caféish is a participant in the Amazon Services LLC Associates Program, an affiliate advertising program designed to provide a means for sites to earn advertising fees by advertising and linking to Amazon.com. Caféish also participates in affiliate programs with Clickbank and other sites. Caféish is compensated for referring traffic and business to these companies.